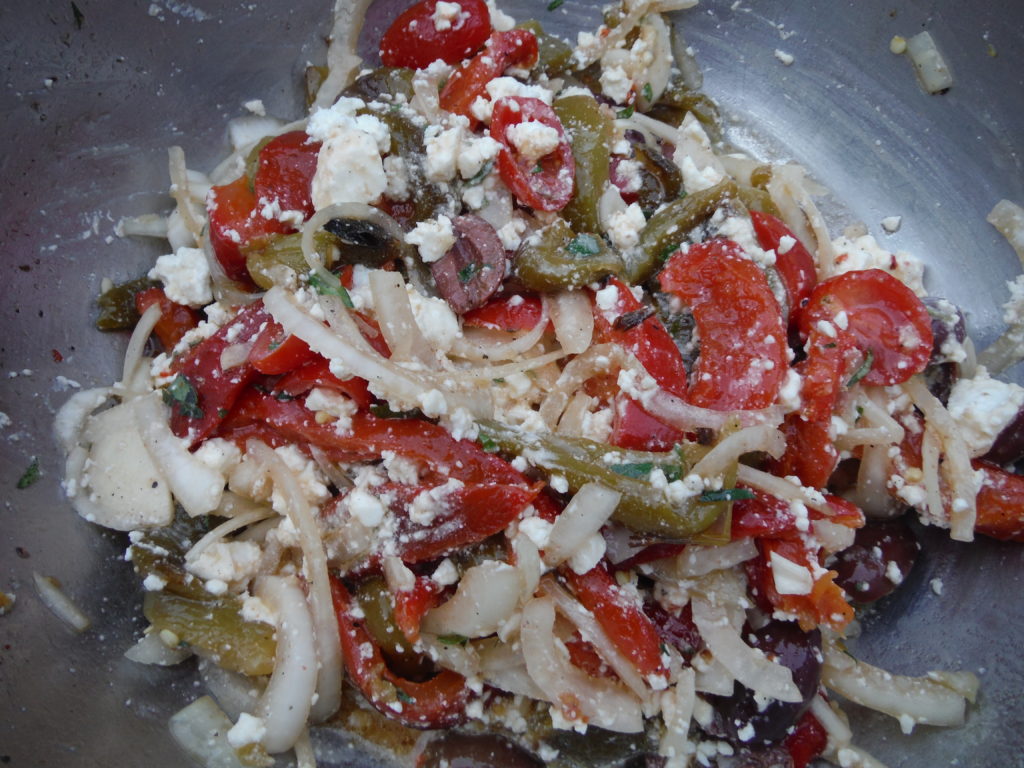 The Richmond Times-Dispatch published this week a recipe from their archives, which apparently originally came from Perla Meyers' "The Early Summer Garden Cookbook". It involved most of my favorite foods, especially roasted peppers and feta cheese, so I had to give it a try. As expected it was easy and very tasty.
2 red bell peppers
2 green bell peppers
¼ cup olive oil
2 Tbs. red wine vinegar
1 clove garlic, finely chopped
Salt and freshly ground black pepper
10 ripe cherry tomatoes, sliced in half
10 pitted kalamata olives, cut in half
1 Tbs. fresh oregano, chopped
2/3 cup crumbled feta
Good bread for serving
Roast the bell peppers on a barbeque grill for about 20 minutes. When the skins are well charred, put them in a plastic bag to steam the skins off, and cover the plastic bag with a dish towel to keep the heat in. After about half an hour, peel and seed the peppers and cut them into strips.
Mix together in a small bowl the olive oil, vinegar, garlic, salt and pepper.
Put the pepper strips, tomatoes, olives, and oregano in a larger bowl. Mix. Add the dressing and mix again. Marinade on the counter at room temperature for one or two hours, or put in the refrigerator for longer storage. Mix in the feta before serving.
For this dinner, we served the salad with grilled shrimp and grilled lepinja (a Bosnian flatbread).