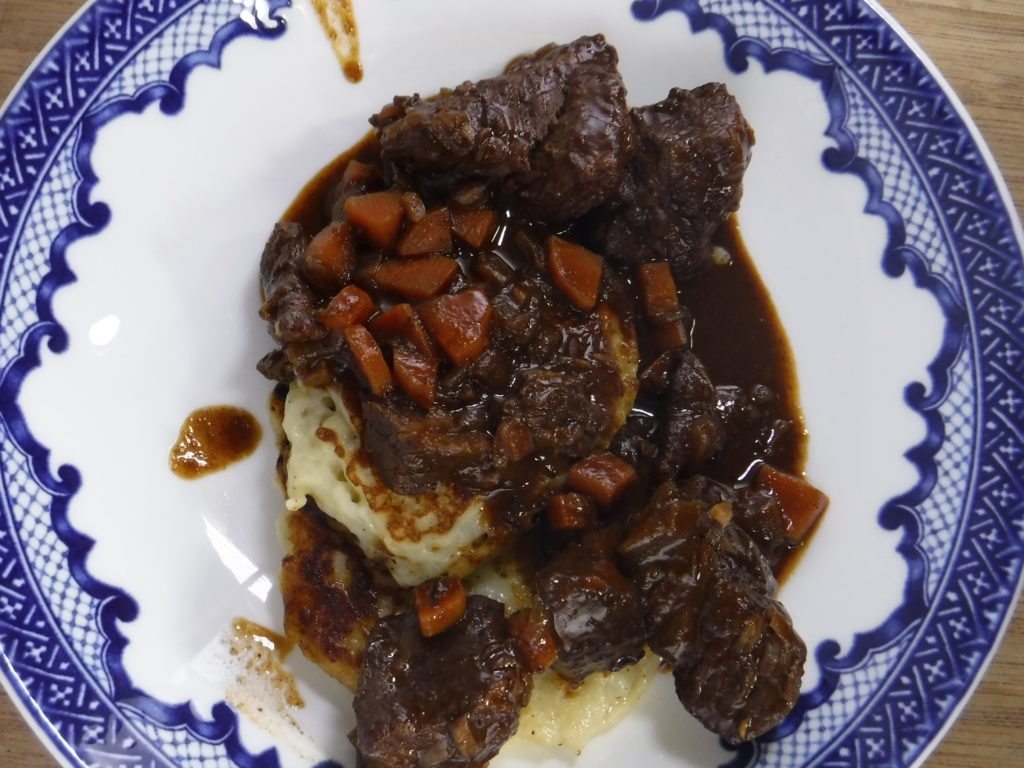 This is a tasty dish for 6 people.  The potato pancakes remind me of the Irish boxty, since they are a mixture of potato and flour.  It takes around 3 hours to reduce the sauce to the thickness shown in the photo.  This version is adapted from an article in Vice.
For the Goulash:
6 Tbs. olive oil, divided
2 lbs. beef chuck or round, cut into cubes
Salt and black pepper
½ cup all-purpose flour
1 large onion, chopped
4 medium carrots, peeled and diced
2 Tbs. smoked paprika
2 tsp. Caraway seeds
¼ tsp. cayenne pepper
3 cloves garlic, minced
1 Tbs. tomato paste
1 cup red wine
6 cups low sodium beef stock
1 bay leaf
For the potato pancakes:
1-1/2 lbs. russet potatoes, peeled and cut into large pieces
½ cup all-purpose flour
½ cup sour cream
1 Tbs. kosher salt
1 tsp. freshly ground black pepper
2 large eggs, lightly beaten
2-3 Tbs. olive oil
Season the beef cubes with the salt and pepper and toss them with the flour. Heat 3 Tbs. of olive oil in a large skillet and brown the beef in batches. Remove the browned cubes to a bowl. Add the rest of the olive oil and sauté the onions, scrapping the frond off the bottom of the pan. After about 6 minutes, they should be golden and caramelized. Add the carrots and cook until soft, another 5 minutes. Add the paprika, caraway, cayenne, and garlic, and cook until fragrant, about a minute. Add the tomato paste and cook until fragrant, another minute. Add the wine and cook until reduced in half, scraping the bottom of the pan. Add the beef stock and bay leaf. Bring to a boil and reduce to a simmer. Periodically stir and skim the fat from the top of the liquid. Cook until the beef is thoroughly tender and liquid is reduced to a thick sauce.
While the goulash is cooking, make the potato pancakes. Put the potatoes in a pot of water, and boil until tender. Drain the potatoes and rice them into a bowl. Mix in the flour, sour cream, salt, pepper, and eggs to form a rather sticky dough. Take a cookie sheet and line it with baking parchment. Divide the dough into 12 portions on the baking parchment, each of which will be about 1/3 cup. Chill the dough in the refrigerator for 30 minutes to firm up the pancakes.
To cook the pancakes, heat a tablespoon of olive oil in a large skillet. Cook the pancakes 4 at a time in three batches, adding more oil as needed for the remaining batches. I found it easiest to cut the baking parchment into pieces, and to fry them paper side up, and to remove the paper while the other side was frying. Drain the fried pancakes on paper towels.
To serve, put 2 potato pancakes on each plate and put a portion of the goulash on top.