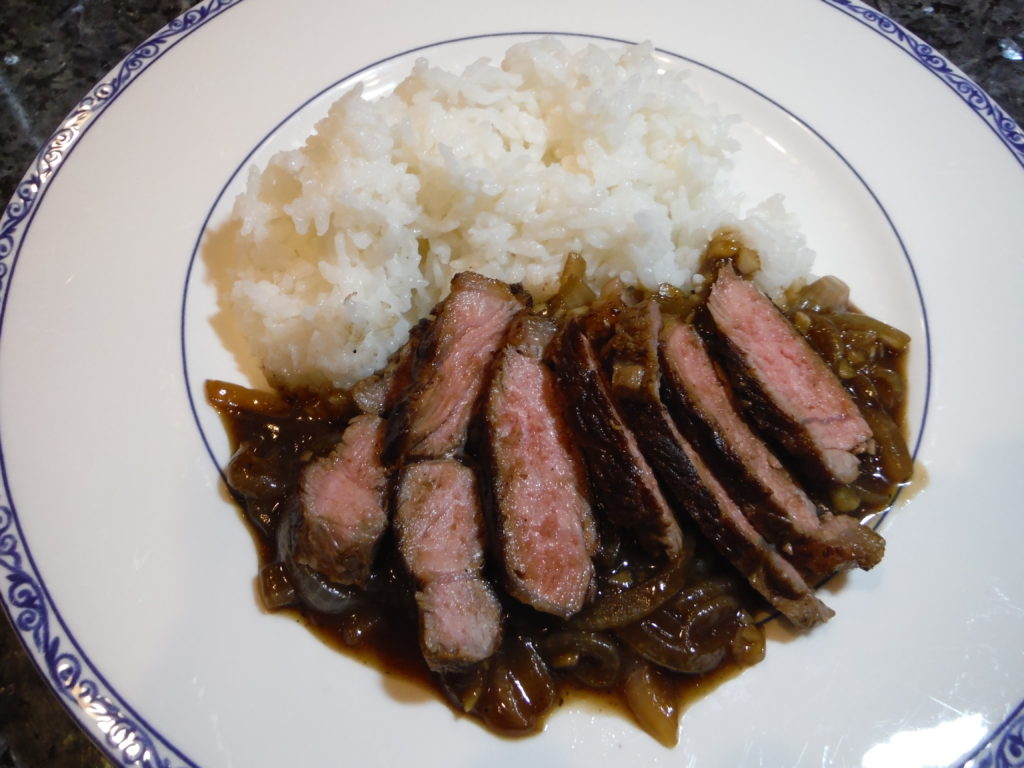 This Filipino classic is steak with a savory sweet and sour sauce based on onions, soy sauce, and lemon juice (actually calamansi juice if it happens to be available). There are many way to do this dish, and I chose a variation with a larger amount of a thicker sauce than some other recipes. These quantities will make about three servings with steamed rice and a salad. This is a fairly quick dish, with total elapsed time (including marinating time) of ~1 hour. We had it for a Friday night dinner.
1 lb. steak
¼ cup soy sauce
¼ cup lemon (or calamansi) juice
2 Tbs. cooking oil, divided
1 large onion, cut into rings
5 large cloves of garlic, chopped
¼ cup water
2 tsp. cornstarch
2 tsp. brown sugar
Salt and freshly ground black pepper to taste.
Put the steak in a gallon ziplock baggie. Mix together the soy sauce and lemon juice and add the mixture to the baggie. Push all the air out of the baggie, flip the baggie a few times to coat the steak well, and let it marinate in the refrigerator for 30 minutes. After marinating, remove the steak from the bag reserving the marinade. Dry the surface of the steak with paper towels.
Heat a frying pan over medium-high heat. Depending on the size of the pan and the shape of the steak, cut the steak in half to better fit the pan. Add 1 Tbs. of oil and swirl it around the pan. When the oil is hot, saute the steak in the pan for about 8 minutes, flipping it every minute, to get a nice crust and to cook to an internal temperature of ~130 degrees. Remove the cooked steak to a plan, cover and keep warm.
Mix together in a small bowl the water, brown sugar, and cornstarch.
Reduce the heat of the pan to medium-low. Add the other Tbs. of oil and then add the onion rings. Cook them for 3-5 minutes, stirring occasionally, and then add the garlic, and cook for another 2-3 minutes. Add the reserved marinade and deglaze the pan. Add the water, brown sugar, and cornstarch mixture, and stir well. Bring to a boil and then reduce to a simmer and cook covered for about 5 minutes.
Pour any of the meat juices from the rested steak into the sauce and stir them in. Cut the steak into slices across the grain. Put the sauce on the plate with the steak slices fanned on top. Serve with steamed rice and a salad.
Note – Carol suggested making the sauce less sweet. I thought it was balanced.