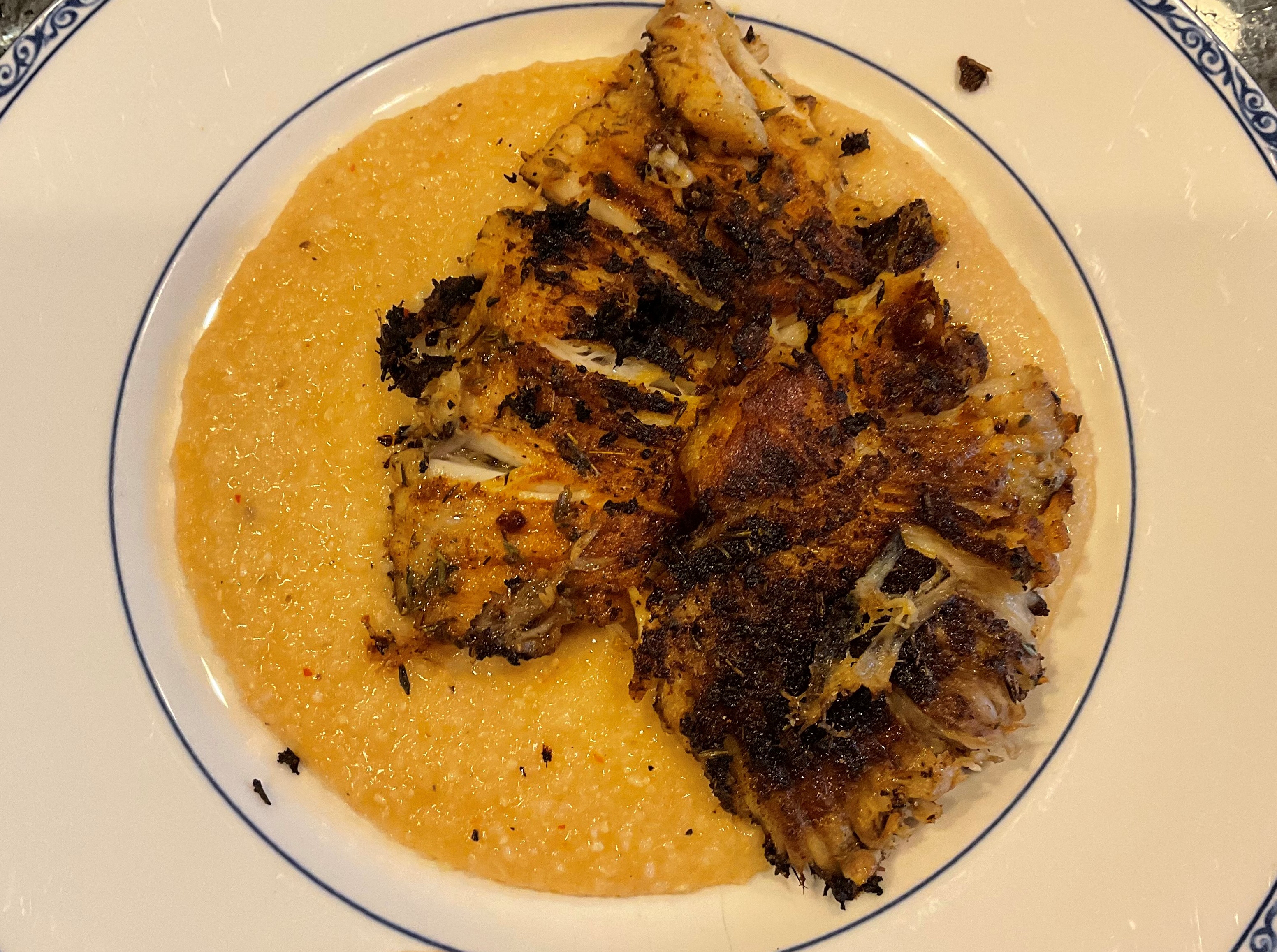 Paul Prudhomme popularized Blackened Redfish in the 1980s, which I had a few times back in the day, but then not recently. I spotted a recipe in the NYT and decided it would be a good dish for Lent. I made it with skate, which was very inexpensive and recommended by the fishman at Wegman's. The skate was very tasty, and the whole dish turned out very well. The quantities here are for 4 servings and the total elapsed time is only about 30-40 minutes. There is likely to be some leftover spice mixture.
Spice Mixture
1.5 Tbs. sweet paprika
1 Tbs. freshly ground black pepper
2.25 tsp. dried thyme
2.25 tsp. dried oregano
1.5 tsp. garlic powder
1.5 tsp. Diamond Crystal kosher salt
0.5-1.0 tsp. cayenne (depending on how hot you want it to be)
4 skinless, boneless fish fillets (I used skate)
1 Tbs. olive oil
1 Tbs. unsalted butter
3.5 cups low sodium chicken stock (for Lent I used a broth from shrimp shells plus some roasted onion Better than Bouillon)
1 cup quick-cooking grits
0.5 cup whole milk
1 cup grated sharp cheddar
0.5 tsp. freshly ground black pepper
Salt to taste (depending on how salty the stock was)
Make the spice mixture. Generously sprinkle on both sides of the fish fillets and press in. Allow to rest for 15 minutes.
Bring the stock to a boil and mix in the grits. Reduce to a simmer and cook for about 5 minutes until the grits are cooked. Mix in the whole milk, cheddar cheese, and black pepper, and check for seasoning. Cover and keep warm on the back of the stove.
Turn on the stove fan. In a large skillet heat the olive oil and butter until very hot. Add the fish fillets and cook on each side 2-4 minutes, until done. Serve on top of the cheese grits.