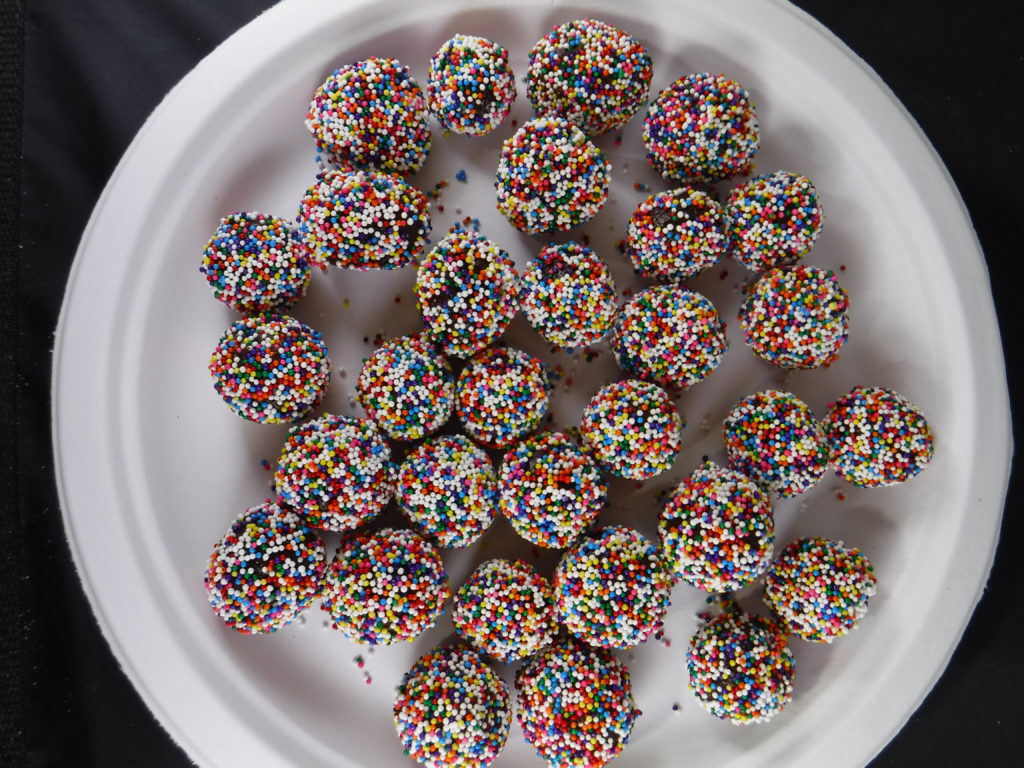 Brigadeiros are a popular Brazilian candy which is a simple form of fudge based on sweetened condensed milk.  Amanda made this batch over Thanksgiving weekend.  They turned out well, but a bit soft, and the next time Amanda is going to cook them a bit longer.  (I made a second batch this weekend, which I cooked longer and made firmer.)  This version is adapted from The America's Test Kitchen D.I.Y. Cookbook.
Note that there are two types of cocoa, natural and Dutch-processed.  The popular brands in the US (Hershey and Ghirradelli) are both natural cocoa, which is somewhat acidic.  Dutch-processed cocoa is more alkaline.  Since I have an abundance of natural cocoa in the pantry, both batches were actually made from natural cocoa rather than the recommended Dutch-processed cocoa.  I do not think the different acidity makes any difference for this recipe, and I will have to buy some Dutch-processed cocoa to see how different the taste is.
14 oz. can sweetened condensed milk
½ cup Dutch-processed cocoa
2 Tbs. unsalted butter
Sprinkles, colored sugar, etc. for coating
Grease a 8 inch square baking dish.
Mix together the sweetened condensed milk, cocoa, and butter in a medium saucepan.  Cook over low heat, stirring frequently, for about 20-25 minutes, until a spatula drawn through the mixture leaves a distinct trail.
Pour the mixture into the greased pan, cover, and refrigerate for at least 30 minutes and up to overnight.   Pour the sprinkles into a shallow bowl or plate.  Pinch off tablespoon sized pieces of the candy, form into a ball, and roll in the sprinkles until covered.  Eat immediately or store refrigerated for up to 2 weeks.