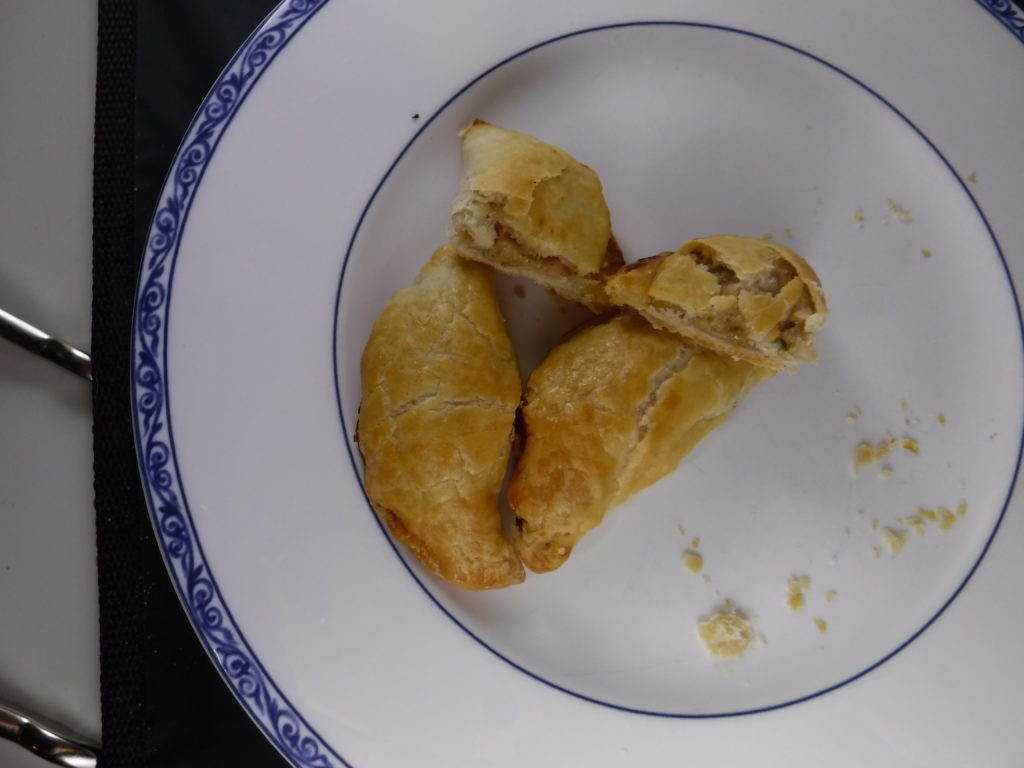 On November 28, 2018, the New York Times published an article on a group of Jewish women in Atlanta, who make burekas (essentially Middle Eastern empanadas) for an annual synagogue bazaar.  One of the things I found charming about the article is that their recipe has evolved over the years to use White Lily flour, a regional Southern low-protein flour popular for biscuits, and corn oil.  In other words, fusion cuisine was at work!  A dish made in another place with ingredients easily available there, is modified over time to fit the ingredients easily available in a new location.   Also charmingly, the recipes which accompanied the article, were in turn modified again from the way these women in Atlanta make the burekas to fit a national American readership, since White Lily flour is hard to get outside the South.
Here is my adaptation of the recipes in the New York Times.  I made a full batch of the bureka dough and a half batch each of the two fillings:
Eggplant, Onion and Tomato Bureka Filling
Spinach and Cheese Bureka Filling
Because the recipes included measurements by weight, it was easy to half the filling recipes.  All turned out well.
2-1/2 cups (320 grams) all-purpose flour, plus additional flour for rolling out the dough
1 tsp. kosher salt
¼ lb. (115 grams, 1 stick) cold unsalted butter
½-3/4 cup ice water
Egg wash (1 egg mixed with 1 Tbs. of water)
Grated Parmesan
In a large mixing bowl, mix together the flour and salt.  Cut the cold butter into little cubes and cut it into the flour until it has the texture of peas.  Add the ice water to make a dough, starting at ½ cup and then adding additional water if needed.  Mix in the ice water either with a paddle attachment, or by folding with a spatula.  Divide the dough into 2 pieces, wrap with plastic wrap, and put in the refrigerator to rest for at least 30 minutes.
When ready to fill the bureka, roll each piece of dough out thinly on a floured pastry cloth.  Cut each piece into 10-12 circles with a 3-1/2 inch pastry cutter.  Fill each bureka with 1 Tbs. of filling and seal the edges forming a half moon shape.  Place on a cookie sheet lined with a silicon mat or baking parchment.  Coat with the egg wash and sprinkle on a little grated Parmesan.  Bake for 30-35 minutes in a preheated 350 degree oven until golden brown.