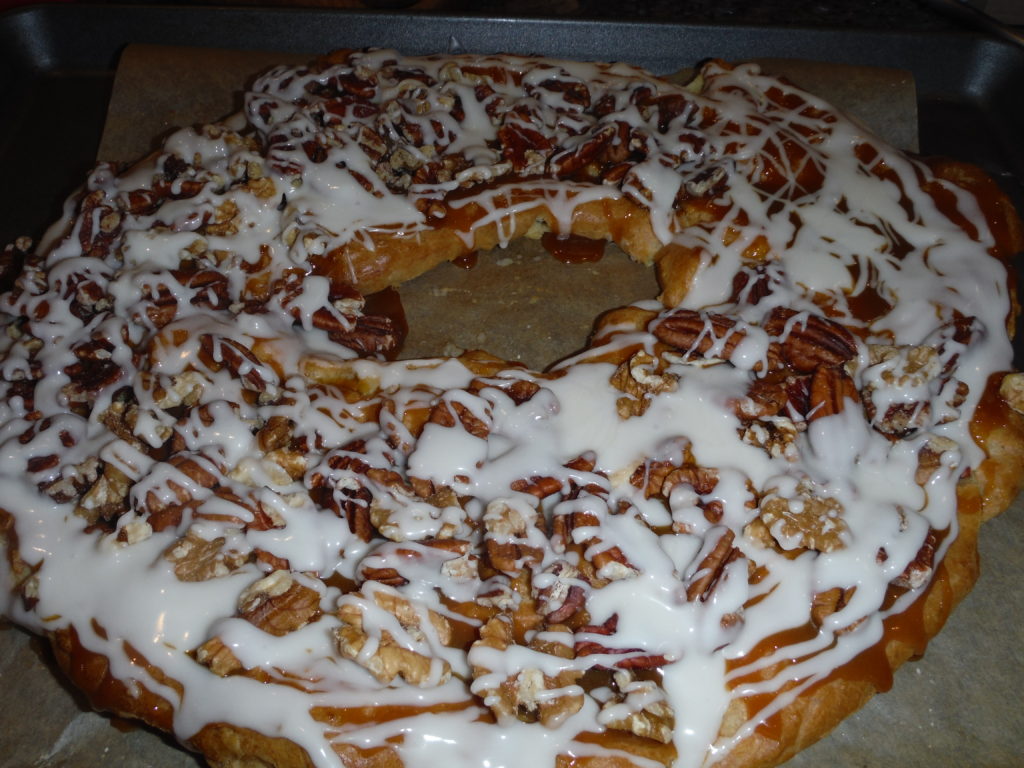 As we were prepping at the Phillips' cabin in northern Wisconsin for our latest trip to the Boundary Waters Canoe Area, I was introduced to the kringle, a member of the Danish pastry family formed into a ring which is the state pastry of Wisconsin. It was good, so of course I kept my eyes open for a recipe on how to make one. Just in time for the Christmas holidays, I saw a recipe published by King Arthur Flour, which is adapted below. I made this Christmas Eve to serve for Christmas morning. It was good, and probably would have been even better if I had made it in the morning and served it immediately.
This recipe has a couple of tricks to simplify kringles from their normal preparation, basically by transforming them from a layered pastry (folding and refolding to create layers of butter and dough) into two butter enriched layers with minimal handling.
Base
½ cup unsalted butter, cut into pats
1 cup (4.33 oz.) all purpose flour
½ tsp. salt
¼ cup cold water
Pastry Topping
1 cup water
½ cup unsalted butter
½ tsp. salt
1 cup (4.33 oz.) all purpose flour
3 large eggs, at room temperature
½ tsp. flavoring (vanilla, rum, butter rum, etc.)
Pecan and Caramel Topping
1 cup caramel or dulce de leche (See note)
2 cups pecans
Glaze
1 cup confectioner's sugar
2-3 Tbs. milk or cream
½ tsp. flavoring (vanilla, rum, butter rum, etc.
Pinch of salt
Preheat the oven to 350 degrees. Line a baking sheet with baking parchment.
Make the base in the same way that you would make pie dough. Cut together the butter flour and salt until crumbly. Mix in the cold water to form a sticky dough. With wet hands, form the dough into a ropy oval about 8 inches by 13 inches, and then flatten the oval into a ribbon about 1-1/2 inches wide. Keep your hands wet to handle this sticky dough.
Make the pastry topping by putting water, butter and salt into a sauce pan and heating over medium heat until the water is boiling and the butter is melted. Transfer the liquid to a mixing bowl and immediately mix in the flour until it starts to form a ball. Beat in the eggs, one egg at a time, incorporating well. Add the flavoring and mix in. Spoon the batter over the pastry base and use a spatula to smooth it out. You will have a bigger oval, since there is more topping than base, but it should still be an oval.
Bake the kringle for 50-60 minutes until golden brown and cooked through. When done, remove the kringle from the oven and allow it to cool completely before adding the toppings, which otherwise may melt off.
Sprinkle on the caramel topping, sprinkle on the pecans, and press the pecans in so that they stick to the caramel.
In a bowl, mix together the glaze ingredients, adding enough milk or cream to have a thick but pourable glaze. Drizzle the glaze over the kringle.
Enjoy
Note on the caramel topping: There are many possible sources for the caramel topping. The simplest is to use bottled caramel sauce or ice cream topping. This is what I did since I had a jar in the pantry. The one drawback is that these commercial sauces and toppings are relatively thin since they are intended to be used on ice cream. A second simple approach is to buy caramel candies. Unwrap about 36 and put them in a bowl in the microwave, and zap them until they have melted enough to drizzle. You can also use higher-end blocks of caramel, which will need to be chopped up and melted (and possibly thinned with milk or cream) into a pourable liquid. I think dulce de leche would also be great with this. I may still have a jar somewhere in the pantry from my trips to Buenos Aires, but if so, I could not find it.