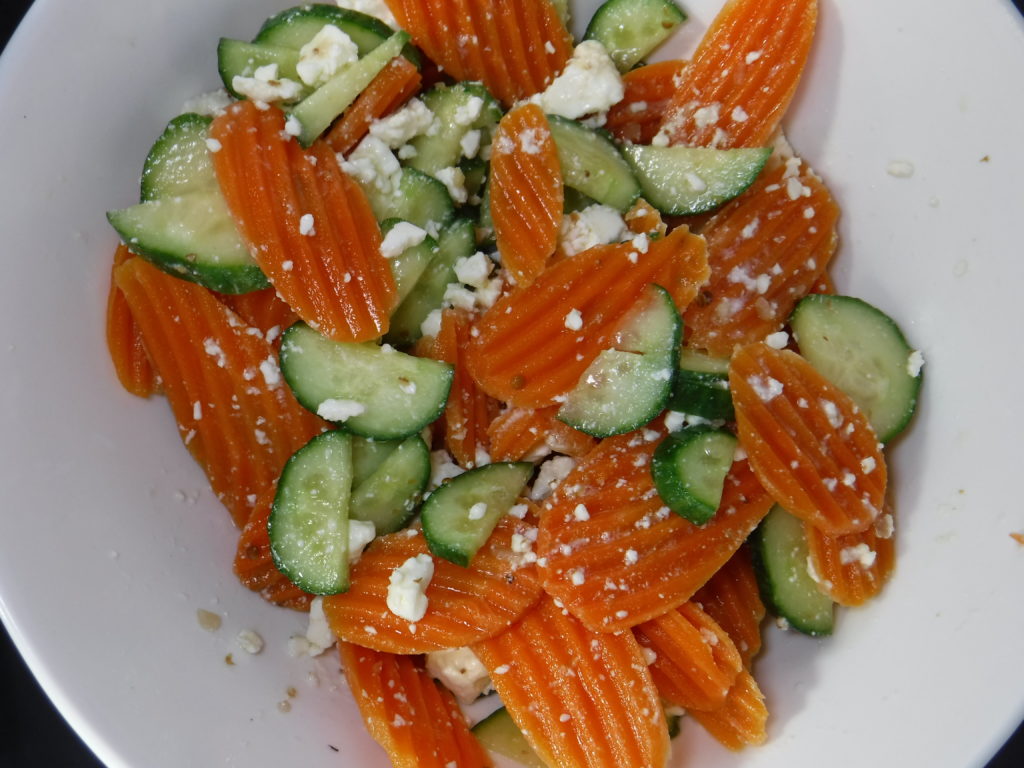 One of the best dishes we had at a recent dinner to a Georgian restaurant in DC was a carrot, cucumber, and Feta salad. After a few tries, this is close to what we enjoyed at the restaurant. The key step is to boil the carrots just until crisp-tender. How long this will take depends on how thick the carrots are, so uniform sized carrots are a real plus. Do not overcook the carrots! The first time I did this, I followed a recipe on the internet which called for roasting them for 40 minutes to bring out the inherent sweetness of the sugars in the carrots. It was really disappointing, and we did not eat them all.
Another step is to salt the cucumbers to drain off some of the water before adding them to the salad.
8 oz. cut carrots
8 oz. sliced cucumbers
4 oz. Feta, crumbled
3/8 cup vinaigrette
Salt
Mix the cucumbers with ¼ tsp. of salt in a colander and let rest for 15 minutes. Pat dry with paper towels.
Bring a saucepan of salted water to a boil. Prepare a bowl of ice water. Boil the carrots until just crisp-tender. Start testing them after 2 minutes. When crisp-tender, drain and plunge them in the ice water until cooled to room temperature. Drain the carrots from the ice water and pat them dry with paper towels.
Mix the cucumbers, carrots, Feta, and vinaigrette in a large bowl. Check for seasoning and serve.