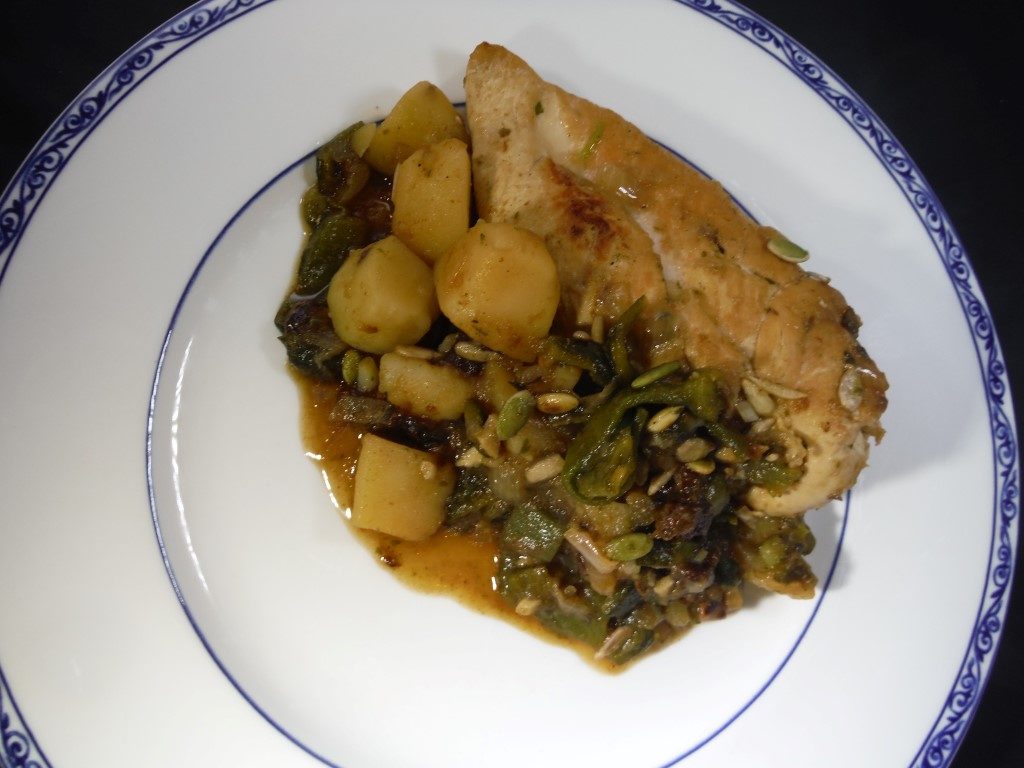 This chicken dish originated as a staff meal in a restaurant in Mexico City, became a popular item in the restaurant's menu, and appears in Pati's Mexican Table by Pati Jinich.  The name (Chicken a la Trash) is a reference to the wide range of ingredients in it.  When I first saw the recipe I thought of the Silver Palate's famous Chicken Marabela since both dishes combined chicken with prunes.  Carol liked this a lot.
1-1/2 lbs. red potatoes peeled and cut into ½ inch cubes (~4 cups)
Kosher salt
¼ cup hulled raw pumpkin seeds
¼ cup raw sunflower seeds
6 skinless and boneless chicken breasts
Freshly ground pepper
¼ cup vegetable oil
2 cups coarsely chopped white onions
3 cloves garlic, finely chopped
1 lb. poblano chilies, roasted, peeled, and cut into strips
2/3 cups coarsely chopped pitted prunes
1/3 cup water
Cook the potatoes in a pot of salted water for 4-5 minutes, and then drain.
In a skillet over medium-low heat, toast the pumpkin and sunflower seeds and toast them for 4-5 minutes, being careful not to let them burn.  Remove to a small bowl.
Season the chicken with 1 tsp. of kosher salt and with freshly ground black pepper.  Heat the oil in a large skillet.  Add the chicken breasts.  Brown on one side for 2-3 minutes and then flip and brown on the other side.  Add the onions to the skillet, and cook them, stirring often until fully translucent.  Add the garlic, and cook until fragrant.  Add the poblano strips and cook for 2-3 minutes.  Add the potatoes, the prunes, ½ tsp. of salt, and the water.  Mix well, cover, and cook 12-15 minutes stirring a few times until every thing is cooked through and has melded into a stew.  Taste for seasoning.  Stir in the toasted seeds when ready to serve.