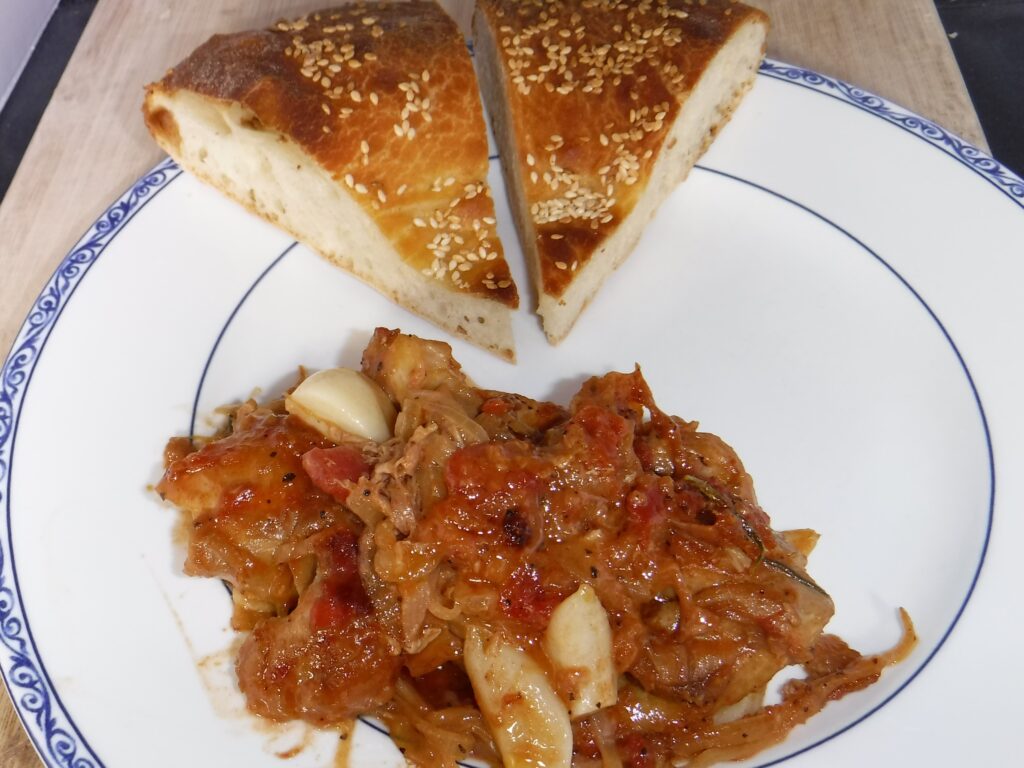 This is a traditional dish from the Le Marche area of central Italy. It is similar to, and may be the ancestor for, the popular chicken with 30 cloves of garlic. It would most commonly be made with chicken pieces. I used a package of boneless chicken thighs I had in the freezer. This is pretty basic, but quite tasty. It took a total of 2 hours and made what for us were 2 ample servings. I was introduced to this dish by an article in La Cuisina Italiana.
1/3 cup olive oil
2 lbs. boneless skinless chicken thighs
1 large knob of garlic, peeled
½ large onion, sliced
8 oz. white wine
½ of a 14 oz. can of diced tomatoes
Several sprigs of rosemary
1 tsp. marmite (optional, and not traditional)
Salt and pepper to taste
Heat the olive oil in a large Dutch oven over medium heat. Add the chicken thighs and brown on both sides. Add the garlic and onion and the wine. Deglaze the pan thoroughly with the wine. When the wine has nearly evaporated add the tomatoes, rosemary, marmite (if using), some salt and pepper, and enough water to cover the chicken. Bring to a boil and reduce to a simmer. Cook, stirring occasionally, until the water has nearly all evaporated and the oil is reappearing. At this point the chicken should be very tender. Check seasoning and serve.