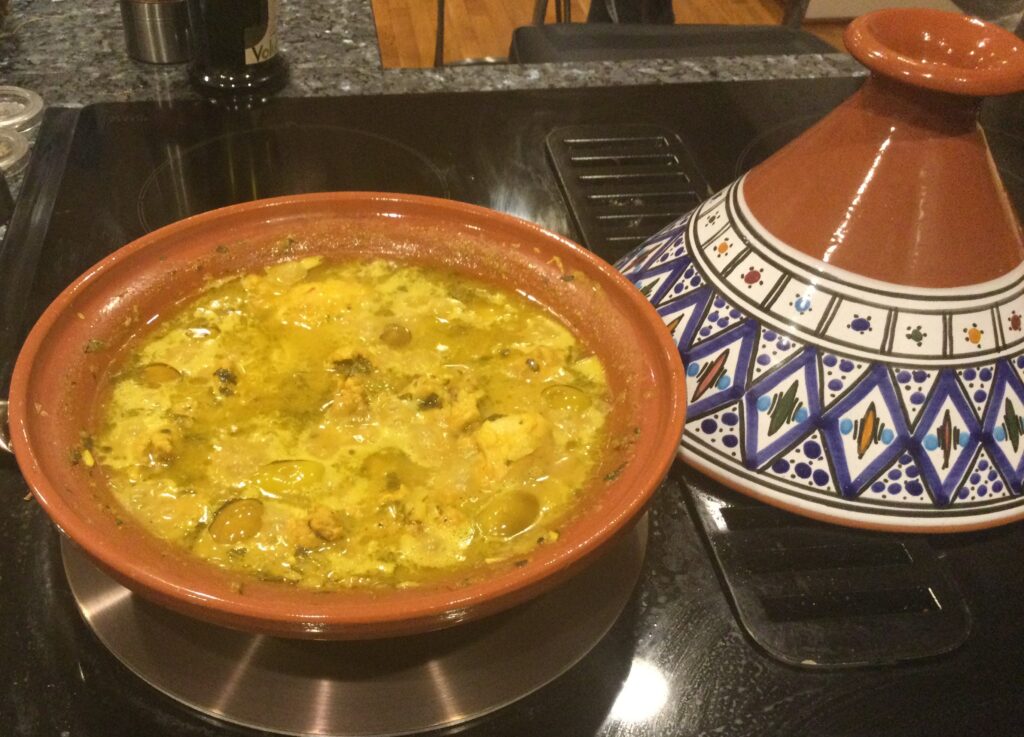 A chicken tagine with preserved lemons and green olives is one of the best known dishes in Moroccan cuisine. This version is based on the recipe provided for our cooking class at La Maison Arabe in Marrakesh. It made 3 servings. This was the first time we used a tagine pot at home with a deflector plate. It took a very long time on our stove to warm up the tagine base but eventually it did get fully hot and was able to simmer the tagine well.
One ingredient which is hard to get in the US is smen, an aged butter which smells very cheesy. I substituted an equal amount of blue cheese, as recommended in one of my Moroccan cookbooks. The blue cheese was not detectible in the final product.
We are currently making preserved lemons, but they are not ready yet, so I substituted 2 Tbs. of 24-Hour Salted Lemon Spread which I had in the refrigerator.
We served this with Moroccan Carrot and Chickpea Salad , Zaalook (Moroccan Eggplant and Tomato Salad) , Moroccan Semolina Bread (Khobz) .
1 lb. boneless, skinless chicken thighs (about 6)
½ red onion, chopped
1 preserved lemon (or 2 Tbs. 24-Hour Salted Lemon Spread )
2 cloves garlic, finely chopped
1 Tbs. parsley, finely chopped
1 Tbs. cilantro, finely chopped
½ tsp. black pepper
1 tsp. ground ginger
1 tsp. ground turmeric
1 pinch of saffron
2 Tbs. olive oil
1 tsp. smen (or blue cheese)
1 cup water
12 green olives
Slowly heat the tagine on the stove with a deflector plate. We ultimately had the burner on high.
If using a preserved lemon, separate the pulp from the peel. Finely chop the pulp and reserve the peel. Add the pulp to the tagine with the onion, garlic, parsley, cilantro, spices, olive oil and smen. Mix together. Pierce the chicken thighs with a knife to help them absorb the flavorings, and add to the pot. Add the water and mix well. Cover the tagine, and cook for 45-60 minutes until the chicken is fully cooked, stirring occasionally. Remove the lid and start to reduce the sauce. When it is getting reasonably thick, stir in the preserved lemon peel and olives. Heat through and continue to reduce. Check the seasoning and serve with bread.