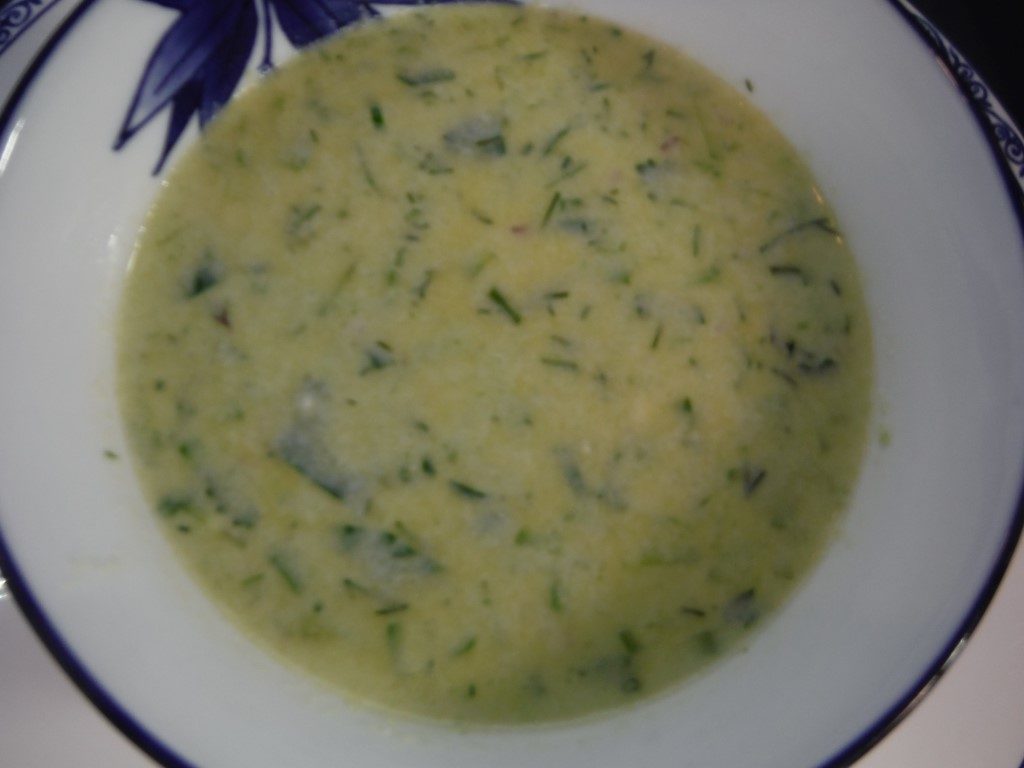 This traditional Armenian soup pushes a number of buttons for me.  It is based on yogurt, which I like to make, and is full of cucumbers, which Carol likes.  I thought it would be a good warm-weather dish which would be an alternative to a traditional salad, just like gazpacho is.  Here is my adaptation of a recipe in The Immigrant Cookbook.  The main change I made was to reduce the salt from the original.  I would recommend starting low on the salt and adding more gradually until it hits the spot.  Remember that the salt flavor will be toned down when the soup is well chilled.
1 lb. cucumbers peeled (I used small Persian cucumbers)
2 Tbs. water
2 tsp. kosher salt (or to taste)
1 shallot, peeled and quartered
1 clove garlic
2 cups plain whole-milk yogurt
¼ cup olive oil
Juice of ½ lemon
5 dill sprigs, fronds only, chopped
5 mint sprigs, leaves only, chopped
5 cilantro sprigs, leaves only, chopped
 Seed the cucumbers if they have large seeds.  Divide the cucumbers into 1/3 and 2/3 piles.  For the 1/3 pile, finely dice and put them in a bowl to add to the finished soup.  For the 2/3 pile, roughly chunk and put into a food processor with the water and 1 tsp. of salt.  Process until pureed.  Add the shallot and garlic, and pulse until finely ground.  Put the cucumber/shallot/garlic mixture into a large bowl, and stir in the yogurt, olive oil, and lemon juice, and whisk until well emulsified.  Stir in the herbs and reserved cucumbers.  Add the remaining tsp. of salt gradually and taste until seasoned properly.
 This can be served immediately, but would be better if chilled.  If chilled, taste again for seasoning before serving.