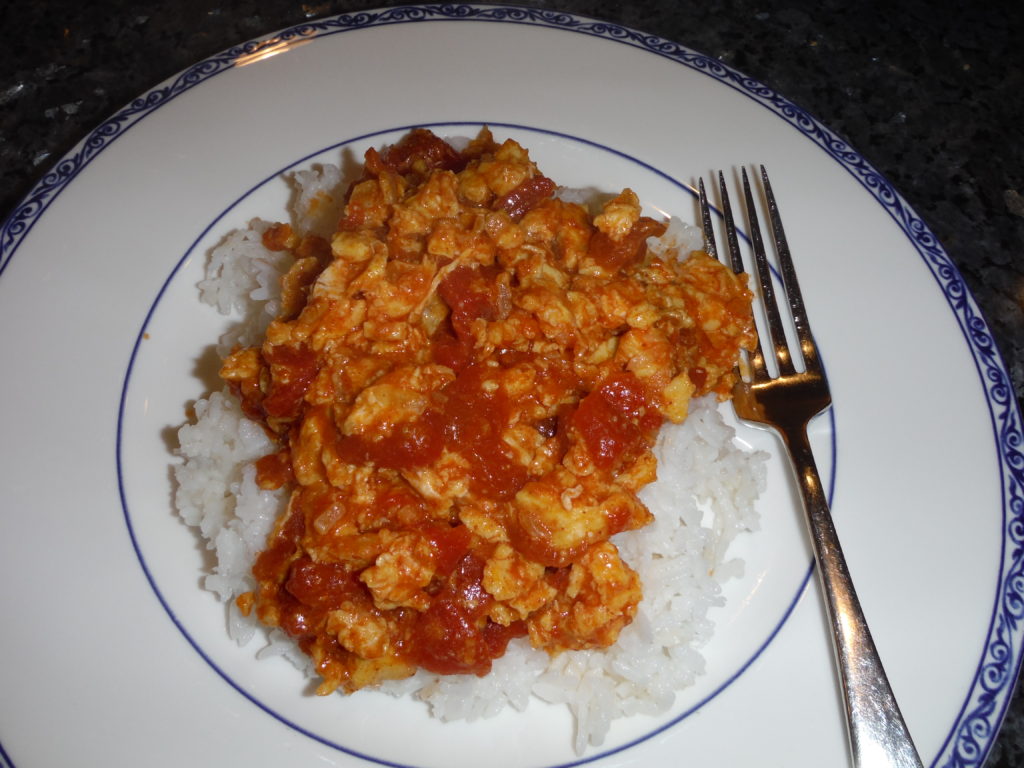 This Chinese-American comfort food classic is a tasty and inexpensive mid-week dinner. It is a saute of eggs in a sweet-sour sauce with sesame and ginger accents. This version is an adaptation of the recipe in the New York Times. (For example, it called for scallions, but I only had white onion on hand.) This makes about 3 servings with steamed rice.
6 eggs
1 tsp. kosher salt
½ tsp. sesame oil
1 Tbs. rice wine, sake, or dry sherry
1 tsp. cornstarch
1 tsp. sugar
2 Tbs. ketchup
14.5 oz. can of diced tomatoes
4 Tbs. vegetable oil, divided
½ white onion, finely diced
1 tsp. freshly grated ginger
Steamed rice.
In a large bowl mix together the eggs, salt, sesame oil, and rice wine. In a small bowl, dissolve the cornstarch in 2 Tbs. of water and then add the sugar and ketchup and mix well.
In a wide non-stick skillet, heat 3 Tbs. of oil over high heat. When hot, add the onion and cook until softened. Pour the egg mixture into the pan, and cook for about 45 seconds moving around the egg to break up the curds. When the curds are lightly cooked, transfer the eggs back into the large bowl and wipe out the skillet so that it is clean for the next step.
Add the remaining Tbs. of oil to the skillet and heat the pan on high until it again is hot. Add the ginger and fry for a few seconds, until fragrant. Add the can of tomatoes and juice, mix with the ginger, and cook until the mixture has thickened into a sauce, breaking up any large chunks of tomato with the spatula. Reduce the heat to medium, add the cornstarch mixture, stir it well, and cook until the sauce thickens. Add the cooked eggs from the large bowl, and stir to mix them with the tomatoes and sauce, and to heat and finish cooking them. Serve with steamed rice.