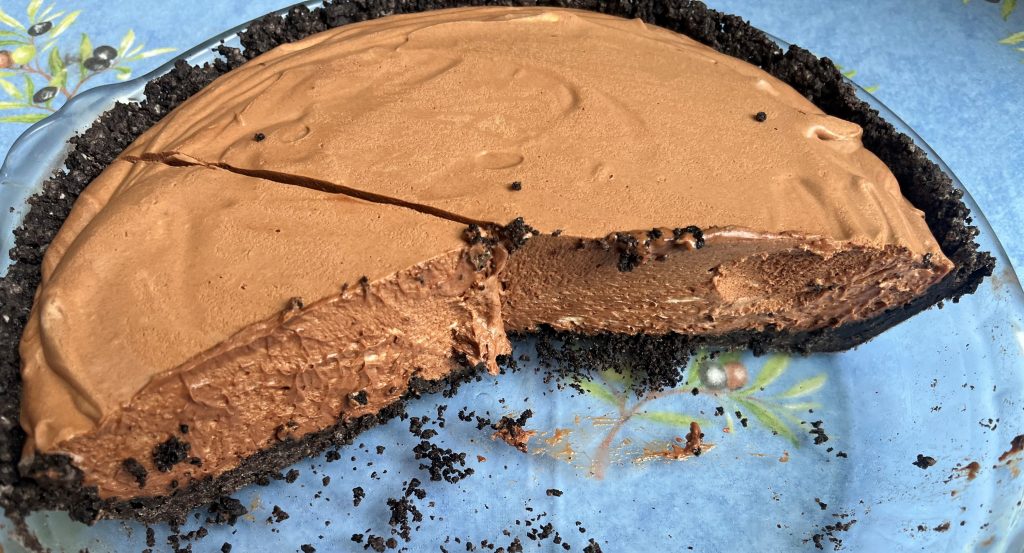 This is an easy summer-time dessert which Carol made for Father's Day based on a recipe in Epicurious.
Crust
21 chocolate sandwich cookies, such as Oreos
¼ cup (1/2 stick) unsalted butter, cut into pieces, at room temperature
Mousse
12 oz. semisweet chocolate, finely chopped
1 tsp. vanilla extract
Pinch of salt
3 cups chilled whipping cream
¼ cup sugar
Whipped crem for serving
Preheat the oven to 350 degrees.
Butter a 9 inch pie plate.
Finely grind the chocolate cookies in a food processor. Add the butter and process until the butter is evenly distributed. Put the cookie mixture in the pie plate and press to cover the bottom and the sides evenly. Bake the crust for 5 minutes and then cool completely on a rack.
Combine the chocolate, vanilla, and salt in a food processor. Bring a cup of the cream to a boil in a small heavy saucepan. With the processor running, gradually pour the hot cream through the feed tube until the chocolate is melted and smooth. Transfer the mixture to a large bowl. Cool to room temperature, stirring occasionally.
Beat 2 cups of the cream with the sugar in the bowl of a stand mixer to stiff peaks. Fold into the chocolate mixture. Pour into the prepared pie shell. Chill until set, about 6 hours. Can be prepared the night before serving.
Serve with whipped cream.