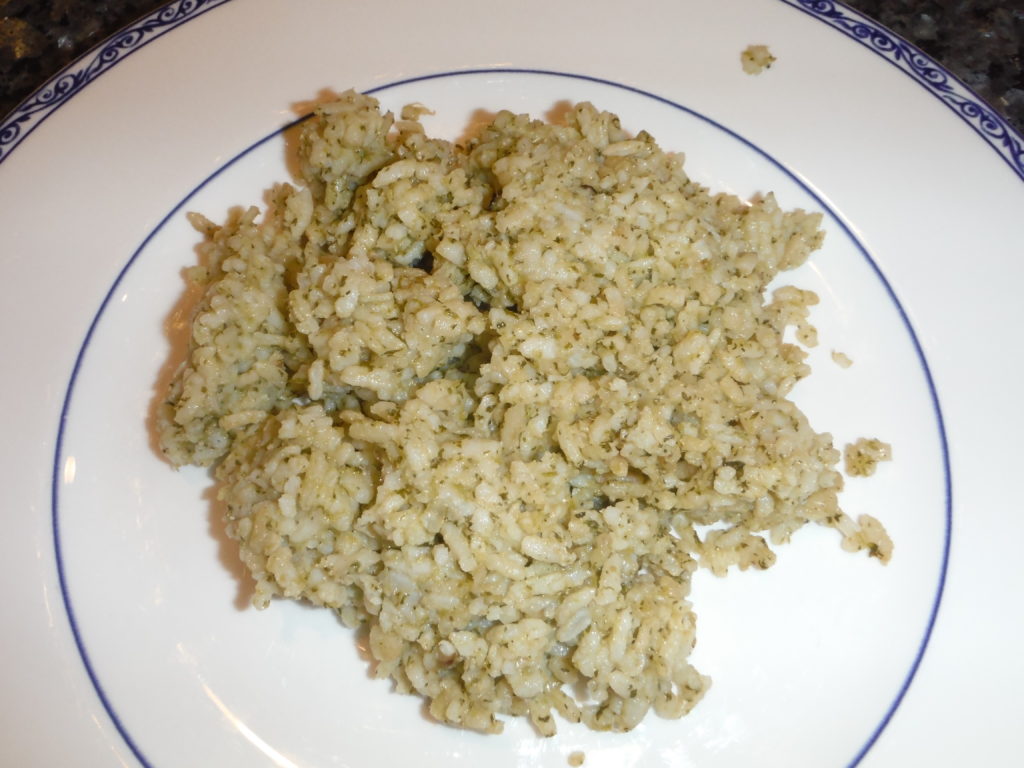 We were in the mood for something different than ordinary steamed rice, and made this cilantro rice, which is adapted from Melissa Guerra's "Dishes from the Wild Horse Desert: Norteno Cooking of South Texas". We have served it a couple of different ways, most recently with shrimp sautéed with garlic and guacamole salsa. We made this with the kind of rice we had on hand, which was a medium grain Japonica, but it really should be made with long grain rice.
2 Tbs. neutral oil
½ cup chopped onion
2 cups white rice
2 oz. fresh cilantro (~3/4 of a large bunch)
1 clove garlic, chopped
4 cups reduced sodium chicken stock
Salt and pepper to taste,
In a large saucepan with a lid, heat the oil over medium heat. Add the onion, and cook for 2-3 minutes, and then add the rice.   Saute for about 5 minutes, until the onion is translucent.
Put the cilantro, garlic, and one cup of chicken stock into a food processor or blender, and blend until smooth. Add the cilantro mixture to the saucepan and add the rest of the stock. Stir. Salt and pepper to taste. Bring to a boil and then reduce to a simmer and cook it slowly with the lid on until the rice is cooked through, about 25 minutes. Fluff the rice to serve.