This variation of gravlax is adapted from a recipe at Epicurious.com. The promise of the recipe was that you could set up the salmon and its cure and then forget about it until it was done 3 days later. I actually let it cure for 4 days due to scheduling issues, and it worked fine as promised. We are serving it for New Year's Day dinner with onion and Sweet Mustard Dill Sauce on Basic No-Knead Bread . I made a half of Epicurious' recipe, which is still a lot of cured salmon.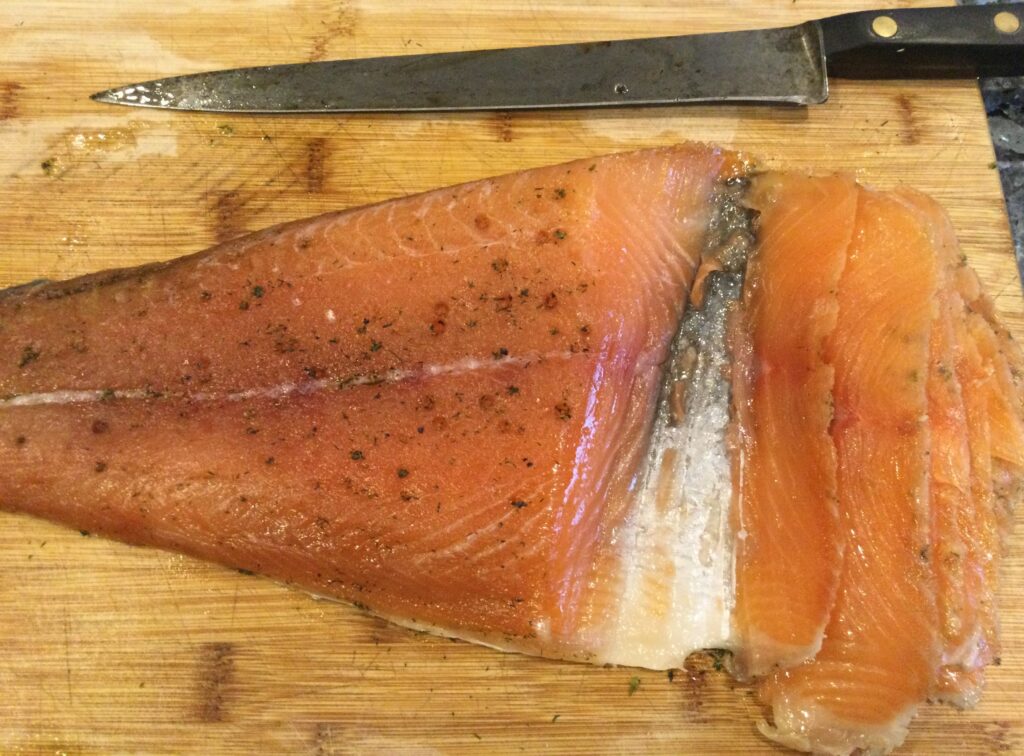 ½ bunch dill
Zest from 1 grapefruit
Zest from 1.5 lemons
5/8 cup kosher salt
½ cup packed light brown sugar
½ Tbs. cracked black peppercorns (I cracked them with a mortar and pestle.)
1.5 lb. boneless side of salmon.
Put the dill, citrus zests, salt, sugar, and peppercorns into the bowl of a food processor. Process until all the ingredients are well combined.
Put a sheet of baking parchment on the counter. Spread 1/3 of the curing ingredients on the parchment in the shape of the salmon piece. Put the salmon skin side down on top of the cure. Spread the remaining 2/3 of the curing ingredients on top of the salmon. Fold the parchment around the salmon. Cover the salmon with another piece of baking parchment with the edges tucked under the salmon. Put the wrapped salmon on a quarter-sheet pan (9 x 13 inches). Thoroughly wrap the sheet pan containing the salmon with plastic wrap. Put another quarter-sheet pan on top and place in the refrigerator. Put weights on top of the upper sheet pan. (I used about 10 soda cans.)
After 3-4 days undisturbed in the refrigerator, remove the sheet pans from the refrigerator. Cut off the plastic wrap and pour off the accumulated liquid. Unwrap the salmon from the baking parchment and thoroughly scrape off the cure using a knife.
Using a sharp knife, cut the cured salmon into thin slices on an angle. Serve on good bread with your favorite toppings. I used onion and Sweet Mustard Dill Sauce on Basic No-Knead Bread .