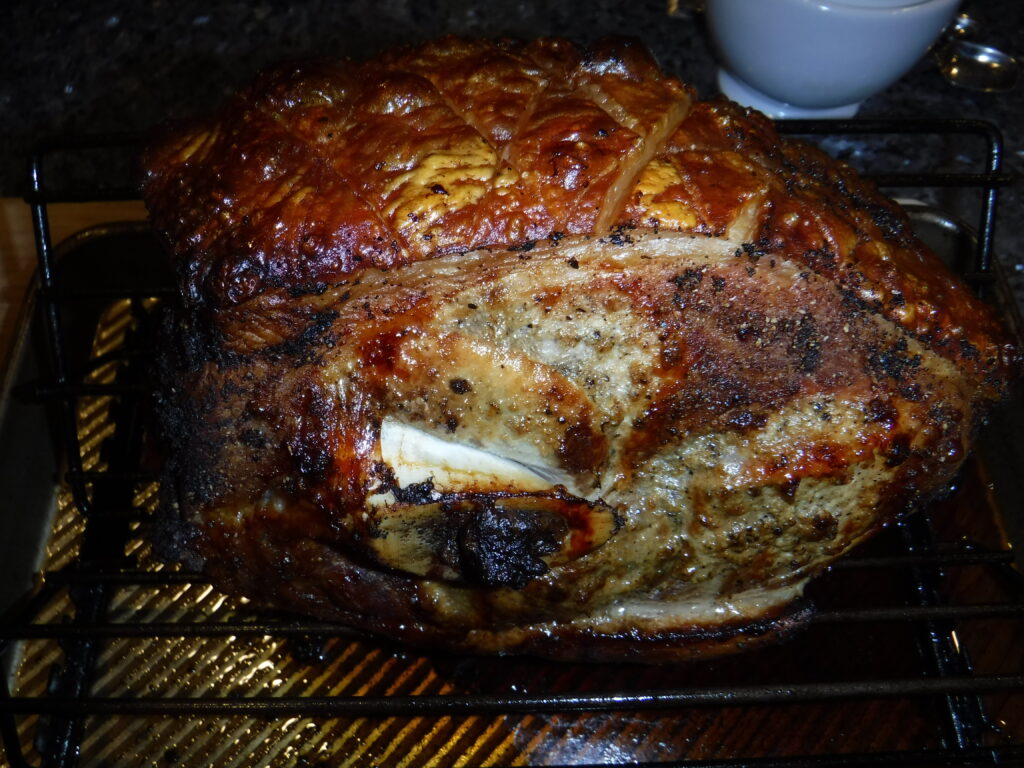 Pata is a roast pork dish with a dipping sauce which is Filipino in origin.  This version is adapted from Tim Anderson's Tokyo Stories, where it is included in the section on foreign foods available in Tokyo.  (Many Filipinos are in Japan working and sending money back home.   During most of our time in Tokyo we had a Filipina maid/babysitter.)  I made this from half a picnic (i.e. half a leg) which I bought at New Grand Mart, because that cut came with skin, and a prized part of the dish is cooking up some crispy skin.
This version is a two-step process, first boiling the meat, and then roasting it at 475 degrees. At that temperature the fat cap on the roast will spatter quite a bit. I put the pork in a roasting rack set in a quarter sheet pan, and I made an absolute mess of the oven, including producing smoke thick enough that I turned on the stove's exhaust fan to try to make sure that the smoke detector was not set off. Next time, it should be in a rack in a jelly roll pan, and there should be some water in the bottom of the pan to reduce spatter and smoke.
This took about 2-1/2 hours end to end, mostly unattended time. We served it with steamed rice and sautéed baby bok choi. We saved the broth in which the pork was boiled as a soup stock.
2-3 lb. pork roast with skin
6 bay leaves
2 Tbs. whole black peppercorns
1-1/2 tsp. salt
2/3 cup vinegar
3 Tbs. soy sauce
2 Tbs. brown sugar
½ onion, finely diced
1-2 Thai bullet chilies, finely sliced
Oil
Salt, pepper, garlic powder
In a pot big enough to hold the pork, add the pork, bay leaves, peppercorns, salt, and enough water to cover the pork. Bring to a boil and reduce to a simmer, and simmer the pork for an hour.
Preheat the oven to 475 degrees. Remove the pork from the pot and dry it with paper towels. Rub it with oil and then with the salt, pepper and garlic powder. Score the skin at 1 inch intervals. Put the pork skin side up on a rack in a walled baking dish, like a jelly roll pan. Roast for an hour.
While it is roasting, in a small saucepan combine the vinegar, soy sauce, brown sugar, onion, and chilies to form a dipping sauce. Heat to dissolve the sugar and then hold at room temperature.
When the pork is done, allow it to cool slightly, and then cut it into one inch chunks. Serve with the dipping sauce.