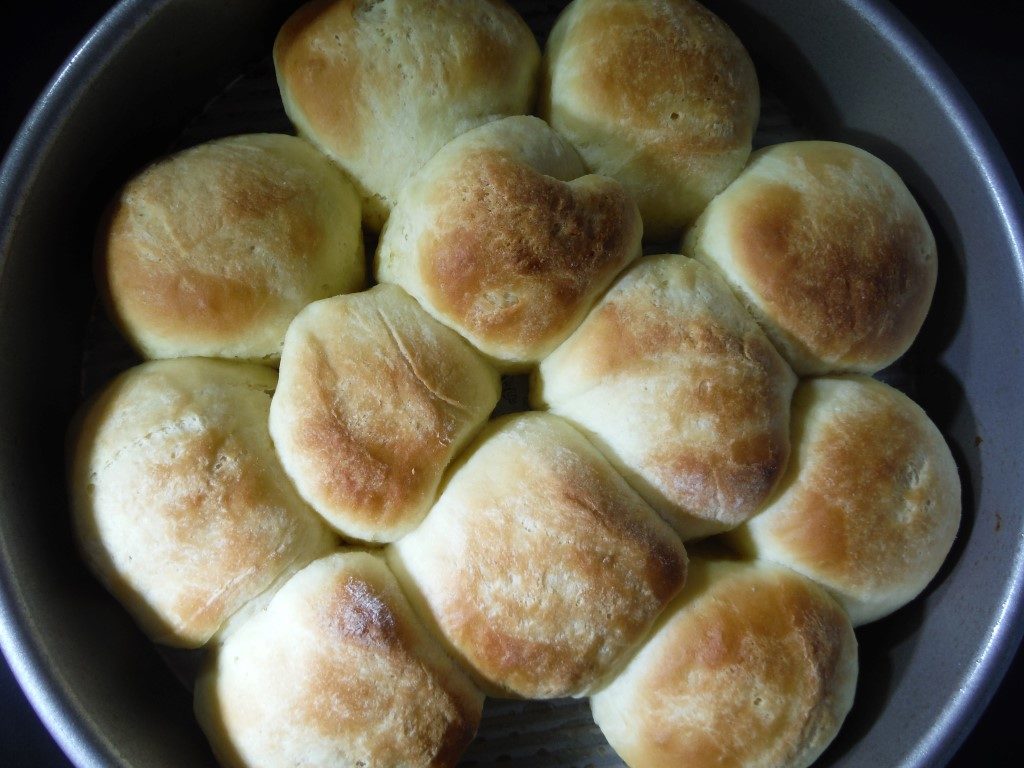 My contribution for the family Easter gathering this year was three pans of dinner rolls, adapted from Bernard Clayton's Complete Book of Small Breads. The recipe below will make one pan of 12 rolls. This enriched dough is very easy to work with, and can be used to make a variety of roll shapes. I chose pan rolls, i.e. rolls placed near each other in a 9-inch cake pan, since that was an easy shape to make.
2 tsp. yeast (one package)
¼ cup milk, at room temperature
1 egg, at room termperature
2 Tbs. sugar
¼ cup mashed potatoes, homemade or instant (I used instant)
3 Tbs. butter, softened
¼ tsp. salt
2 cups (8.66 oz.) all purpose flour
2 Tbs. butter, melted for brushing
Cooking spray
Proof the yeast in the milk with a little of the sugar. When the yeast has bloomed, mix in the egg and the rest of the sugar. Next mix in the mashed potato, butter and salt. Add the flour and mix with the paddle attachment until a smooth dough forms.  Put the dough in a doubling container, coat with a little oil, cover, and allow to rise in a warm spot until doubled, about 1-1/2 hours.
Coat a nine-inch cake pan with cooking spray. On a lightly floured surface, divide the dough into 12 pieces, form each piece into a ball, and space them evenly in the pan, such as 8 pieces in an outer ring and 4 pieces in an inner ring. Brush the tops with the melted butter. Cover the cake pan with plastic wrap, and rest for about 30 minutes until the rolls double.
Preheat the oven to 400 degrees while the rolls are rising. Bake the rolls until golden, about 12-15 minutes, rotating the pan midway.