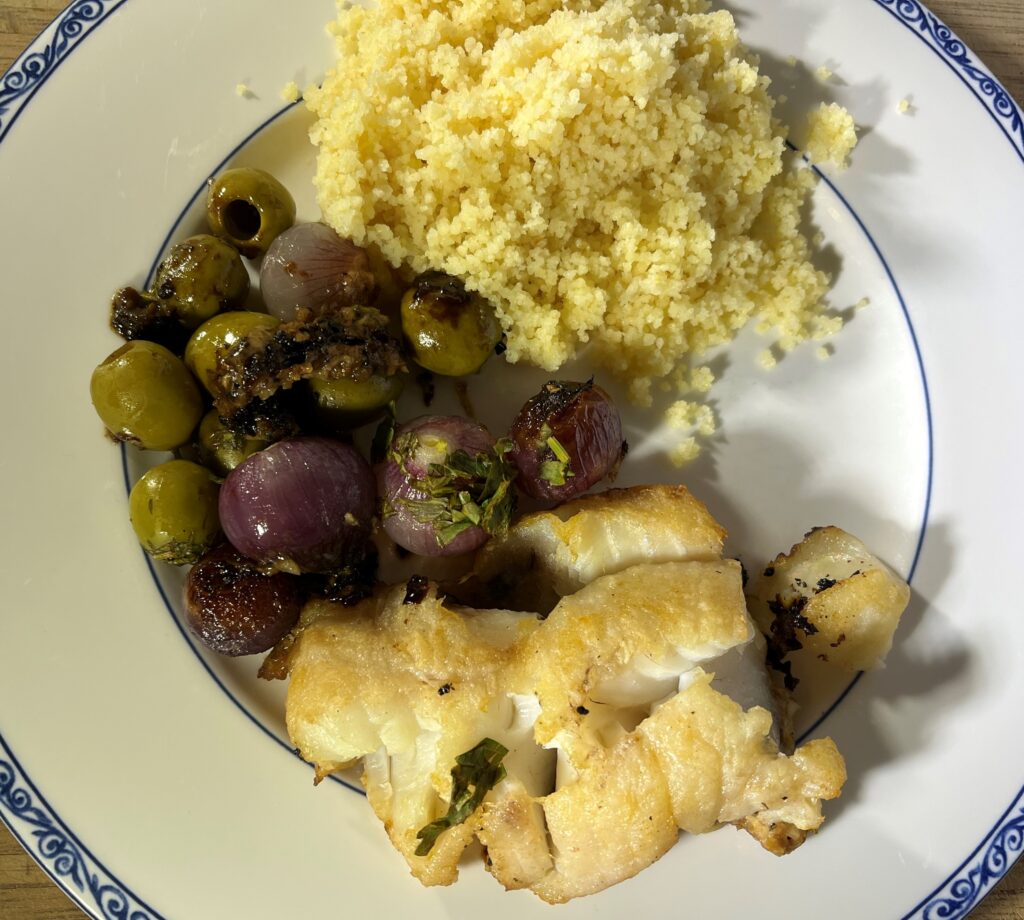 I spotted a recipe at www.rachaelrayshow.com for Dirty Martini Chicken and thought that flavor profile might work very well with fish. This is how I made 2 servings last night. It was both very tasty and I think could benefit from some tinkering, such as increasing the liquid to make it more saucy. I think the next time I will also cut the pearl onions and olives into smaller pieces. I also might add the lemon juice earlier and make sure it was evenly distributed. This is a quick dish suitable for a weekday night.
I was looking for a firm fish for this and saw hake at a good price at Whole Foods and that is what I used.
12 oz. firm white fish
Flour, salt, and pepper
2 Tbs. extra virgin olive oil
5 oz. pearl onions, peeled
2 cloves garlic, finely chopped
Lemon peel strip from about ¼ of the surface of a lemon
¼ cup olive brine
2 Tbs. dry vermouth
2 tsp. gin
½ cup Castelvetrano olives, pitted
2 Tbs. chopped parsley
1 Tbs. lemon juice
Preheat the oven to 400 degrees.
Cut the fish into 2 pieces. Dry it with paper towels and sprinkle both sides with flour, salt and pepper.
Heat the olive oil over medium heat in a smallish oven proof skillet. Add the fish and brown on both sides, about 2 minutes on a side. After the first side is browned, add the onions and garlic and fry them with the fish. Add the lemon peel, olive brine, dry vermouth, and gin and put in the oven to roast for 10 minutes. Add the olives, parsley and lemon juice to the skillet in the oven and cook for another minute or so to warm through. Remove from the oven and serve instantly with a suitable starch. We used couscous last night.