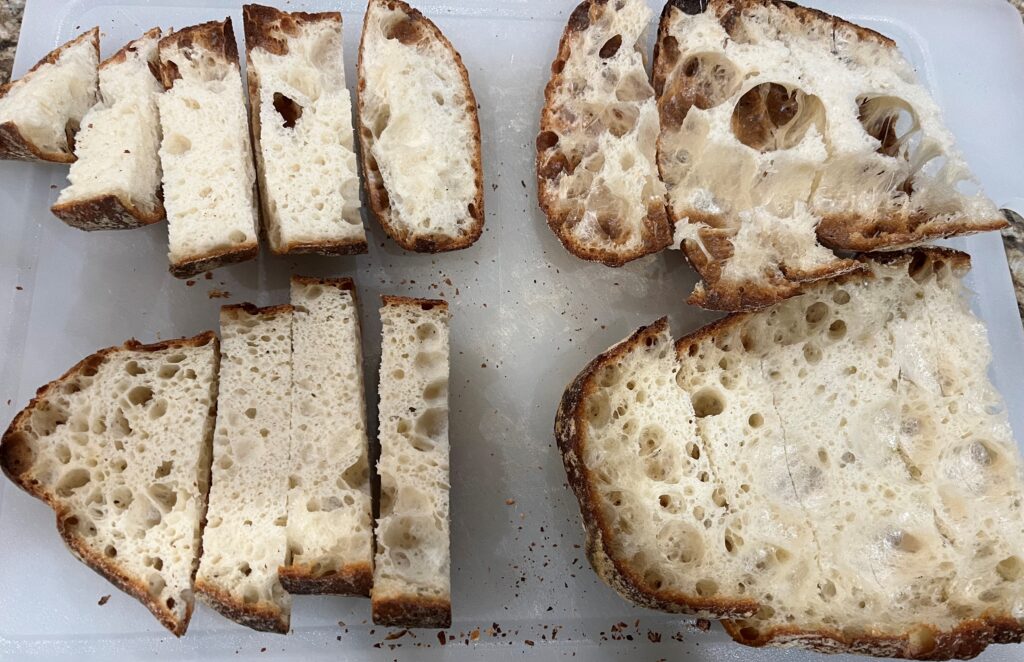 As mentioned in an earlier post on Pan de Cristal (Spanish Glass Bread) , I have experimented by replacing bread flour with a 50/50 mixture of King Arthur Flour's high gluten flour and Flourish high fiber flour. The photograph compares a loaf made with the high-gluten/high-fiber loaf on the left and one made with bread flour on the right. Both loaves have a very open crumb, but the loaf on the right is larger in total since it has larger air bubbles.
The high-gluten/high-fiber dough was noticeably more dough-like and less batter-like from the very beginning than the bread flour dough, and after the first bowl fold was noticeably tighter. The dough expanded less than the bread flour dough. Since the dough was less moist, I covered it with sheets of baking parchment during the final proofing to make sure it did not dry out. The loaves baked smaller, but the crust was about the same. The flavor was about the same, and was very good.
High-fiber flour absorbs more liquid than low-fiber flour, so to get the same result with a higher fiber flour mixture, I will need to increase the water to above 100% hydration. I think the easiest way to do a next experiment will be to make two half batches of dough (one bread flour and one high-gluten/high-fiber and to see how much additional water needs to be added to the latter to get the same consistency.