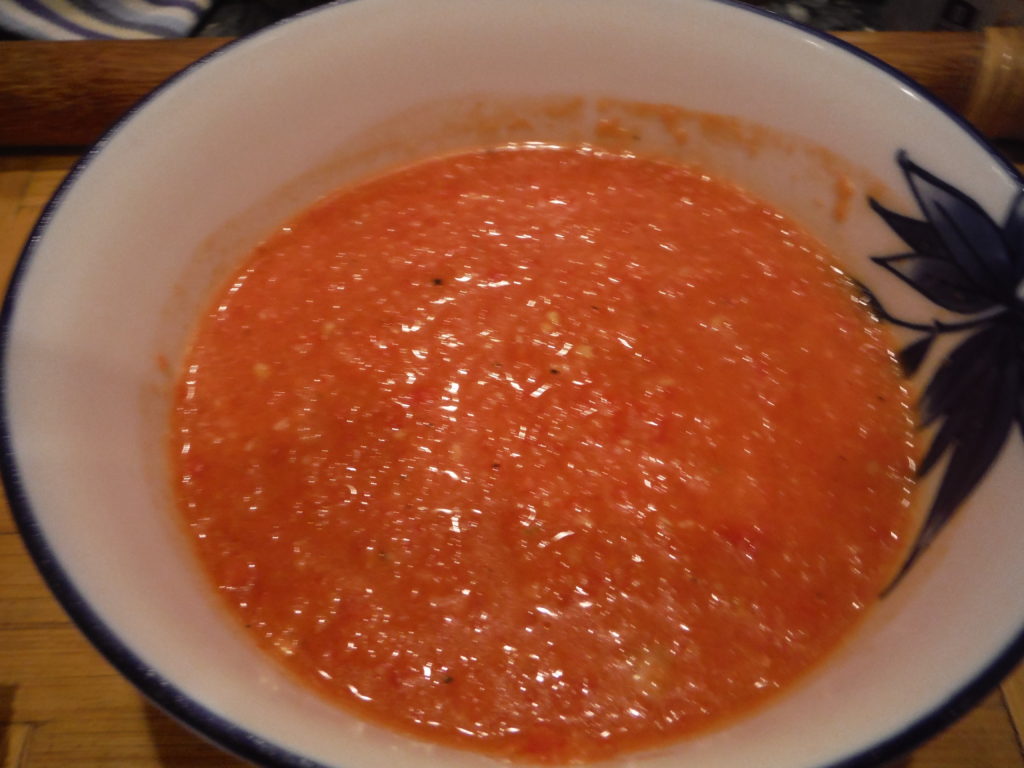 Nothing beats the heat and uses up the bounties of the garden like the Spanish classic, gazpacho. We are currently drowning in ripe beefsteak tomatoes and cucumbers, and this chilled soup put a dent in the inventory. Make this a few hours in advance to give the flavors time to meld and the soup to chill.
2 lbs. ripe tomatoes, cut into chunks
½ red bell pepper, cut into chunks
1 cucumber, peeled and cut into chunks
1 small onion, roughly chopped
1 clove garlic, peeled
1 tsp. salt
2 Tbs. sherry vinegar
½ cup extra version olive oil
Drop the garlic clove into a running food processor to be chopped finely. Add tomatoes, pepper, cucumber, and onion, and process until finely chopped and very liquid. (I did this in two batches to keep the liquid from oozing out the processor bowl.) Add the salt and sherry vinegar and pulse a few times to blend. Finally, with the blade running, pour the olive oil in a thin stream to mix well and emulsify. If processing in batches, combine the two batches, stir well, and check for seasoning. Put in the refrigerator to chill.