When I returned to the US in the early 1980s after 3 years working in Thailand, one of the first things I bought was a Little Chief electric box smoker from Luhr-Jensen.  The smoker came with a small recipe book, and one of these recipes has become a family favorite.  The name of the recipe in the booklet was "Apple Smoked Cornish Game Hens", but my children generally called them "greasy little birds", a somewhat strange name, since while Cornish game hens are small, they have little fat.  I think the answer to the mystery of this name is that the brining and smoking process seals in the little fat that there is, so that the final product is juicy .
 Here is the recipe and procedure:
 6 Cornish game hens, halved
1 qt. apple juice
½ cup sugar
½ cup salt
1 Tbs. dried rosemary leaves
1 Tbs. dried basil
2 gallon ziplock baggies
 The night before, cut up the game hens and divide them between the two ziplock baggies.  Add to each baggie one half of the dry ingredients and then one half of the apple juice.  Seal the bags pressing out all the air and flip and massage them to dissolve the salt and sugar.  Put the baggies on a pan or tray in case there are drips, and put them in a refrigerator overnight.  From time to time, flip the baggies so that the game hens are evenly brining.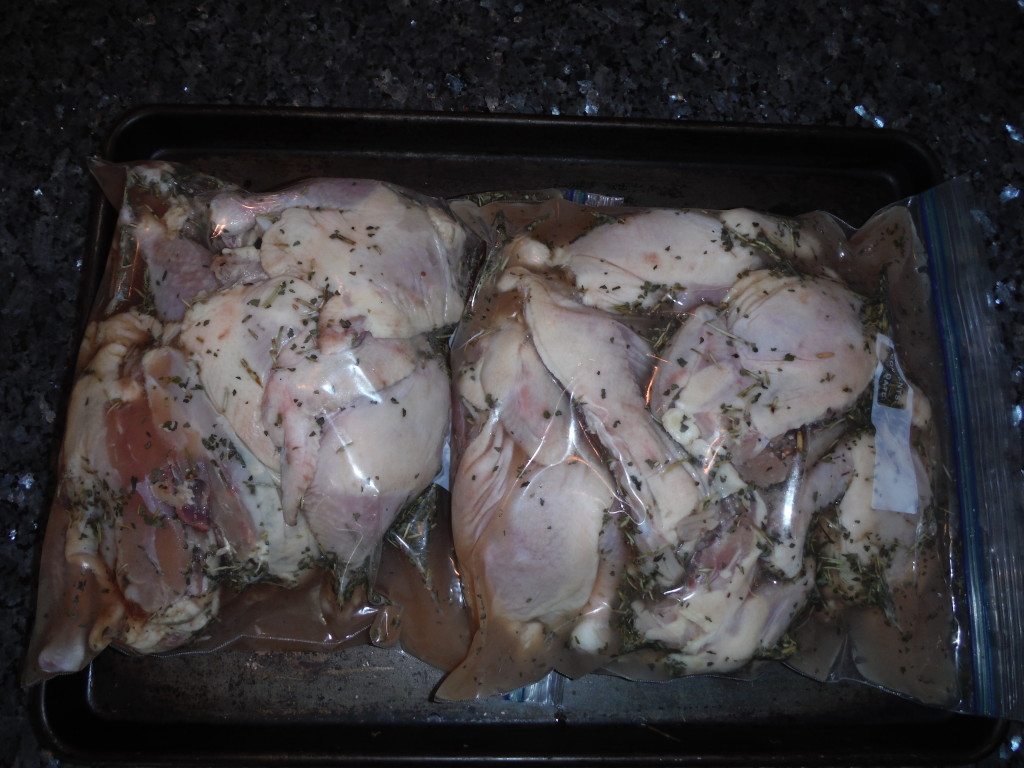 The next day, remove the game hens from the brine, rinse them off, pat them dry with paper towels and put them on a rack in front of a small fan or under a ceiling fan for about 20 minutes until the skin is dry to the touch and a bit tacky.  Having a dry skin helps prevent soot particles from settling on the birds when they smoke.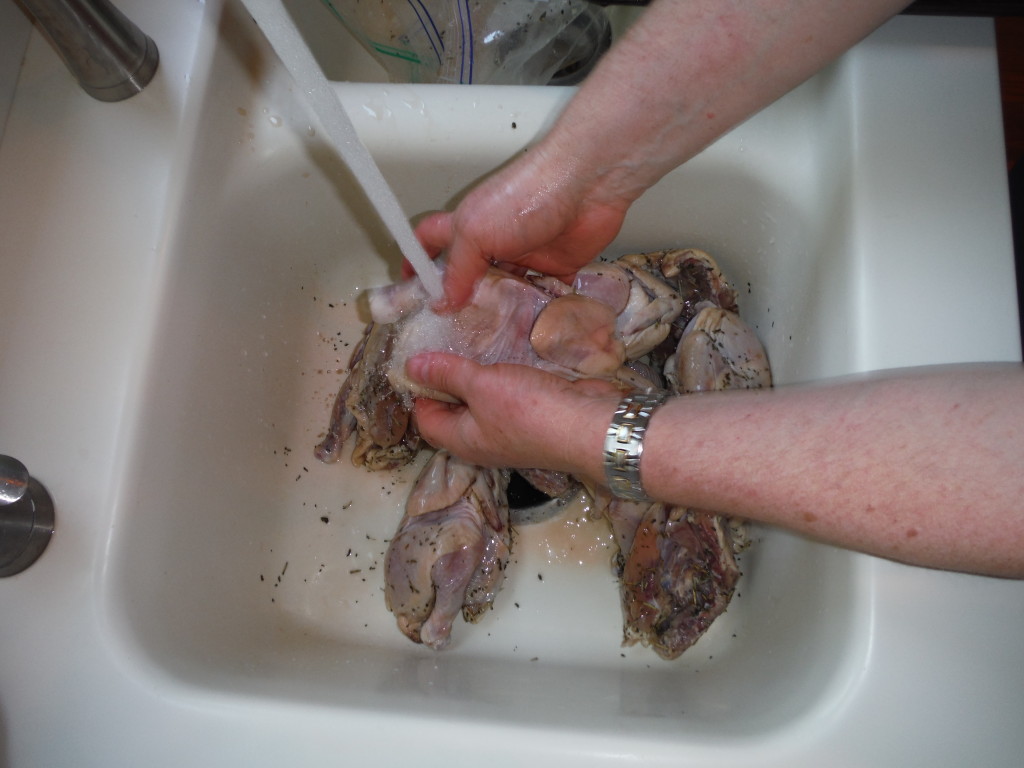 The birds are now ready for smoking, which can be done a number of different ways.  My old Little Chief finally died of old age, and I am currently using a MasterBuilt electric box smoker, which has temperature controls.  I most recently smoked the birds over hickory at 225 degrees, and it took an hour for the birds to reach an internal temperature of 150 degrees.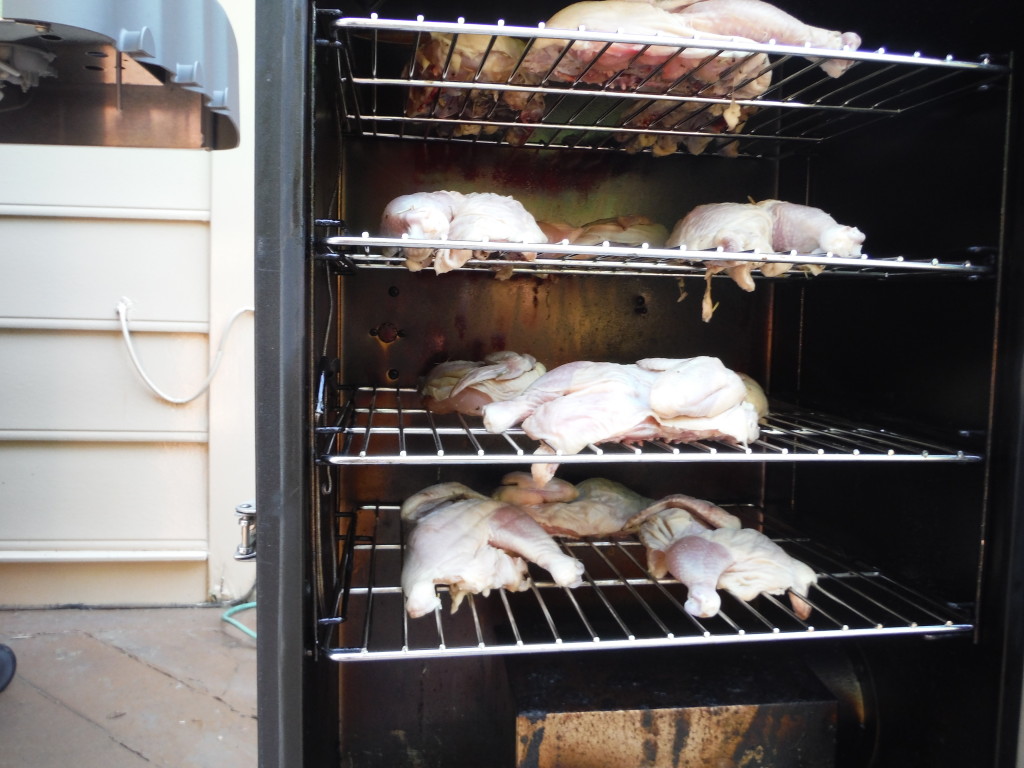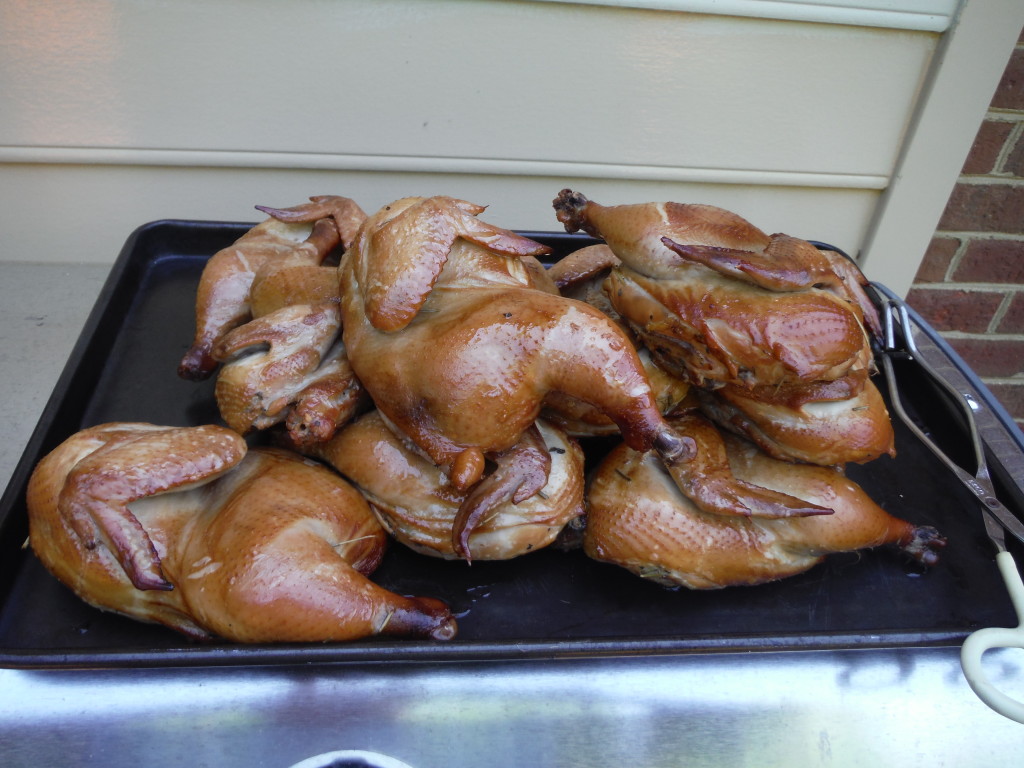 When the birds are essentially cooked, I fired up my gas grill to finish them.  The hot flame will nicely caramelize and crisp up the skin of the birds, but because there is a lot of sugar in the brine, it is important not to overdo it and burn the birds.  Then serve and enjoy.
 If there are left overs, the birds are just as good (maybe even better) eaten cold, and the meat from the birds also makes the world's best Waldorf salad with diced apples, onion, walnuts and mayonnaise on a bed of lettuce.