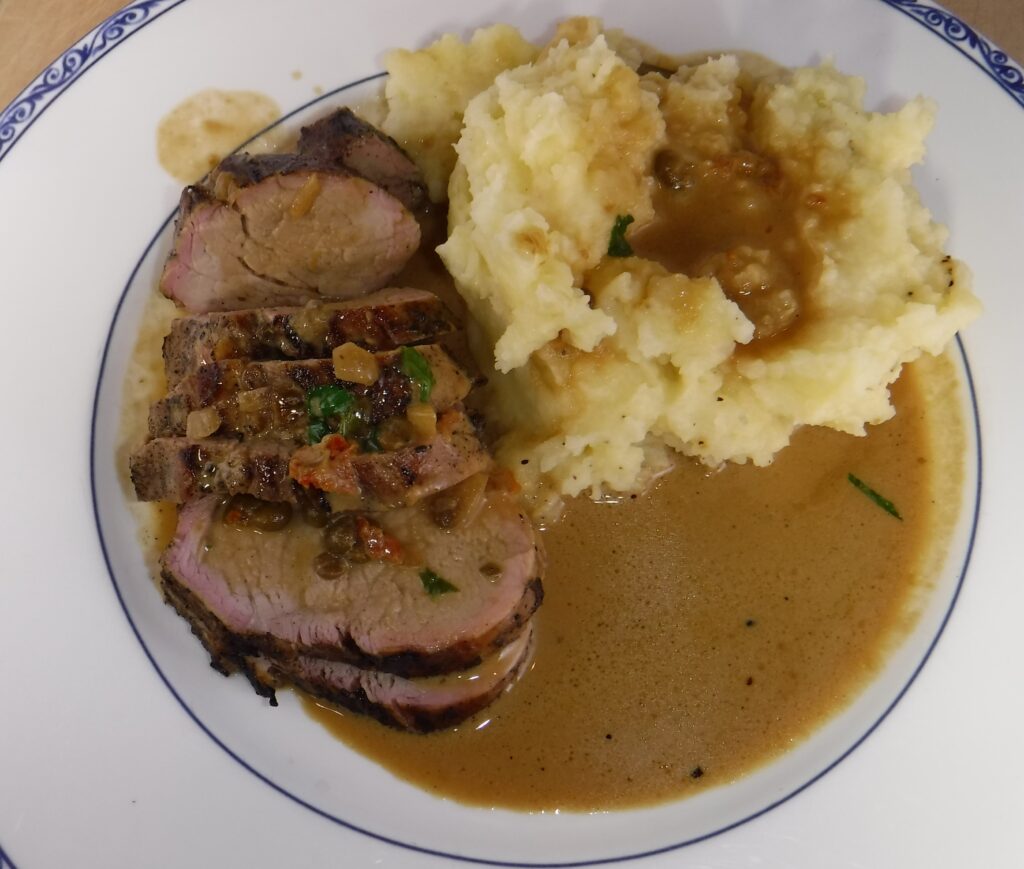 The pork tenderloin was brined before grilling, which helped keep it moist and flavorful. It was then accompanied by a peppercorn gravy, which I think should have been thicker. (Something to work on next time.) This is adapted from Pure Pork Awesomeness by Kevin Gillespie.
¼ cup packed brown sugar
¼ cup kosher salt
4 cups water, divided
1 pork tenderloin (~1-1/4 lbs.)
2 Tbs. vegetable oil, divided
Freshly ground black pepper
1 carrot cut into ¼ inch dice (1/2 cup)
2 stalks celery cut into ¼ inch dice (1/2 cup)
1 small onion cut into ¼ inch dice (1 cup)
¼ cup bourbon whiskey
1-1/2 cups chicken stock
¼ cup heavy cream
2 tsp. Dijon mustard
1 tsp. brined green peppercorns, crushed with the back of a spoon
1 Tbs. chopped parsley.
Put the brown sugar and kosher salt in a small saucepan with 2 cups of water. Bring to a boil, stirring to completely dissolve the sugar and salt. Remove from the heat and stir in the remaining water. Put the saucepan in a water bath to cool to room temperature.
Put the tenderloin in a ziplock baggie with the cooled brine and refrigerate for 1-2 hours. Drain and pat dry with paper towels. Sprinkle with freshly ground black pepper and rub with a Tbs. of oil. Grill on a barbeque until the internal temperature is 150 degrees, turning several times. This will take about 15 minutes. Cover and put in a warm place (like a very low oven) while making the sauce.
Heat the remaining Tbs. of oil in a skillet over medium heat. Add the diced carrot, celery, and onion, and cook until the onion is translucent. Remove the pan from the heat, add the whiskey, and ignite with a barbeque lighter. Stir until the flames die out. Add the chicken stock and cream. Bring to a boil and cook until it is reduced in half. Strain out the vegetables and add the crushed green peppercorns and parsley. Check for seasoning. Serve with the sliced pork and mashed potatoes.