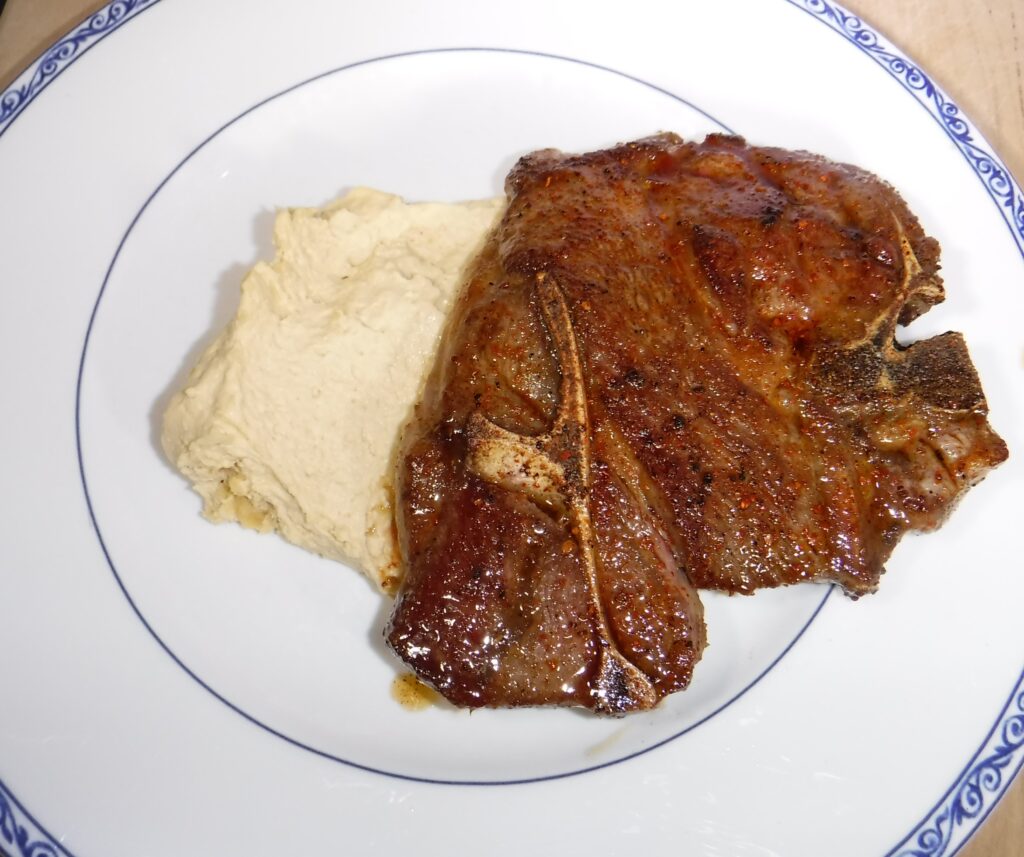 Hummus can be more than a dip eaten by itself with bread. This recipe illustrates this point and is adapted from On the Hummus Route: A Journey Between Cities, People, and Dreams. It combines an Aleppo-style hummus with pan-fried lamb seasoned with Aleppo pepper. It made a nice main course last night with fresh pitas. The quantities for the hummus will make about 6 main course servings while the quantity of lamb make 2 generous servings. The hummus takes about 30 hours while the pan-fried lamb takes about 10 minutes. An unusual step is using some frozen chickpea cooking liquid when processing the cooked chickpeas in a food processor. I think this step is to keep the chickpeas from getting too hot as they are whirled around.
For the hummus
1 cup (200 g.) dried chickpeas, soaked for 24 hours
1 tsp. baking soda
1/3 cup chickpea cooking liquid, frozen in cubes
1/3 cup tahini
1 clove garlic, finely chopped
3 Tbs. lime juice
1.5 tsp. salt
¼ cup extra virgin olive oil
For the lamb
¾ lb. lamb steak, cut into cubes (I cooked the steaks whole but should have cubed them)
2 Tbs. butter
1/2 tsp. Aleppo pepper mixed with ½ tsp. salt
Cook the soaked chickpeas in 8 cups of water with the baking soda. Bring to a boil and reduce to a simmer and cook until very soft, at least 1.5 hours. Save 1/3 cup of the cooking liquid and freeze into little pieces, such as in an ice cube tray.
Put the drained chickpeas into the bowl of a food processor. Process until smooth, about 3 minutes. With the processor running, drop the frozen pieces of cooking liquid in one at a time and process for another 4 minutes, until very smooth.
Add the tahini, garlic, lime juice and salt, and process until creamy, about 2 minutes. Add the olive oil and process again for another 2 minutes. Check seasoning and chill in the refrigerator.
Right before cooking, season the lamb with the mixture of Aleppo pepper and salt.
When ready to serve, put a large spoonful of cold hummus on a plate.
In a large skillet melt the butter over medium-high heat, and brown the lamb on both sides until cooked through. Serve the hot lamb on top of the cold hummus with pitas.