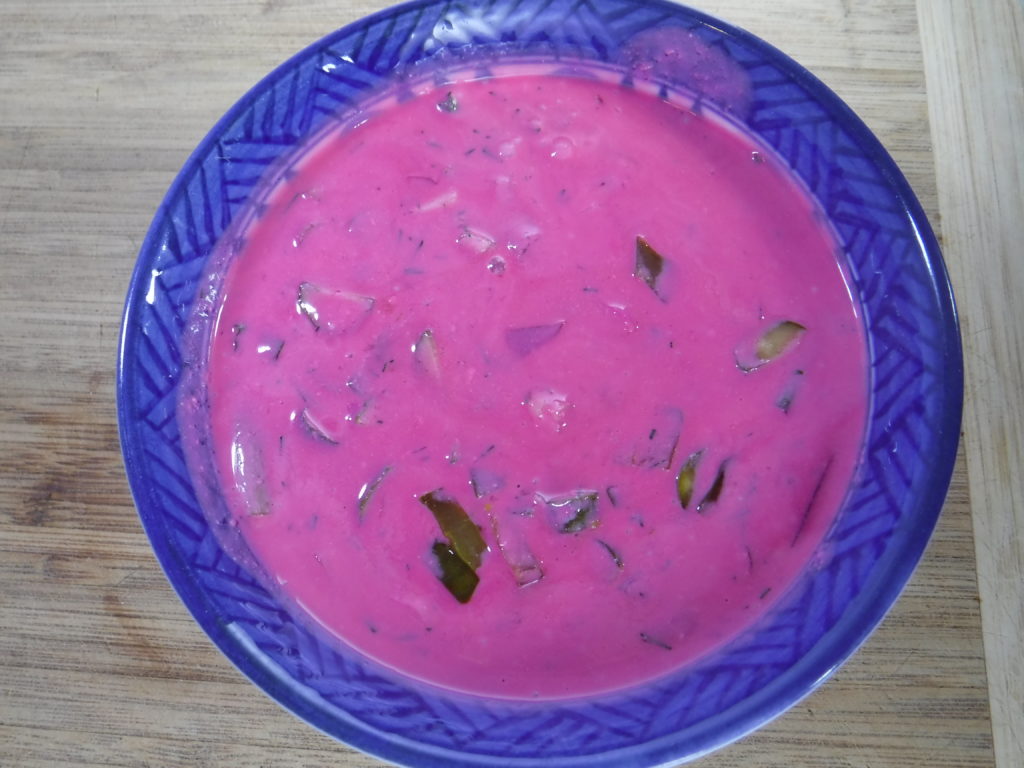 This is a very popular soup in Lithuania. The pink color is from the combination of beets and dairy. In Lithuania, the dairy would normally be kefir. In Richmond, while kefir is available, good quality buttermilk and yogurt are more available, and I have substituted 2 parts whole-fat buttermilk and 1 part whole milk yogurt as suggested by a cookbook My Food Odyssey: Lithuanian Cooking by June Molloy Vladička. This will make about 6 servings as the soup or vegetable course at dinner. In Lithuania, it is commonly eaten with boiled potatoes on the side.
7 oz. boiled and cooled beets
3.5 oz. cucumber or pickle
6 spring onions
2 hard boiled eggs
1 pint whole milk yogurt
1 quart whole-fat buttermilk
Bunch fresh dill
Juice of ½ lemon
½ tsp. salt, or to taste
Boil the beets in their skins, and peel them when cooked and cooled. Cut them into small julienne.
Cut the cucumber or pickles into small dice.
Cut the white of the spring onions finely, and the green tops into ½ inch pieces.
Cut the hard boiled eggs into small dice. Chop the dill.
In a bowl mix together the vegetables, eggs, yogurt, buttermilk, dill, lemon, and salt. Chill in the refrigerator until ready to serve.