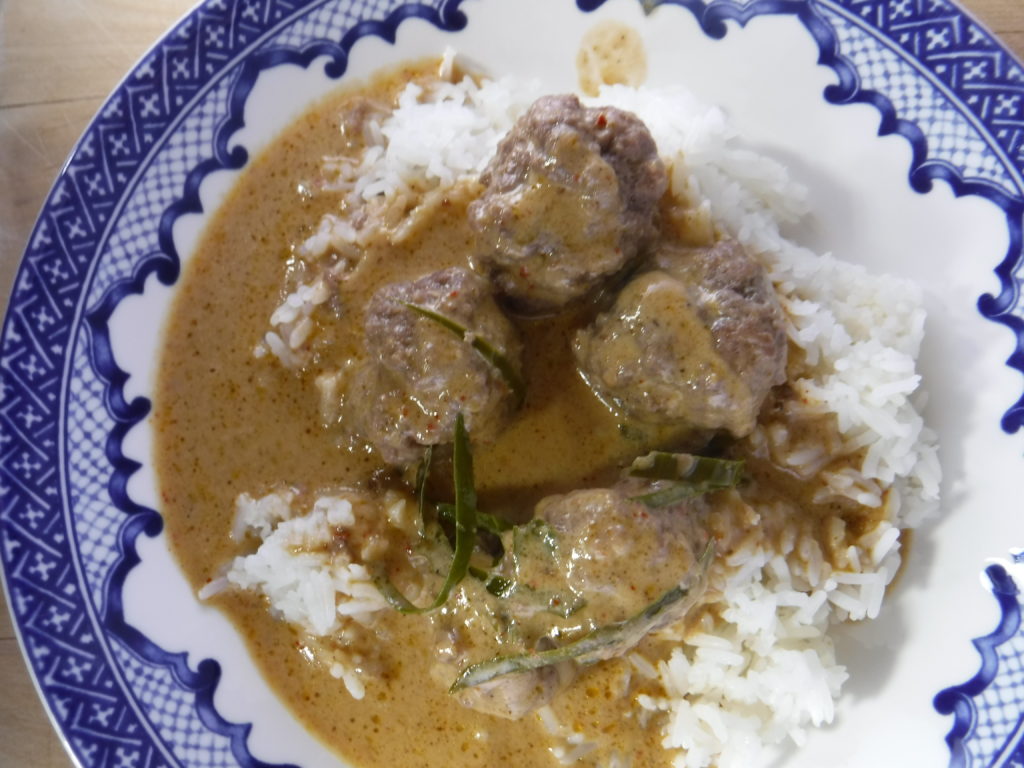 This tasty and easy main course or appetizer is adapted from Nancie McDermott's book Quick & Easy Thai. An optional ingredient which adds a lot to the final dish are Kaffir lime leaves. Fortunately, I have such a tree. (They can also be purchased at specialty stores, sometimes in the produce section and sometimes in the freezer.) The original recipe called for Panang or red curry paste. I had an open container of Masaman paste, so that is what I used, and with success. I will have to try this again with Panang paste.
Carol liked it, but complained that the meatballs are tough.  Like nearly all Asian meatballs, they do not contain the ingredients (such as bread crumbs) which provide lightness to western meatballs. (See note at bottom of post for a second, more tender version.)
1-1/2 cups (1 can) unsweetened coconut milk
1 lb. ground beef
½ tsp. salt
2 Tbs. curry paste (Panang, red, or Masaman)
½ cup water
1 Tbs. fish sauce
1 Tbs. palm sugar or brown sugar
6 Kaffir lime leaves, slivered (optional)
In a large saucepan, cook the coconut milk over medium heat until fragrant and slightly reduced, about 5 minutes.
While the coconut milk is cooking, add the salt to the ground beef and form into 1-inch meatballs.
Add the curry paste to the coconut milk and cook about 3 minutes, mixing well. Add the meatballs and cook for a couple of minutes, stirring gently and coating them all over with the sauce. Add the water, fish sauce, sugar, and Kaffir lime leaves. Bring to a boil and then reduce to a simmer. Cook until the meatballs are cooked through and the sauce is smooth, about 5 minutes.
If served as an appetizer, skewer the meatballs with toothpicks.  If served as a main course, serve on white rice with a vegetable or salad.
Note – To make the meatballs more tender and also more flavorful, I made a second version, which is a little more time consuming. Carol liked these more, but suggested even more breadcrumbs. (She loves the sauce.)
1 lb. 80/20 ground beef
1 egg
1/4 cup panko
2 cloves garlic, chopped
2 Tbs. finely chopped onion
1/2 tsp. salt
Mix the ingredients together and portion into 1-inch meatballs. Roast about 10 minutes on a cookie sheet in a 400 degree oven before adding them to the curry sauce.