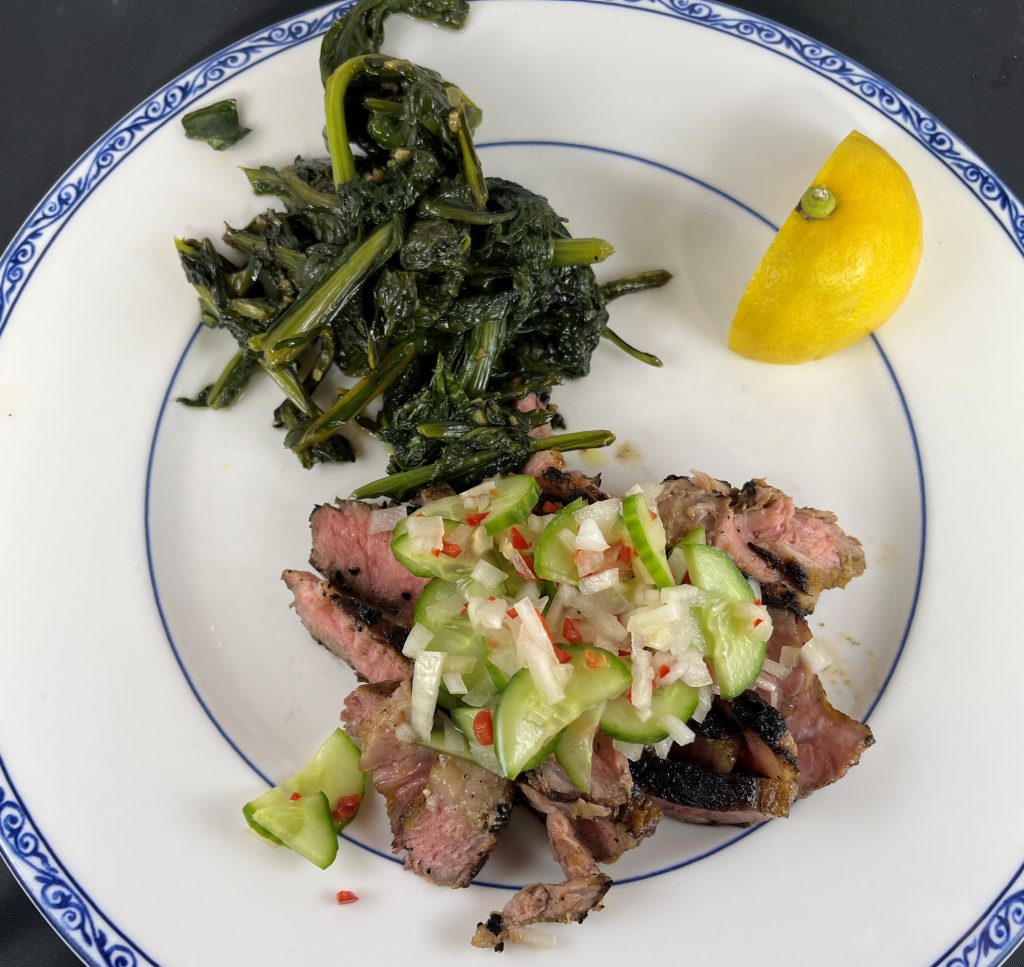 I recently spotted a recipe in Bon Appetit which seemed to be an East African cousin to Thai Beef Salad (Yam Neau) , which is one of our favorite dishes, so we decided to give it a try. A key change which I made was to double the kachumber relative to the steak. It was very good.
I think this would be a good dish for sous-vide with a reverse sear. That should make the marinade for the steak more pronounced.
Here is how we made it for 2 servings.
For the Steak
3 garlic cloves
2 Thai red chili or 2/3 Red Fresno chili
¾ inch piece of ginger, peeled
¾ tsp. sugar
5/8 tsp. Morton kosher salt (or 1 tsp. Diamond Crystal kosher salt0
½ Tbs. tomato paste
¾ tsp. garam masala (since I could not find in my pantry I substituted ¾ tsp. Caribbean-style curry powder)
1 Tbs. fresh lemon juice
12 oz. NY strip or sirloin steak
1 Tbs. vegetable oil
For the Kachumber
1 Thai red chili or 1/3 Red Fresno chili, thinly sliced
1 Persian cucumber, thinly sliced
3 Tbs. onion, finely chopped
½ tsp. Morton kosher salt (or 1 tsp. Diamond Crystal kosher salt)
2 Tbs. fresh lemon juice
Make the steak marinade first. In a food processor or motar turn the garlic, chili, ginger, sugar and salt into a paste. Mix on the tomato paste, garam masala, and lemon juice. Coat both sides of the steak and let it marinade for 15 minutes.
In a small bowl, mix together the Kachumber ingredients. Store in the refrigerator until ready to serve.
When the steak has marinaded, scrape off the marinade paste. In a large cast iron skillet, heat the oil over medium-high heat. Add the steak. Cook first for 2 minutes a side, and then flip every minute until it reaches an internal temperature of 130 degrees. Remove to a plate to rest for 10 minutes. Slice and serve with the kachumber.
Note. The next time I do this I will experiment with my sous-vide equipment. I will make the marinade, coat the sides of the steak, and put it into a gallon zip-lock baggie with the air squeezed out. I will put it in a 130 degree water bath for 45-60 minutes. Then I will remove it from the bath and pat it dry. Then I will heat the tablespoon of oil in a large cast iron skillet, and I will cook it about 2 minutes a side to get a nice crust. Then I will let it rest before slicing it and serving it with the kachumber.