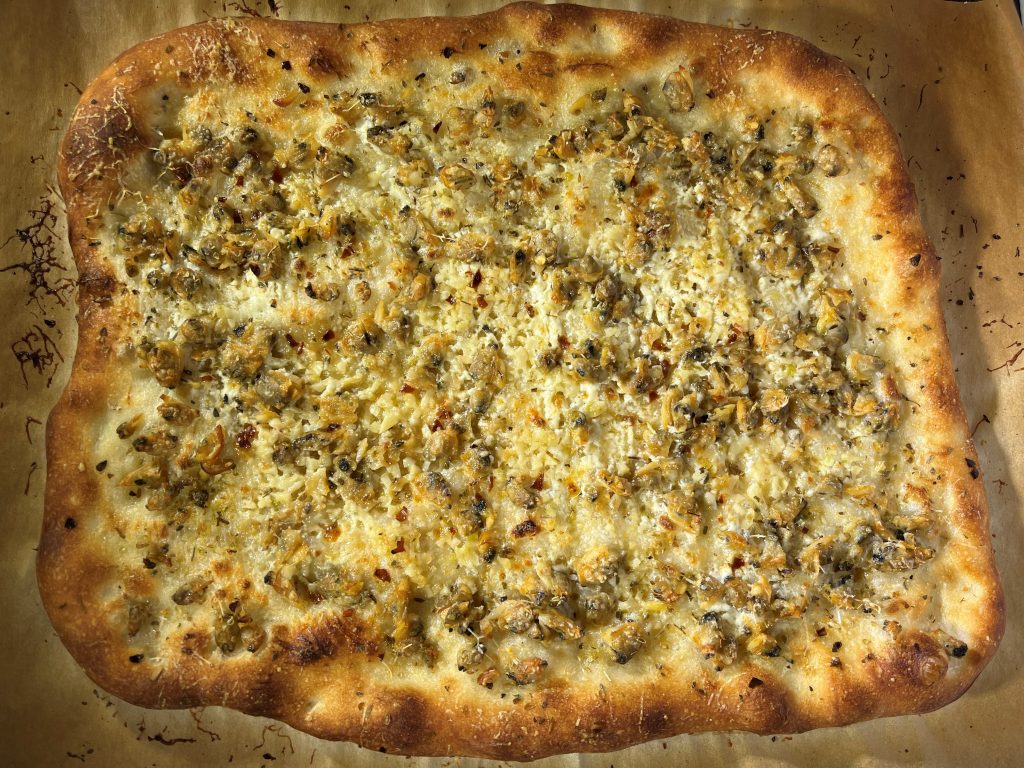 A famous regional style of pizza is New Haven clam Pizza which many years ago I enjoyed with Nick at Frank Pepe's. The WSJ on May 27 published a recipe for it which I made with a few modifications and which was very good. The WSJ article included instructions for an easy way to shuck clams, which was to freeze and then thaw the clams, which would force them open so that the meat could be easily extracted. I got the clams more simply by buying frozen clam meat at Wegmans and weighing out the right quantity. The dough should be started the day before to let it slowly ferment in the refrigerator. This recipe is for 2 servings. The dough is stretched out thinly so that the cooked crust is cracker-like.
Dough
187 g. bread flour
2.25 g. salt
1 g. yeast
127 g. water
Topping
1 Tbs. butter
1 Tbs. olive oil, plus more for brushing the dough
3 cloves garlic, chopped
½ cup clam juice
3.5 oz. clam meat, chopped.
2 Tbs. sour cream
Sprinkle red pepper flakes
Sprinkle dried oregano
¼ cup grated Parmesan or Romano cheese
The day before, mix the dry ingredients for the dough in the bowl of a stand mixer. Mix in the water with a dough whisk. Using the dough hook, mix at the lowest speed for about a minute until a fairly smooth dough forms. Cover and allow to rest for 30 minutes. Flour a work surface, and after the dough has rested, knead it into a smooth ball, which will take about a minute. Put it in a doubling container, coat it with a little olive oil, cover, and refrigerate the dough overnight.
About 3 hours before baking, remove the dough from the refrigerator. About an hour before baking heat a pizza steel or stone in the oven at 475 degrees. About 15 minutes before baking take a sheet of baking parchment, flour the dough and stretch it into a thin circle, oval or rectangle.
In a medium skillet, heat the butter and olive oil and sauté the garlic until it is soft and fragrant, but not browned. Add the clam juice, and cook, stirring occasionally until it is reduced to a thin glaze
Brush the outer edge of the dough with a little olive oil. Spread the rest of the dough with the sour cream. Sprinkle the reduced garlic/clam juice glaze over the dough. Top with the clams. Then sprinkle on the red pepper flakes, oregano and cheese.
Bake for 7 minutes. Then turn the oven on broil and bake another 2-3 minutes until bubbling and nicely browned. Serve immediately.