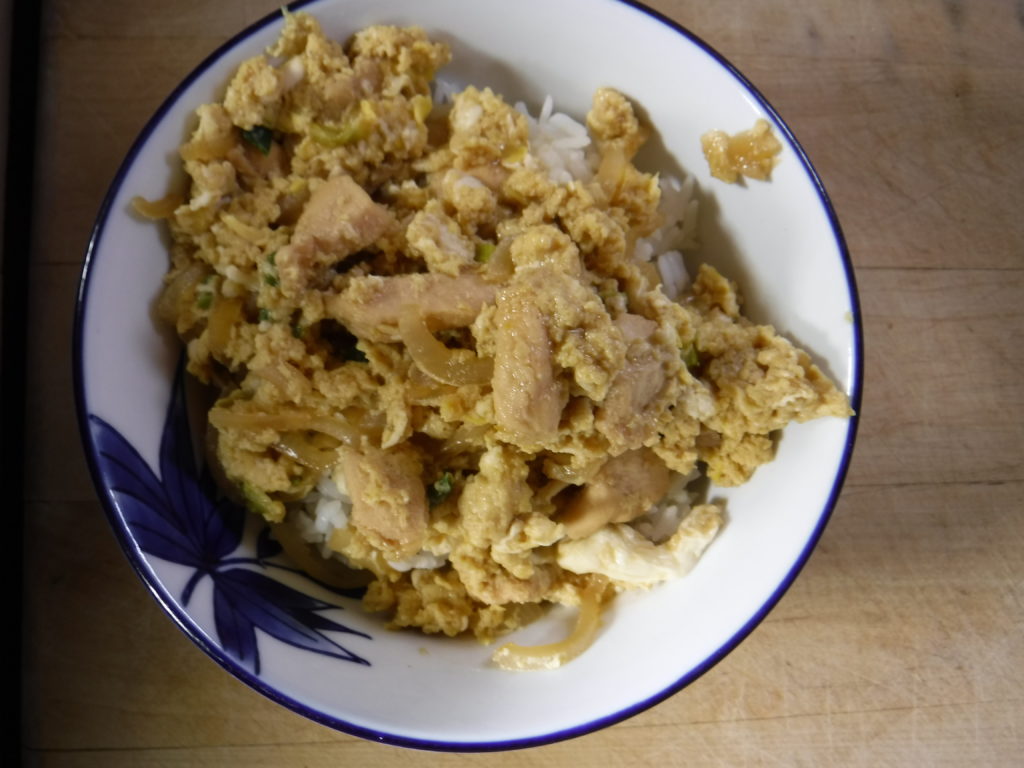 Oyakodon is a Japanese comfort food classic, a mild but flavorful mixture of chicken, egg, and onion served on top of a bowl of rice. It makes a good lunch and is quick to prepare if you already have some recently cooked leftover rice to warm up. This is very child-friendly. This version is adapted from Ivan Orkin's The Gaijin Cookbook, and served three adults for lunch.
½ cup dashi (I used ¼ tsp. dashi granules in ½ cup hot water)
¼ cup mirin
2-1/2 Tbs. soy sauce
7 oz. boneless chicken, cut into small cubes (Ivan Orkin recommends thighs, but I had breasts)
1 scallion, thinly sliced
¼ onion, thinly sliced
6 eggs, lightly beaten
Steamed rice for serving
Combine the dashi, mirin, and soy in a large skillet and bring to a simmer over medium heat. Add the chicken pieces, and simmer about 2 minutes, until about halfway done. Add the scallion and onion, stir, and cook another 2 minutes, at which time the onion should be softened and the chicken cooked. Slowly add the eggs to the pan, swirling them around with a spoon, mixing them with the chicken, onion, and liquids, and cooking them to a soft scrambled consistency. Undercooking is better than overcooking.
Serve over hot rice.
Traditionally, this would be eaten with shichimi togarashi seasoning, and ground sansho pepper.