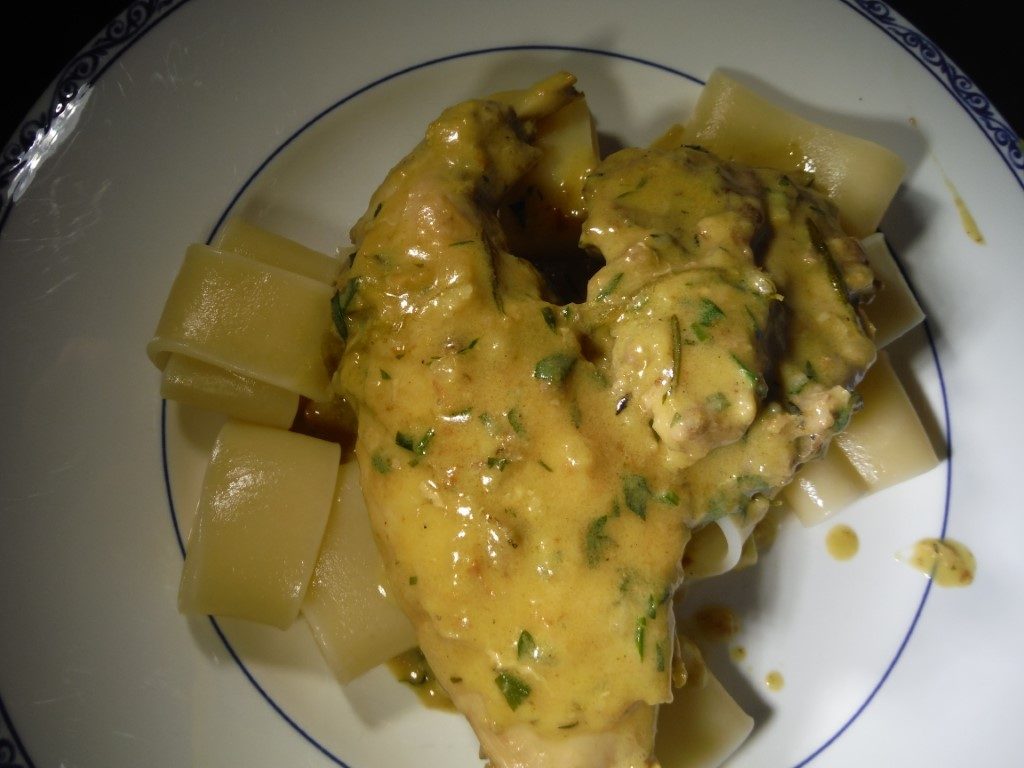 I was in a Middle Eastern grocery last week and saw that they had rabbit in the freezer case.  That inspired me to make this French classic.  This version is adapted from Marie-Pierre Moine's excellent book Cuisine Grand-Mere: Traditional French Home Cooking.  As indicated by the title of the book, this is not a hard dish to make.  I served it with pasta and a salad.  It makes 4 servings.
1 rabbit, cut into serving pieces
1 Tbs. vegetable oil
4 Tbs. butter, divided
Salt and pepper
1 Tbs. flour
1 clove garlic, crushed
2 shallots, finely chopped
A few sprigs each thyme and rosemary
¾ cup white wine
3 Tbs. brandy
3 Tbs. strong Dijon mustard
½ cup cream
¼ cup chopped parsley
In a large pot heat the vegetable oil and 3 Tbs. of the butter.  Pat dry the rabbit pieces and add to the hot pan.  Sprinkle with some salt and pepper and then with the flour.  Cook, turning the pieces from time to time and scraping the bottom, until the rabbit is browned.  Add the garlic and shallots and cook a couple of minutes.  Add the thyme and rosemary sprigs.  Add the white wine and mix well, scraping all the browned bits off of the bottom of the pan.  Cover and cook at low heat until the rabbit is tender, 45 to 60 minutes.
When the rabbit is tender, remove it from the pan to a bowl and cover with aluminum foil to keep it warm while making the sauce.  Remove the thyme and rosemary sprigs and discard.  Add the brandy and increase the heat to medium-high, cooking the sauce until it is reduced to a consistency like gravy.  Mix in the mustard, cream, and 1 Tbs. of butter, and taste for seasoning.  Mix in the chopped parsley.  Return the rabbit pieces to the pot and stir to coat them with the sauce.  Serve with pasta or noodles.