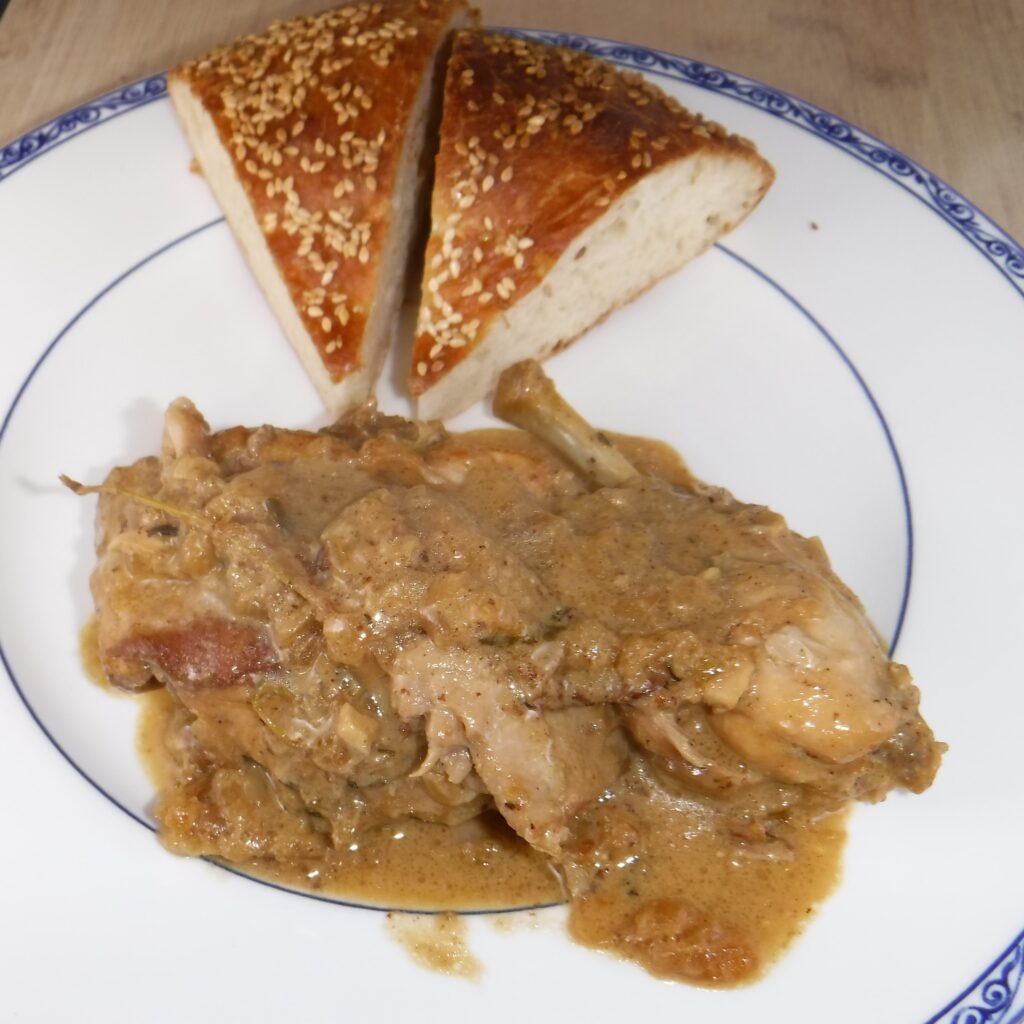 Richmond magazine has had a series of articles featuring recipes from local chefs. One was from David Crabtree-Logan for Rabbit in Mustard Sauce, which I made last night with a few adjustments. (I had to special order a rabbit from Wegman's and wait a week.) It turned out that his version was very similar to one I made a couple of years ago, Rabbit with Mustard Sauce (Lapin a la Moutarde) v.1, and was very tasty. Since rabbit is so expensive, I would like to try this with chicken. I served it with Non, an Uzbek bread. This will make 4 servings and takes about 2 hours total.
1 large rabbit cut into 8 pieces
¼ cup butter
4 shallots peeled and sliced
1 large onion, peeled, cut in half and sliced
3 cloves garlic, peeled and smashed
Bouquet garni consisting of 2 bay leaves, a large sprig of thyme, and a large stalk of parsley
1 cup white wine
½ cup sour cream
1 Tbs. Dijon mustard
1 Tbs. whole-grain mustard (or more Dijon mustard)
1 tsp. marmite (optional, but adds unami)
2 cups reduced sodium chicken broth
Salt and freshly ground black pepper to taste
Preheat the oven to 350 degrees.
Melt the butter in a large oven-proof pot over medium-high heat. Add the rabbit pieces in a single layer, and brown on both sides. Put the browned rabbit pieces in a bowl and add the shallot, onion, and garlic and cook for 10-20 minutes over medium heat, stirring to dissolve the frond on the bottom of the pot. Add the wine and scrape the bottom of the pot to finish dissolving the frond. Cook until the wine is nearly evaporated. Add the sour cream, mustards, marmite, and chicken broth. Stir well and place in the oven covered. Cook for about an hour, until the rabbit is tender.
Remove the pot from the oven and put it on the stove. Remove the cover, and if the sauce seems thin, cook over medium heat until it the sauce is thickened. Check for seasoning (including possibly more mustard) and serve.