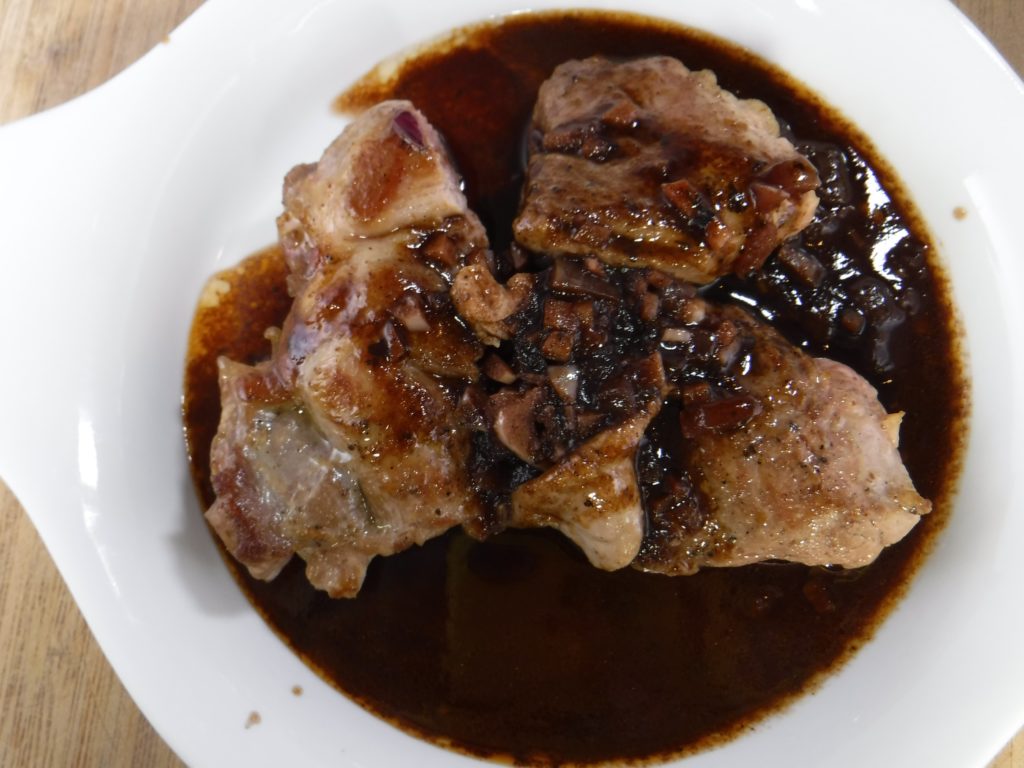 Jacques Pepin describes this as a classic dish, although I would assume that the classic version did not include a little bit of A1 steak sauce and ketchup. As promised this is a flavorful dish which is quick to cook, although separating out the boneless duck breasts and legs from a whole duck is not a quick activity for someone who does not cut up ducks frequently. (Hint – have a very sharp knife!) I used up the remains of the duck by Rendering Duck Fat and making Duck and Bean Soup.
This makes 4 servings. It is good with mashed potatoes.
2 Tbs. unsalted butter
2 skinless, boneless duck breasts
2 skinless, boneless duck legs
¼ tsp. salt
¼ tsp. freshly ground black pepper
2 Tbs. finely chopped onion
2 cloves garlic, finely minced
1/3 cup dry red wine
3 Tbs. balsamic vinegar
2 Tbs. ketchup
1 tsp. A1 steak sauce
¼ cup water
1 Tbs. fresh chives for garnish (optional)
Preheat the oven to 180 degrees and set out an ovenproof plate or pan.
Heat the butter in a large skillet. Sprinkle the duck with salt and pepper. Saute the duck leg meat for about 2 minutes, and then add the duck breast meat, which needs to cook less. Brown on both sides for a total of about 6 minutes. Put the duck on the ovenproof plate or pan in the oven to rest and keep warm while the pan sauce is made.
Add the onion and garlic to the pan drippings. Cook until the onion is translucent. Add the wine and balsamic vinegar, and cook until reduced in half. Add the ketchup, steak sauce, and water, and cook until reduced to a thick sauce. Remove the duck from the oven and add any juices from the duck to the sauce. Cut the duck if necessary into 4 equal servings on 4 plates, and cover with the pan sauce. Garnish with the optional chives. Serve immediately.