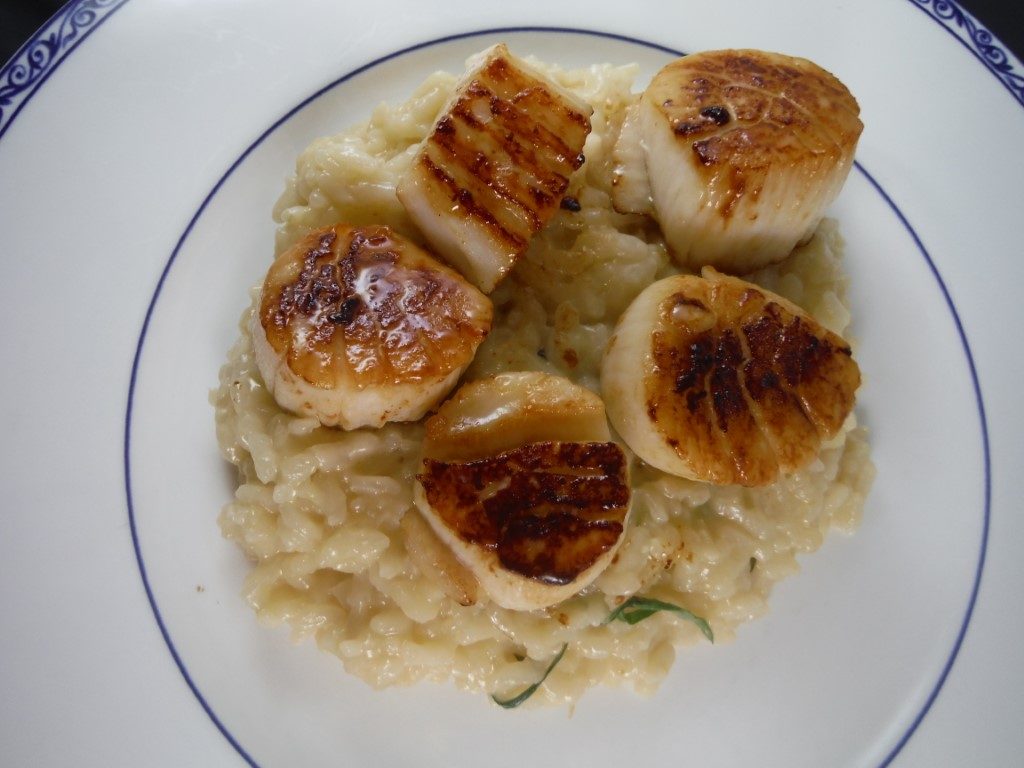 This is an adaptation of a recipe which appeared in Coastal Living magazine.  I cut all of the quantities in half (except for the scallops) with a target of making two servings, although we had a little extra.  The original recipe called for leeks, but I forgot to buy them so I substituted the same quantity of sweet onions, and was pleased with the result.  Since I was only cooking for two, I cooked the risotto in a small saucepan.
2-1/4 cups low sodium chicken broth
2 Tbs. olive oil, divided
1 Tbs. butter, divided
1-1/4 cups chopped onion
2 garlic cloves, chopped
¾ cup Arborio rice
Leaves from 1-1/2 sprigs of thyme
3 oz. dry white wine
½ tsp. kosher salt
1-1/2 oz. grated parmesan cheese
¾ tsp. grated lemon zest
½ tsp. fresh lemon juice
¾ lb. dry pack sea scallops, patted dry with paper towels
1 tsp. chopped fresh tarragon.
Heat the chicken broth and have it on the stove top, kept warm on low if possible.
Heat 1 Tbs. of olive oil and ½ Tbs. of butter in the saucepan.  Add the chopped onion and garlic and saute until translucent.  Add the rice and thyme and cook for another 1-2 minutes until the rice grains are coated in oil.  Add the white wine, stir, and cook until the wine is absorbed.  Add the salt and then begin ladling in the hot chicken broth in smallish doses (such as ½ cup at a time).  Stir occasionally, and add more broth when the earlier broth is absorbed.  Continue to add broth and to stir until the rice is fully cooked, roughly 25 minutes.  The small doses of broth and the stirring help to break off surface starch from the rice which gives the risotto its creamy texture.  Add a little bit more broth or water if the 2-1/4 cups are fully absorbed but the rice is not yet fully cooked.
When the rice is cooked, add the grated parmesan, lemon zest, lemon juice, and ½ Tbs. of butter, and stir well.  Taste for seasoning.  Cover the rice.
In a large skillet, heat 1 Tbs. of olive oil.  When hot, saute the scallops about two minutes on each side until nicely browned.
Stir the tarragon into the risotto.  Portion the risotto onto two plates and top with the scallops.