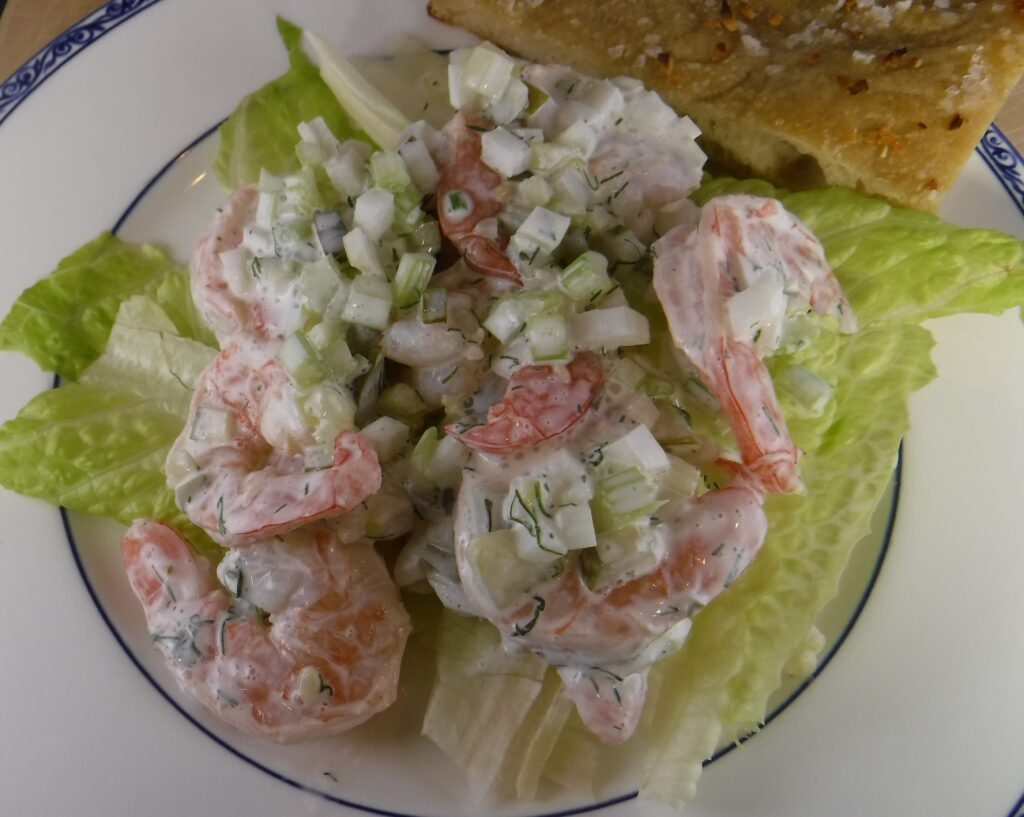 This is an adaptation of a recipe in Bon Appetit magazine which had a good way of cooking shrimp for a cold salad or cocktail. Shrimp needs to be cooked just enough (not overcooked!) and this method works very well to avoid overcooking. This made a very nice dinner for 2 persons with a piece of focaccia, and could all be made in advance.
Zest of half a lemon
Juice of ¾ of a lemon, divided
1-1/2 Tbs. sugar
1/2 cup white wine or rice vinegar
1-1/2 Tbs. Diamond Crystal kosher salt (or equivalent in other salts)
¾ lb. large shrimp, peeled and deveined
1 large celery stalk, diced
¼ onion, diced
1/3 cup sour cream
1-1/2 Tbs. fresh dill, plus more for garnish
Lettuce
Salt to taste
In a large saucepan, put the lemon zest, juice of half a lemon, the sugar, vinegar, kosher salt and 3 cups of water. Bring to a boil and remove from the heat. Stir in the shrimp and move it around to ensure that all the shrimp is in the hot liquid. Starting around 2.5 minutes, slice open a shrimp to see if it is opaque all the way through. Continue leaving the shrimp in the hot liquid and checking for doneness until a sample shrimp is opaque all the way through. (On this batch it took about 4.5 minutes.) When the shrimp is just cooked, drain immediately and allow to cool.
Put in a large bowl the celery, onion, sour cream, dill, and about half of the juice from the remaining half of the lemon. Add the shrimp and toss well. Add salt to taste. Chill in the refrigerator until ready to serve on a bed of lettuce.