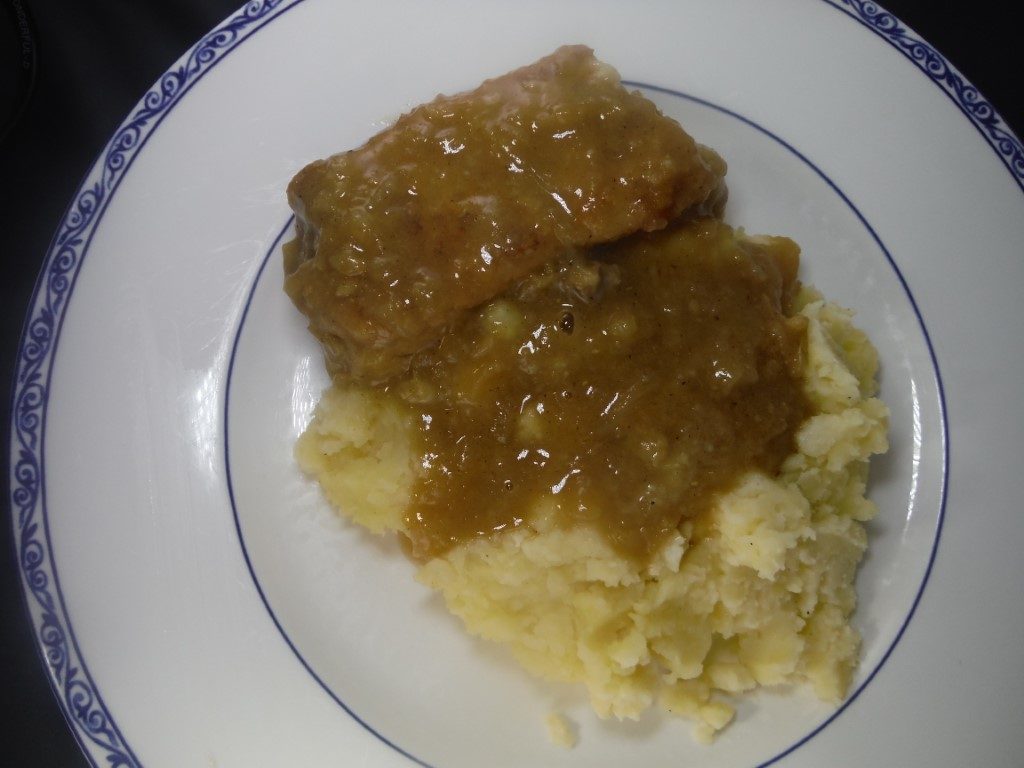 After reading all the buzz about Instant Pots, I bought one on sale almost a year ago, and it sat in the box in my study while I finally got up the nerve to try to figure out all its controls.  My initial use of the Instant Pot was to make Smothered Country Ribs, which was based on a smothered pork chop recipe I found in www.thekitchen.com.  It turned out very well, except that the sauce was rather soupy and I boiled it down a bit at the end.  The pork was very tender and the sauce was tasty.  I am still not sure I understand the controls very well.
2 lbs. boneless country ribs (or boneless pork chops)
1 tsp. kosher salt
½ tsp. freshly ground black pepper
½ cup all purpose flour
4 Tbs. unsalted butter
2 large yellow onions, thinly sliced
Large pinch of baking soda
½ tsp. sugar
1 cup low sodium chicken broth
1 tsp. chicken better than bouillon
2 Tbs. sour cream
Set the Instant Pot on saute and allow to warm up.
Season the country ribs with the salt and pepper and then dredge them thoroughly in the flour covering all surfaces.
Add two Tbs. of butter to the Instant Pot.  When fully hot, add half of the pork, browning on one side for about three minutes and then turning to the other side and browning it another three minutes.  Remove the browned pork to a plate, add the rest of the butter and brown the rest of the pork.  Remove the second batch of browned pork to the plate and add the onions, baking soda, and sugar, stirring well to dissolve any browned bits on the bottom of the pan.  (The baking soda and sugar will promote the caramelization of the onions.)  Cook the onions, stirring occasionally for about 10 minutes until they are starting to brown.
Return the pork chops to the Instant Pot, putting them on the bottom, and add the chicken broth.  Set the Instant Pot to high pressure and cook for 10 minutes after it is pressurized.  Naturally release the pressure for 10 minutes by putting the Instant Pot on "Keep Warm" and then manually release the remaining pressure.  Open the pot and check for doneness and for the thickness of the sauce.  If necessary, use the saute function to reduce the sauce.  Taste for seasoning, and add the better than bouillon and the sour cream and stir into the sauce.  Serve with mashed potatoes.