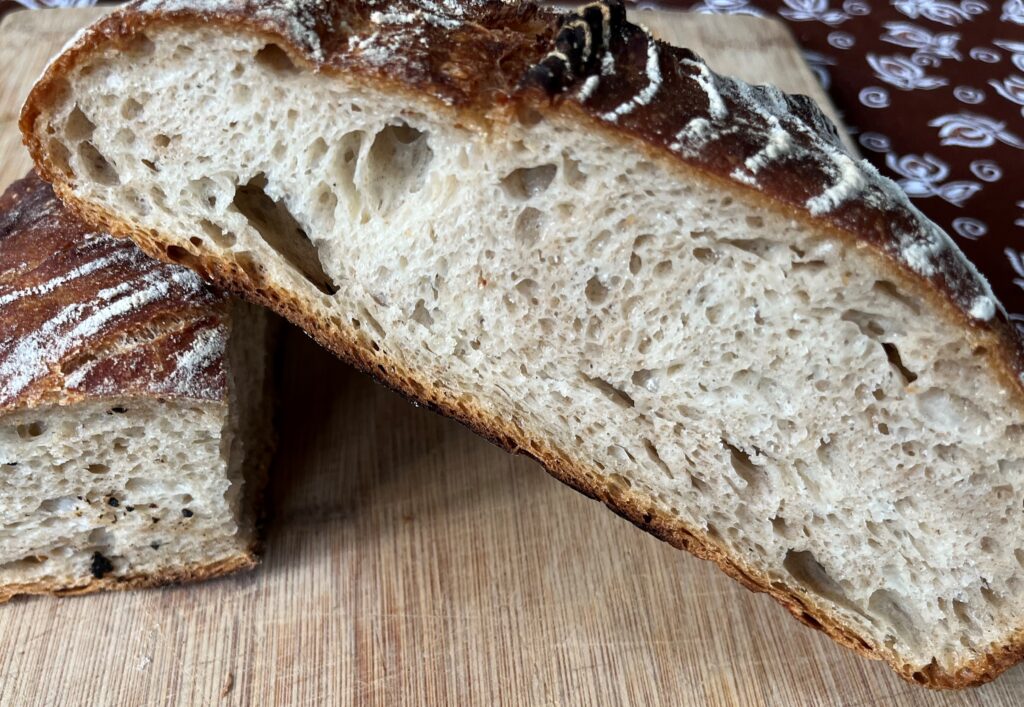 This is a variation of No-knead bread with Flourish and whole-wheat flour made with some of my 50/50 sourdough starter.
50 g. sourdough starter
75 g. whole wheat flour
300 g. warm water, divided
2 g. yeast
150 g. Flourish flour
150 g. KAF high gluten flour
8 g. salt
Early on the day before baking, in a small bowl mix together the sourdough starter, whole wheat flour, and 75 g. of warm water. Cover and allow to ferment during the day.
In the late afternoon, mix in a large mixing bowl the yeast and the remaining 225 g. of warm water. Allow to rest for 5 minutes. Then mix in the whole-wheat starter, the Flourish, and the high gluten flour. Combine with a dough whisk. Cover and allow to rest for 15 minutes. Sprinkle the salt on the dough and briefly knead to incorporate the salt throughout the dough. Put the dough in a doubling container to ferment until doubled, about 10-15 hours. Retard the fermentation by putting the dough in the refrigerator if necessary.
When the dough is doubled, heavily flour a banneton. Punch down the dough and form into a disk on a floured work surface. Fold in half and then in half again and form into a ball. Put the dough into the banneton smooth side down, cover and allow to proof for 1-2 hours, until doubled.
About 30 minutes before the second rising is complete, put a heavy oven-proof pot and lid (~5 quart in size) separately into the oven and heat to 475 degrees. When the rising is complete and everything is preheated, carefully turn the banneton upside down over the empty pot. After the dough falls into the pot, put the lid on and bake for 30 minutes. Remove the lid and bake for another 15-30 minutes until the crust is nicely browned but not burned. Remove the pot from the oven and with a spatula, remove the bread from the pot and allow to fully cool on a wire rack.