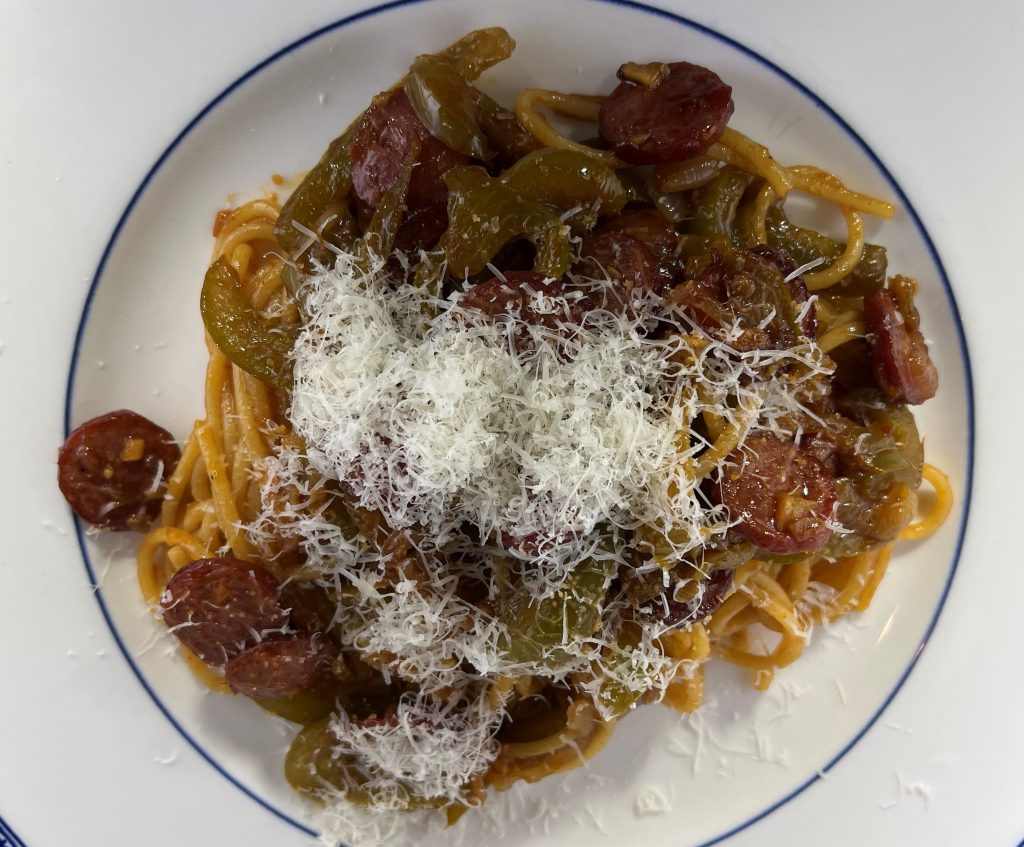 The very last scene in the movie Goodfellas is the mobster Henry Hill talking into the camera and complaining about how boring life is in the witness protection program. A specific complaint is that he went to a local Italian restaurant and ordered spaghetti with marinara sauce and what he got was egg noodles with ketchup. https://www.youtube.com/watch?v=ja3Die31ihk
Here is an example of a very tasty pasta dish which includes ketchup. It is an example of Yoshoku, Japanese versions of Western food. A Yokohama chef is thought to have invented this dish in the 1950s when he tried to make spaghetti with tomato sauce. He had to work with the ingredients which were available, which led him to substitute ketchup for tomato sauce. The resulting product is a lot like a cross between spaghetti with tomato sauce and yakisoba.
This is a quick dish which can be cooked in 30 minutes. The recipe below is for 2 servings. I have increased the ratio of meat and vegetables to pasta ratio compared with a version I saw in thekitchn.com.
In the spirit of the Japanese original, feel free to use whatever you have on hand.
6 oz. kielbasa, cut into thin disks
1 medium green bell pepper, cut into strips
½ medium yellow onion, sliced
3 cloves garlic, chopped
1 Tbs. butter
1 Tbs. olive oil
3 Tbs. ketchup
1-1/2 Tbs. oyster sauce
½ tsp. Sriracha or other hot sauce
4 oz. spaghetti
Parmesan cheese for serving
In a large skillet, heat the butter and olive oil over medium heat. Add the kielbasa and cook until browned. Remove the browned kielbasa to a plate. Add the bell pepper and onion and cook, stirring occasionally until the pepper and onion are soft. Add the garlic and cook for about a minute until fragrant. Return the kielbasa to the pan and add the ketchup, oyster sauce, and hot sauce. Cook stirring occasionally until a nice sauce is formed with the vegetables.
Cook the pasta per the package instructions. When cooked, drain the pasta and reserve some of the pasta water. Add the drained pasta to the skillet and stir thoroughly to mix the pasta with the meat and vegetables. Add some pasta water if necessary to thin the sauce. Serve with a sprinkling of Parmesan cheese.