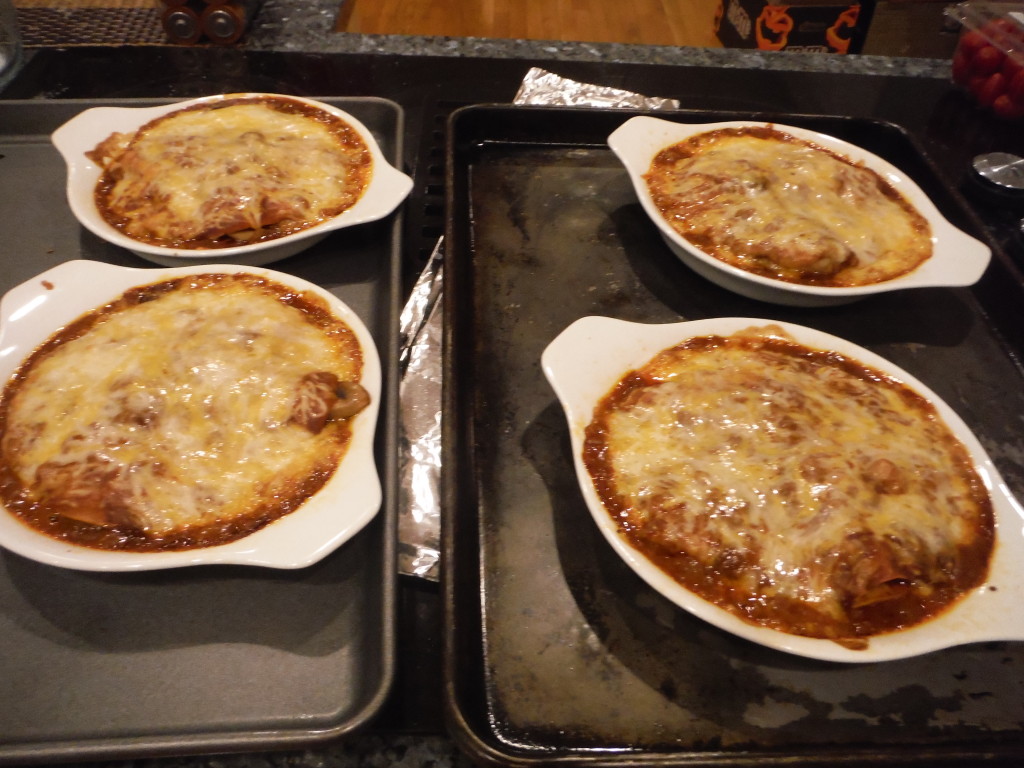 Although enchiladas are normally rolled, stacking the tortillas works very well if you have the right sized baking dishes.  The tortillas are easier to handle (no need to soften them in hot oil) and it is easier to portion them (one dish = one person).
During my visits to Houston I have been enjoying Enchiladas Anaya's at Cyclone Anaya's restaurant, and this is my version of that.  It is a beef and mushroom enchilada in an ancho chile gravy.  I had some leftover grilled steak, so that is what I used as the beef in the filling.
5 dried ancho chiles
8 oz. sliced mushrooms
1/2 large onion, chopped
1 clove garlic, chopped
1/4 cup flour
2 tsp. Better than Bouillon
1 tsp. black pepper
1/4 tsp. cumin
12 corn tortillas
11 oz. cooked steak, thinly sliced
2 cups grated Mexican cheese blend
Put the dried ancho chiles in a medium saucepan with water and boil until they are soft.  Drain the chiles.  Remove the stems and put the chiles in a food processor with 2 cups of fresh water.  Whirl until thoroughly blended.  Strain the resulting pulp and throw out the seeds and skins, reserving the pulp.
Saute the mushrooms in a little olive oil until cooked.  Remove to a bowl.  Add the onions to the pan plus more oil if necessary.  Saute until well softened.  Add the garlic and cook another minute or so.  Add the flour, stirring well with a whisk.  Cook the flour (browned is good but don't burn it) stirring with a whisk, and then start blending in the chile pulp and 3 cups of water.  Whisk well to keep it smooth and to prevent the formation of lumps.  Add the pepper, Better than Bouillon, and cumin.  Cook over moderate head until thickened, about 10 minutes.  Taste for seasoning.
Preheat the oven to 450 degrees.
Assemble the enchiladas in 4 oven proof dishes.  For each dish, dip a tortilla in the chile gravy to cover both sides, and put it in the bottom of the dish.  Spread half of the beef and mushrooms.  Dip a second tortilla in the sauce covering both sides.  Add to the dish.  Spread the second half of the beef and mushrooms.  Dip the third tortilla in the sauce covering both sides and put in the dish.  Spoon on any remaining sauce.  Cover with 1/2 cup of grated cheese.  Bake in the oven until the sauce is bubbly and the cheese is melted, around 10 minutes.  Serve hot.
11 oz. cooked steak, thinly sliced