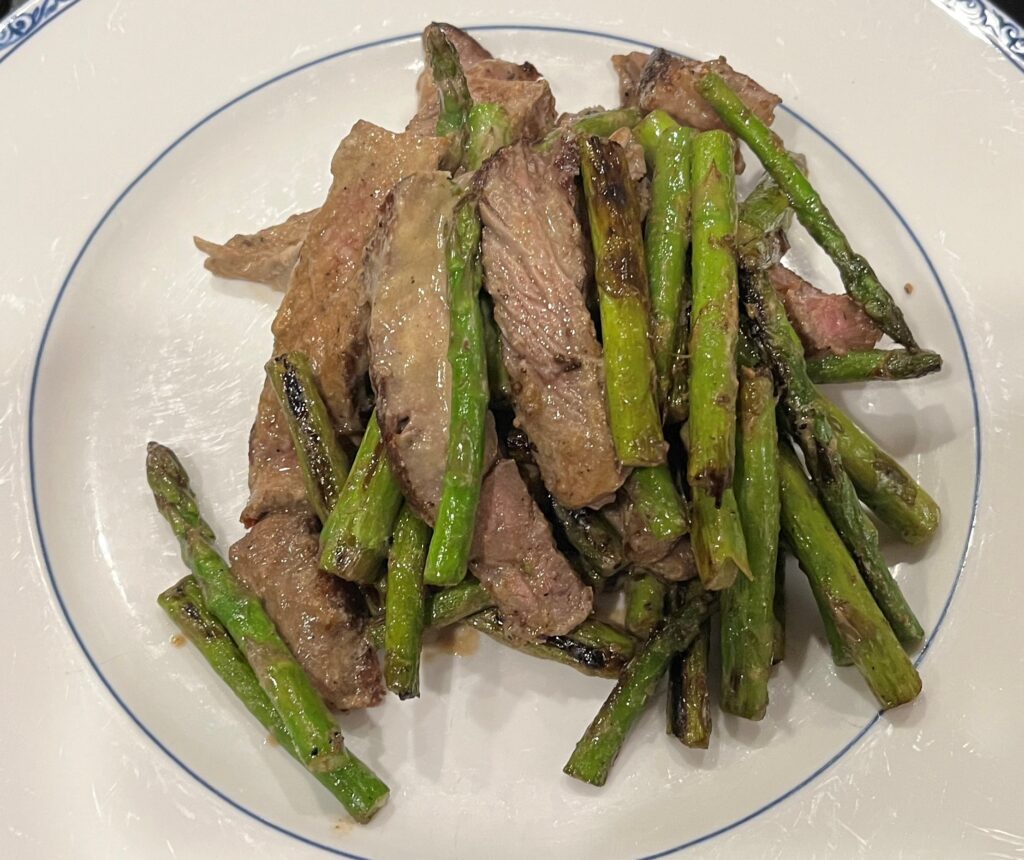 This is an idea from the LA Times for a weeknight dinner.  It takes about 35 minutes to prepare and the quantities are for 2 people.  The LA Times suggested serving it with steamed rice.  I served it with a focaccia.  Carol thought the dish was tasty but too heavy on the mustard.  I think she would like it better to evolve towards a rather mustardy vinaigrette.  (For example, replace the sauce ingredients with 2 Tbs. vinaigrette plus 1 Tbs. Dijon mustard.)  Here is how I made it in the photo:
12 oz. strip steak
1 Tbs. vegetable oil, plus greasing the pan
Salt and black pepper
1 bunch (1 lb.) asparagus
2 Tbs. Dijon mustard
1 tsp. Chinese black vinegar (or white wine vinegar)
½ tsp. toasted sesame oil
Dry the steak and generously coat with salt and pepper. Allow to rest on a rack for 20 minutes.
While the steak is resting, mix together in a small bowl the mustard, vinegar, and sesame oil. Trim the asparagus of any hard sections on the bottom and cut each trimmed spear into 3 pieces.
Lightly grease a large skillet. Heat over medium-high heat and cook the steak to medium, flipping it every minute until ~130 degrees on an instant read thermometer, about 8 minutes. Put the cooked steak on a plate.
Add the tablespoon of oil to the skillet and spread the asparagus in as much of a single layer as possible in the pan. Cook without moving for 2 minutes, then stir and cook undisturbed for another 2 minutes. Test to see if the asparagus is cooked to crisp-tender, and if not continue to cook until it reaches that point.
When the asparagus is almost done, cut the steak into bite-sized pieces and add them to the skillet, along with any meat juices and the mustard sauce. Stir well and serve.