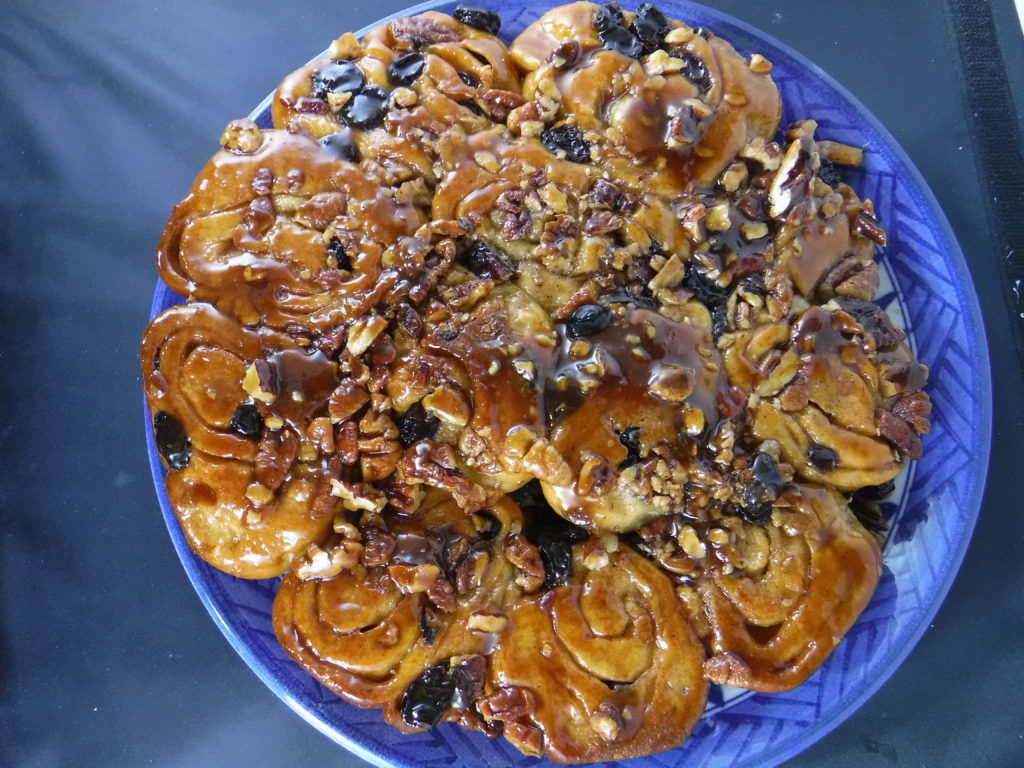 This family favorite has been served at nearly all Christmas or Christmas Eve breakfasts for the last 30 or so years, including this Christmas Eve morning.  I also have successfully cooked it in a Dutch oven while camping, including teaching it to each patrol in a Boy Scout troop.  It is an adaptation of a recipe in Judith & Evan Jones' "The Book of Bread".
Dough
1 Tbs   active dry yeast
1-1/4 cups warm water
¼ cup milk powder (I like Nestle Nido)
¼ tsp salt
1 cup sugar
4 Tbs softened butter
17 oz. (4 cups) unbleached white flour
Filling
½ cup softened butter
1 cup brown sugar
¾ tsp cinnamon
½ cup raisins
2/3 cup roughly chopped pecans
To make the dough, dissolve the yeast in a little warm water combined with about a tsp of the sugar. After it swells, add the milk powder, remaining water, softened butter, salt, and remaining sugar. Gradually mix in the flour beating thoroughly. This will be a very soft dough, almost like a thick batter.  This photo is out of focus, but it shows how soft a dough this is.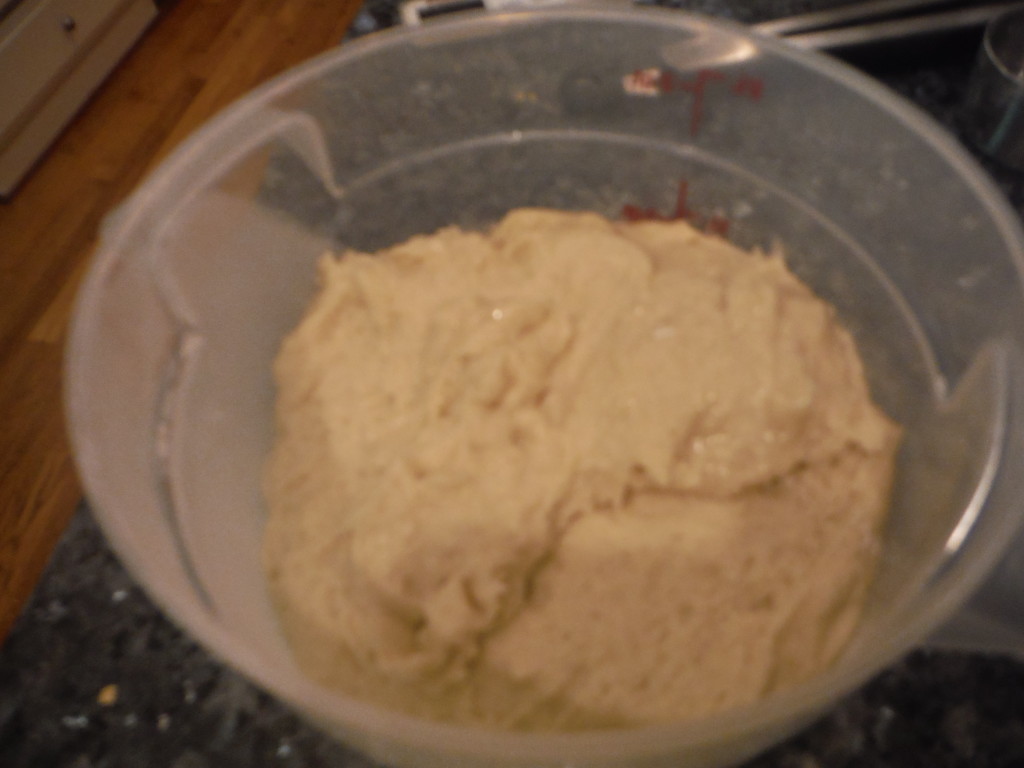 Cover with plastic wrap and put in a warm place to rise until it doubles in bulk, about an hour.
Mix together the brown sugar, cinnamon and raisins.
On a floured pastry cloth or other floured surface, roll the dough out into a rectangle about 30 inches by 18 inches. It will be very soft but workable as long as enough flour is used for the top and bottom surfaces.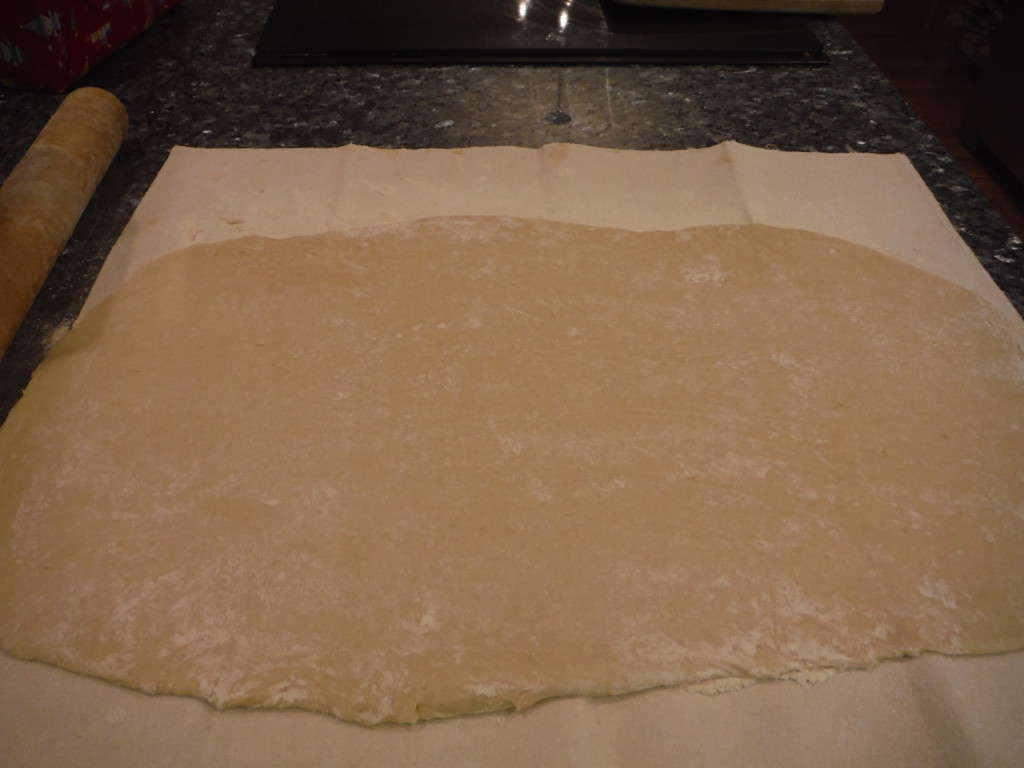 Spread the dough with half of the softened butter (i.e. about ¼ cup). Sprinkle the dough with about half of the sugar/cinnamon/raisin mixture.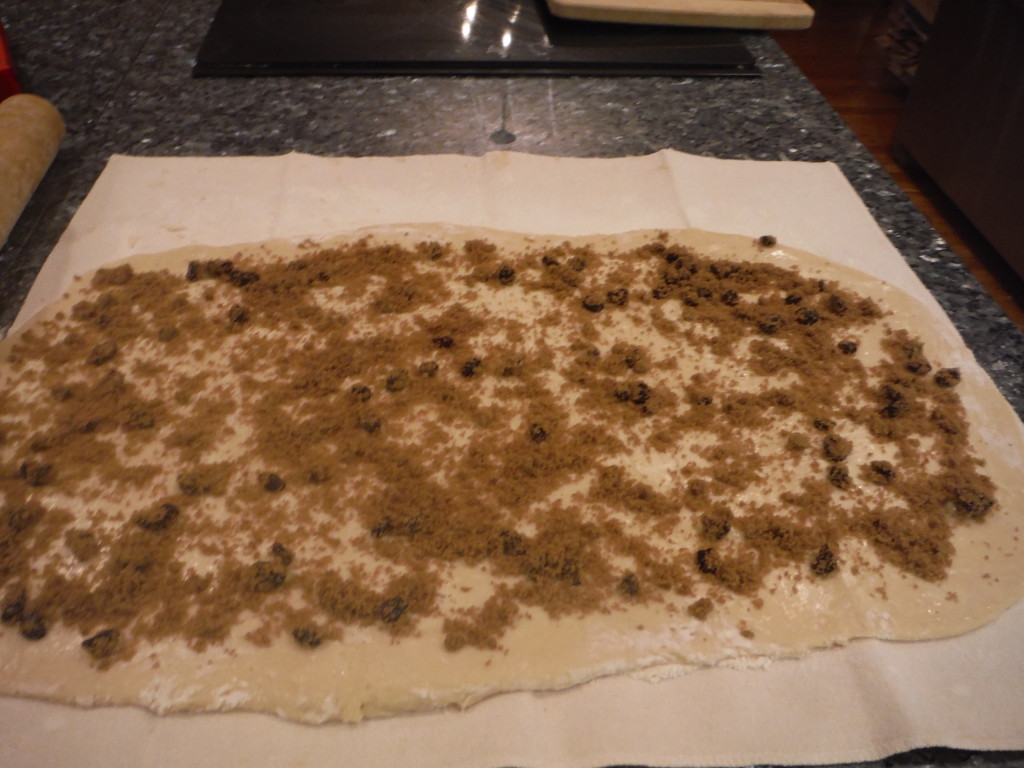 Roll up like a jelly roll.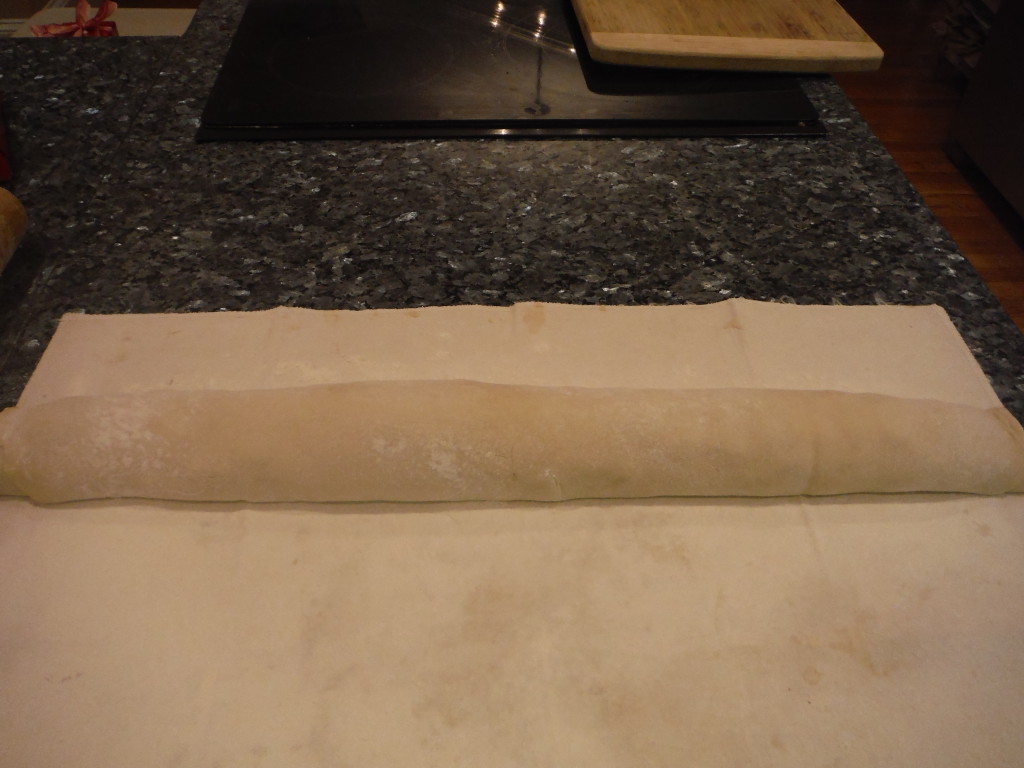 Then slice into 24 sections.  I do this by dividing it first into half, then each part into half again, then each part into half again, and finally each part into thirds. (2 x 2 x 2 x 3 = 24)
Take 2 9-inch cake pans, and dot the bottom with the remaining softened butter (i.e. 2 Tsb per pan.) Sprinkle in the pans the remaining sugar/cinnamon/raisin mixture and the chopped pecans.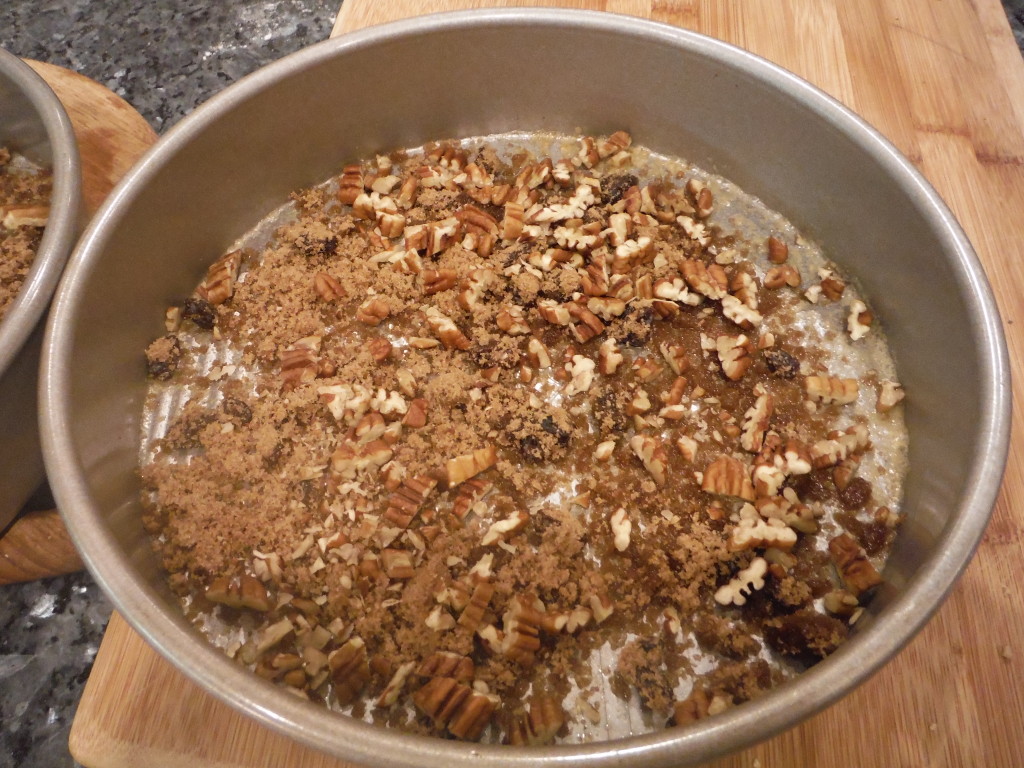 Place 12 dough slices in the pans on top of the sugar, etc. in each of the pans and cover with plastic wrap.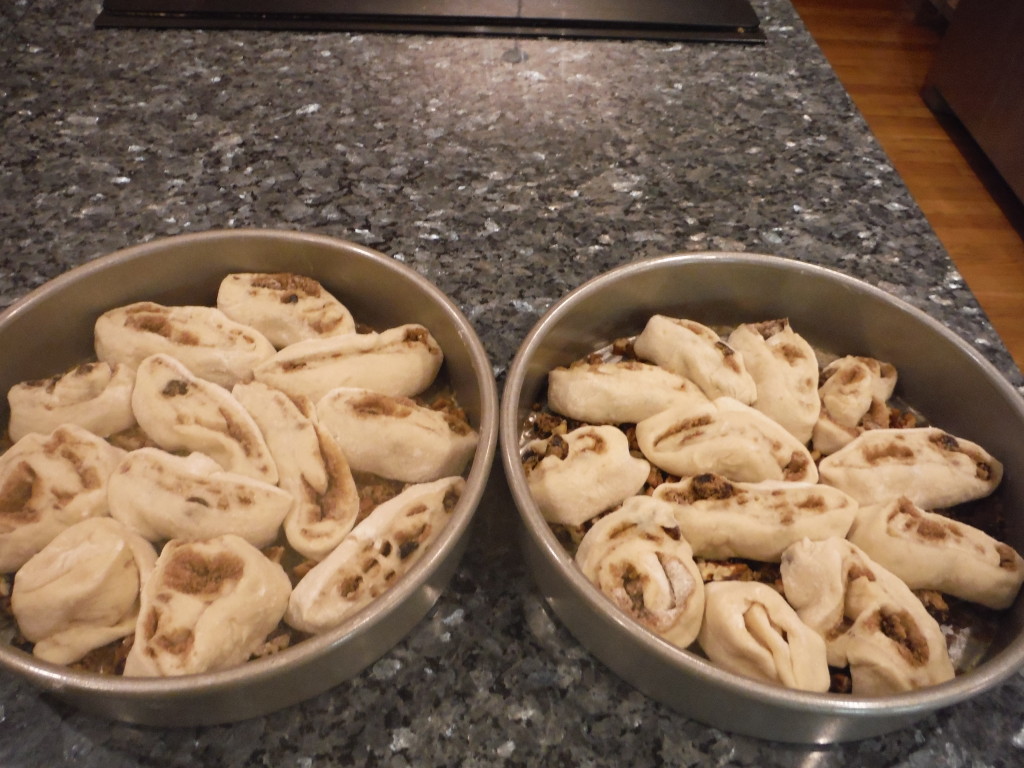 Allow the dough to rise until doubled.  I usually do this second rise overnight in the refrigerator so that I can serve the sticky buns fresh out of the oven for breakfast.  If doing this, bring them out of the refrigerator as soon as you get up in the morning so that they can warm towards room temperature.
Cook at 375 degrees for 25-30 minutes until the dough is cooked and golden colored. Run a knife around the edge of the pan and immediately reverse it onto a plate so that the buns are upside down. There will be some caramelized sauce in the bottom of the pan which needs to be scrapped off and added to the top of the buns before it cools and solidifies. Serve warm. Makes 24 buns.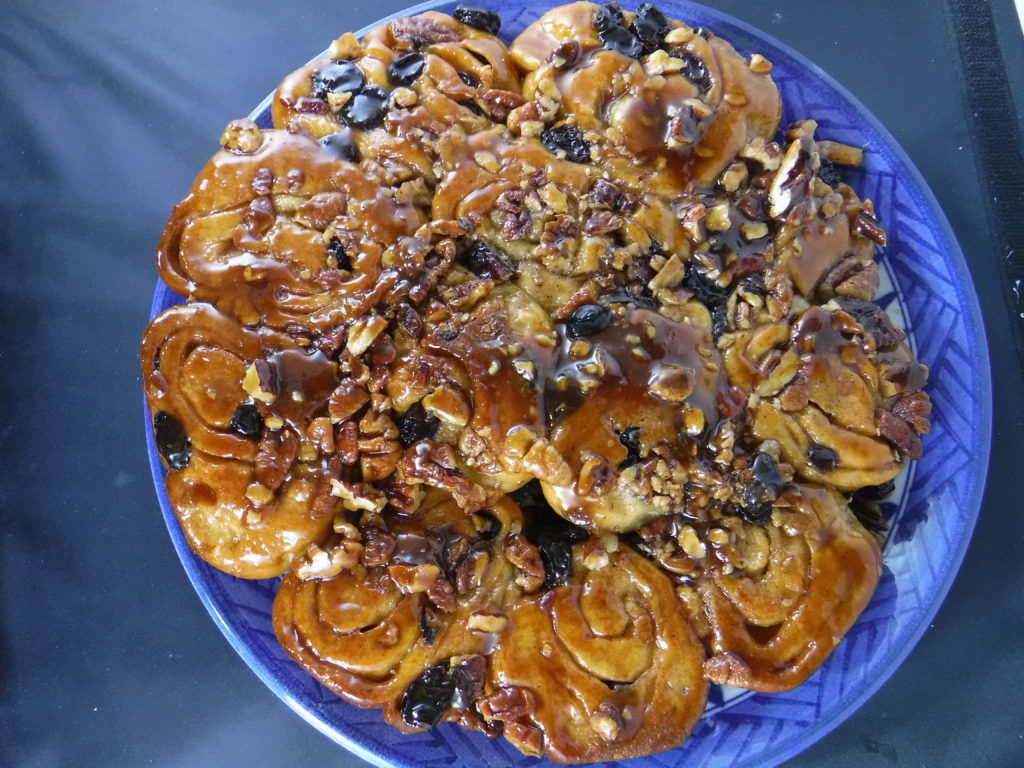 Notes for adopting this recipe for camping:
Aluminum foil makes a good clean surface for working with the bread dough on a camping trip. A Nalgene bottle makes a good improvised rolling pin while camping. Bring an extra baggie with flour to use to flour your work surface.
If using a cardboard box oven, about 12 coals will bring the oven to the right temperature. For a Dutch oven, 12 coals on top and 8 on the bottom will be about right.
If the buns are for breakfast, the second rising can take place overnight if the dough is kept in a cool place like a refrigerator or ice chest. The buns can then be cooked in the morning as soon as the coals are ready.