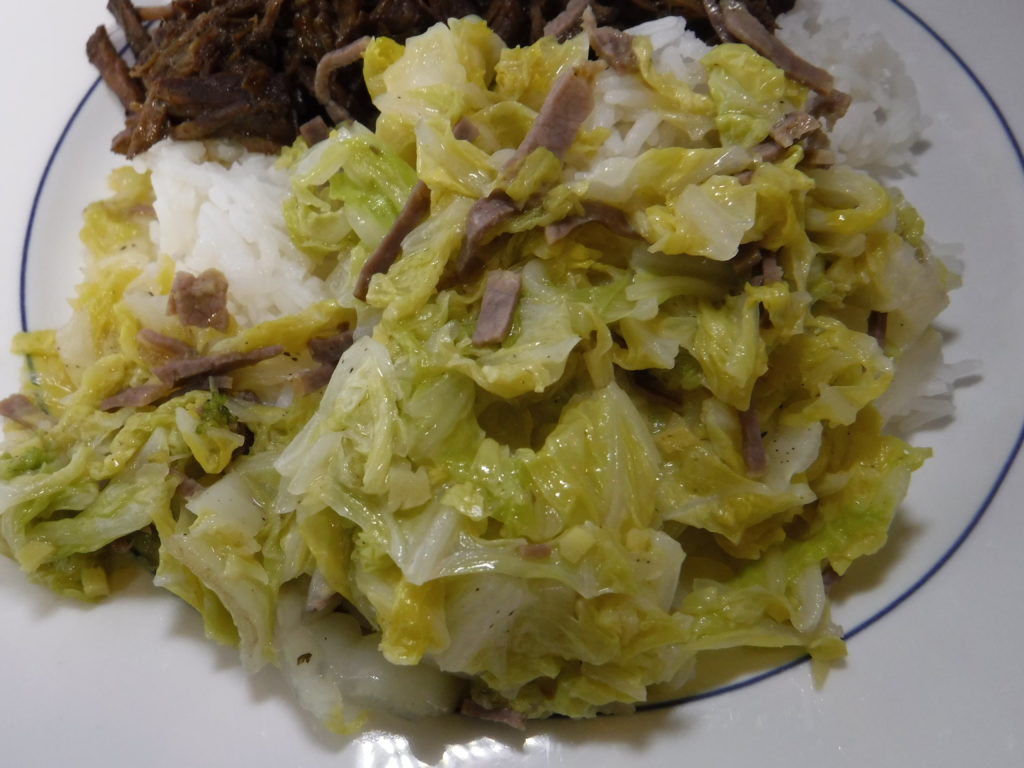 I had some leftover Chinese Braised Beef and was looking for a vegetable to go with it and some rice. We had a Napa cabbage in the refrigerator, and I found a stir-fry recipe for Napa Cabbage in Grace Young's Stir-Frying to the Sky's Edge. Grace's simple recipe calls for some prosciutto, and I substituted some Basturma (Armenian dried beef) which I had on hand. That worked well.
The key idea is to get the skillet really hot and to cook quickly. Unfortunately, we have an electric cooktop, which tends to be a bit slow. This would be best with a gas cooktop turned up to 11 (in tribute to "This is Spinal Tap").
1 small head of Napa cabbage (about 1 lb.
3 Tbs. chicken broth
2 Tbs. dry sherry (or rice wine)
½ tsp. cornstarch
2 Tbs. vegetable oil
2 tsp. minced ginger
¼ tsp. salt
½ tsp. sugar
1 oz. prosciutto (or Basturma) julienned
Quarter the cabbage lengthwise, and cut out the hard core from each quarter. Cut the cabbage into 1-inch ribbons and place in a large bowl. Sprinkle the cabbage with the salt and sugar.
Mix together in a small bowl the chicken broth, sherry, and cornstarch.
Heat a large skillet on high heat until a drop of water evaporates in 1-2 seconds. Add the oil and swirl it in the pan. Stir-fry the ginger until fragrant, about 15 seconds. Stir-fry the cabbage about a minute to wilt it. Mix again the chicken broth, dry sherry, and cornstarch and add it to the pan. Stir-fry uncovered for about 15 seconds, and then covered for about 30 seconds. Uncover and stir-fry for 1-2 minutes until the cabbage is tender-crisp. Stir in the prosciutto, distributing it evenly, and serve.