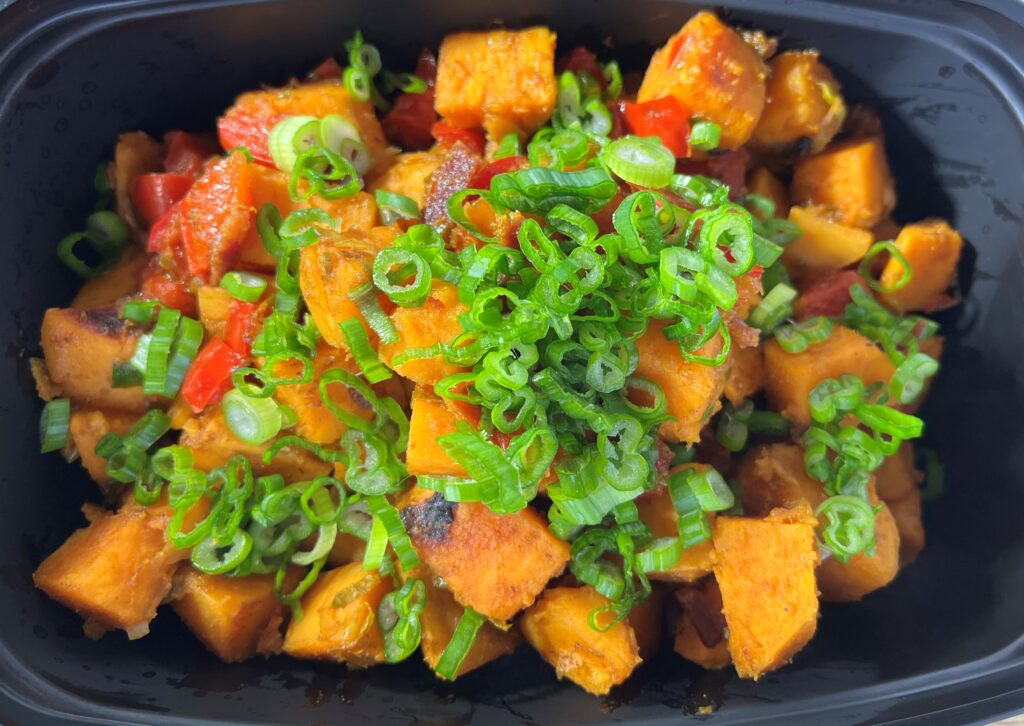 Carol was looking for a sweet potato dish to accompany ham for dinner, and spotted a recipe on www.thepioneerwoman.com, which she made and liked. This will make 4-6 servings and will take less than an hour.
4 slices thick-cut bacon, chopped
6 scallions, chopped with light and green pieces separated
2 lb. (2 large) sweet potatoes, peeled and cut into ¾ inch cubes
1 red bell pepper, chopped
1 tsp. kosher salt
1-1/2 tsp. paprika
1 tsp. cumin
¼ tsp. garlic powder
Cooking oil (if needed)
Cook the bacon in a large skillet over medium heat. When mostly crisp and with the fat rendered, put the cooked bacon in a bowl using a slotted spoon.
Add the white part of the scallions, the sweet potatoes and the bell pepper. Cook, stirring occasionally until the sweet potatoes are just starting to soften. (Add additional oil if the bacon was lean and did not yield much bacon fat.) Stir in ½ cup of water, salt, paprika, cumin, and garlic powder. Cover and cook, stirring occasionally until the potatoes are mostly tender, about 8-12 minutes.
Remove the cover and increase the heat to medium-high. Continue to cook until the potatoes are tender and browned in spots and all the liquid has evaporated, about 5-7 minutes. Stir in the reserved bacon and the reserved scallion greens. Check seasoning and serve hot.