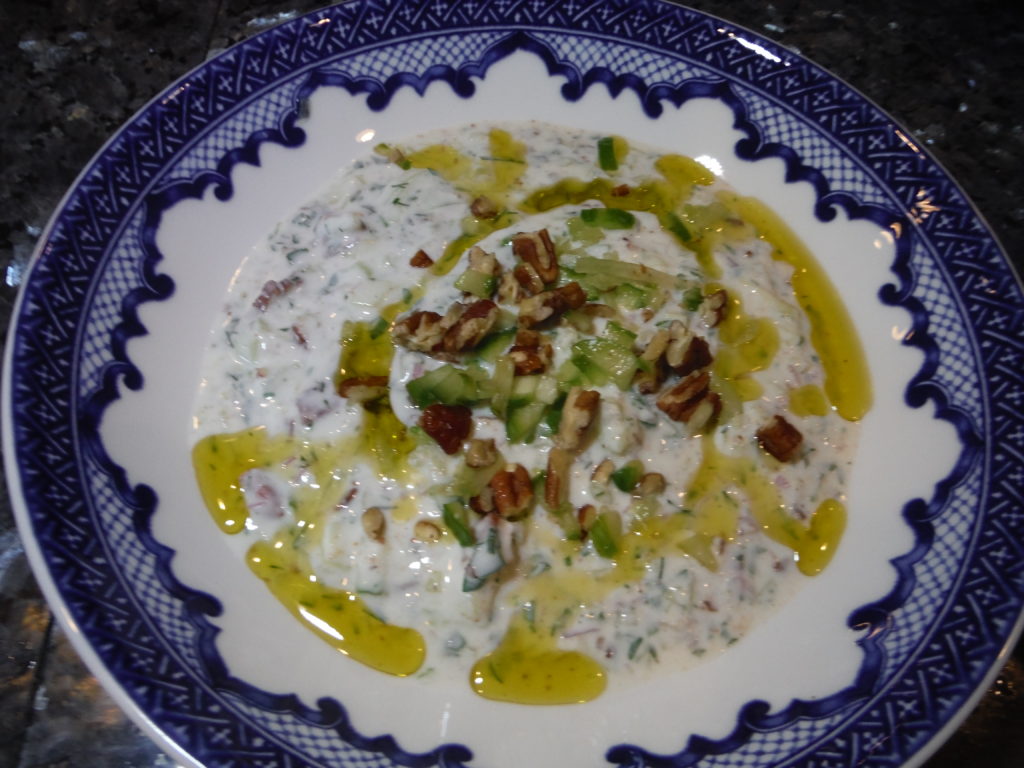 This is a cold soup of Turkish origin which is very refreshing and light during the summer. We served it at a recent family dinner and it was very popular with the women of the family. (The men liked it fine but were not asking with enthusiasm for the recipe.) We made it out of home-made yogurt, which was a real plus. This is an adaptation from Michael Solomonov's Israeli cookbook Zahav. This makes enough for an appetizer course for 4 people.
2 cups whole milk yogurt
2 Tbs. lemon juice
2 cups chopped cucumber, divided
½ cup chopped toasted walnuts, plus extra for garnish
¼ onion, chopped
2 Tbs. fresh mint, chopped
2 Tbs. fresh parsley, chopped
2 Tbs. fresh dill, chopped plus extra for garnish
½ tsp kosher salt
Pinch black pepper
Pinch mace
Good quality olive oil for serving
Put the yogurt, lemon juice, 1 cup of the cucumbers, the walnut, onion, mint, parsley, dill, salt, pepper and mace into a large bowl and blend it together. Store it in the refrigerator to chill until ready to serve. Divide into 4 bowls, too with the rest of the cucumber, and the garnish walnuts and dill, and then drizzle with olive oil.