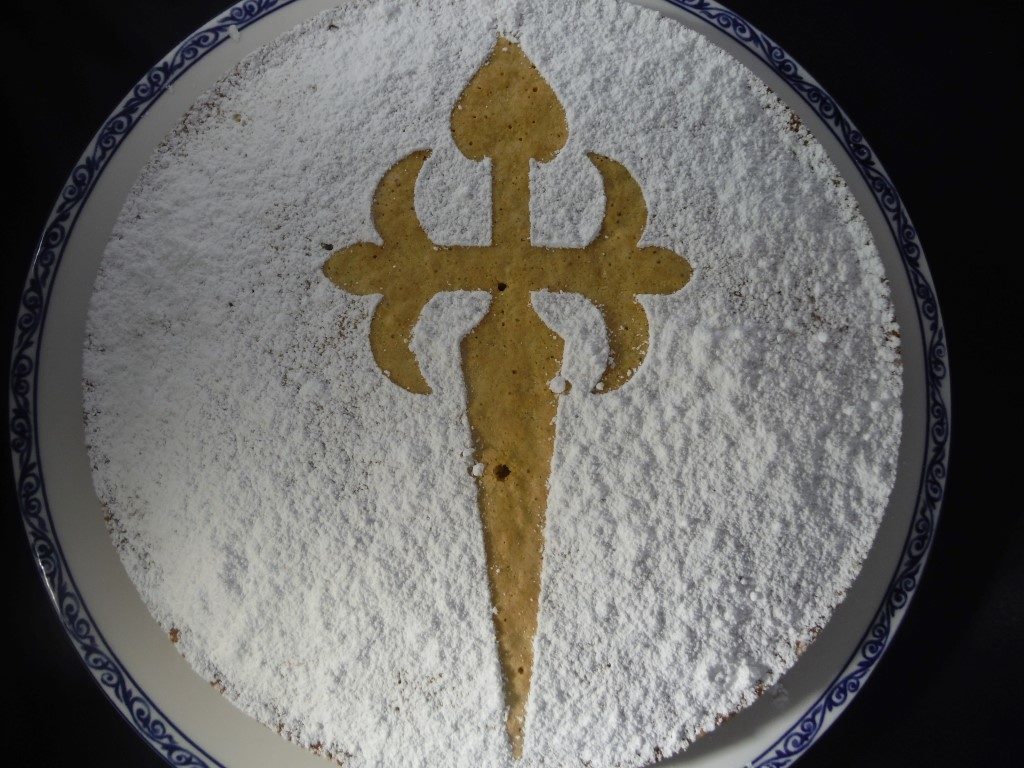 Carol and I recently walked the Portuguese Route of the Camino de Santiago, and once we crossed into Galicia we saw Tarta de Santiago everywhere, and ate it several times for dessert.  It is actually a very straightforward almond cake.  The version here is adapted from Penelope Casas' fine book Delicioso: The Regional Cooking of Spain.  In Santiago de Compostela I was able to buy the Santiago cross which is used to decorate the top of the cake.  It is a stylized version of a sword held upside down (i.e. hilt up and blade down).  A paper form could also be used as a stencil.  I baked this in a 9 inch springform pan since I do not have an 8 inch pan as recommended in the original recipe.
6 oz. blanched almonds, divided
6 Tbs. flour
¾ cup sugar, divided
3 eggs
Confectioner's sugar
Preheat the oven to 350 degrees.
Put in the bowl of a food processor 2 oz. of almond and the flour.  Pulse until the almonds are coarsely chopped.  Pour into a bowl.
Put in the bowl of the food processor the remaining 4 oz. of almonds and ¼ cup of sugar.  Process until the almonds are finely ground.  Pour into a bowl.
Whip the 3 eggs in a mixer until foamy.  Add the remaining ½ cup of sugar and beat until light-colored and thickened.  Add the almond/flour and almond/sugar mixtures to the bowl and mix well.
Grease an 8 or 9 inch springform pan and bake until a cake tester comes out clean.  This will be about 28 minutes for a 9 inch pan and 35-40 minutes for an 8 inch pan.  When done cool completely on a cake rack.  When cook powder heavily with powdered sugar using a Cross of Santiago stencil if possible.
Here is a picture of the metal stencil of the cross.