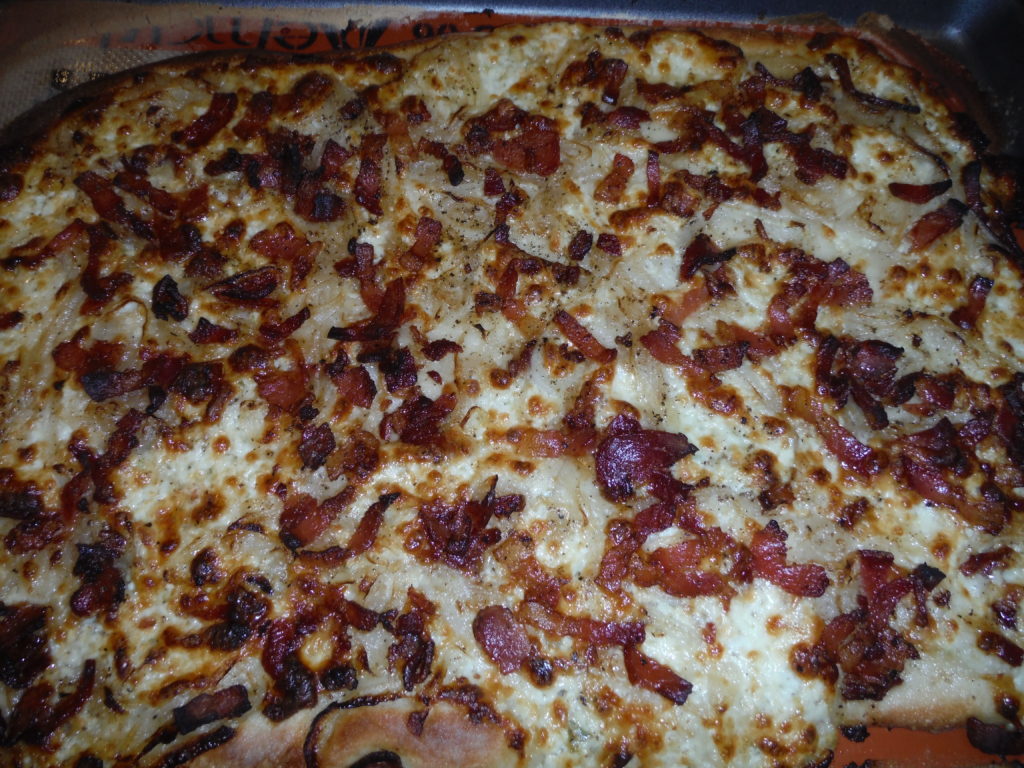 I had some leftover Herbed Yogurt Cheese (Suzma)  , which I thought might make a good topping for Tarte Flambe, and I was right.  I think this illustrates the point that there is a wide range of soft-ish cheeses which go well with bacon and onion as a topping for a flatbread.  This is how I made it with what was available in the refrigerator.  This served 4 for dinner with a salad
Diary toppings (total ~3 cups)
Coarsely grated mozarella
Sour cream
Coarsely grated asiago cheese
I full recipe of pizza dough (from Pizza for One or for Many )
8 oz. good quality bacon cut into lardons
1 large onion, cut into thin slices
1 Tbs. butter (optional)
2 tsp. olive oil
Preheat the oven to 475 degrees.
Saute the bacon lardons in a large frying pan. Fry to cook them and render fat, but not to make them crispy since they will cook a second time in the oven. Remove the bacon to a paper towel lined plate to drain. If the bacon is fatty, drain off all but a tablespoon of the fat from the pan. If the bacon is lean and there is not enough fat, add a little butter. Slowly saute the onions in the pan until caramelized. Allow to cool in the pan.
Mix together the dairy products.
Grease the bottom of a cookie sheet with the olive oil, oil your hands, and spread the dough over the cookie sheet. Using a spoon, drop little bits of the cheese mixture evenly over the pizza dough. Then similarly spread out the bacon and the onions.
Bake for about 15 minutes until the dough is cooked and browned on the edges. Cut into pieces