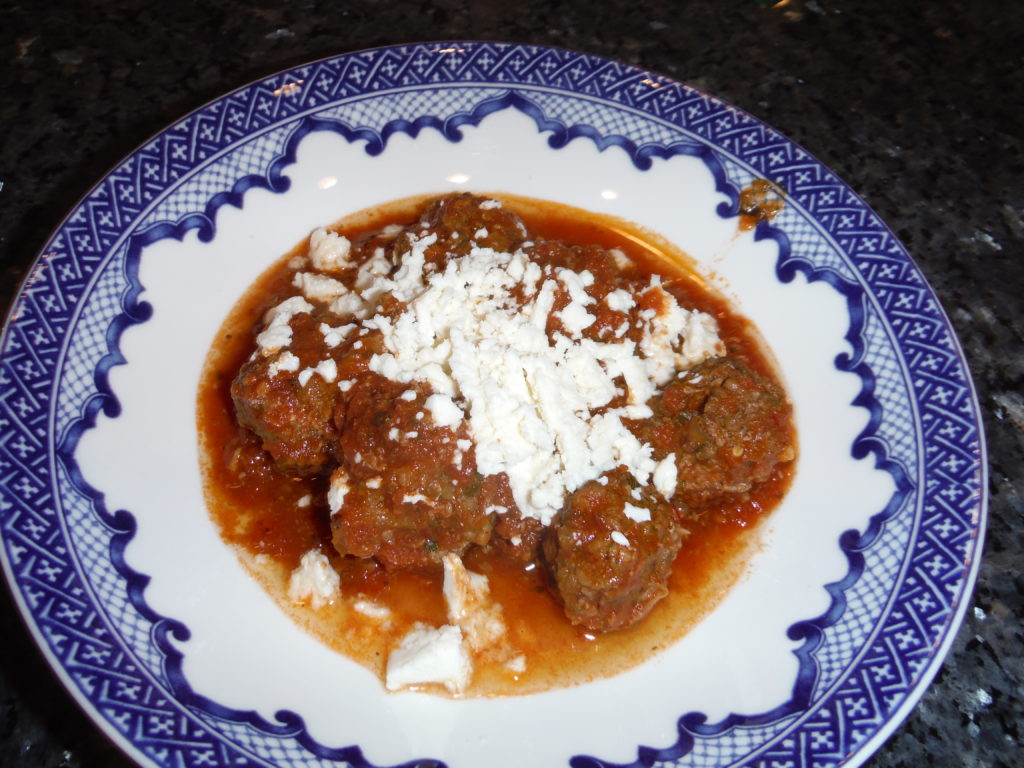 These meatballs in a spicy sauce were tasty with good bread, in this case Lepinja with Preferment . The recipe below is how I prepared them following a recipe from The Homesick Texan. 2 chipotles makes for a sauce which is probably too spicy for most people, although not for us. Also 1 tsp. of kosher salt for the meatballs is on the low side. 1 tsp. of regular salt (~2 tsp. kosher salt) would be about right.
Ingredients for the meatballs:
1 pound ground beef (80/20)
1/2 cup grated zucchini
1/2 medium yellow onion, finely diced
2 cloves garlic, minced
1/4 cup chopped cilantro
1 teaspoon kosher salt
1 teaspoon black pepper
1 teaspoon ground cumin
1 teaspoon oregano
1/2 teaspoon chili powder
1/4 teaspoon ground allspice
1 egg, lightly beaten
1/4 cup saltine cracker crumbs
Cotija cheese crumbled, for garnishing
Ingredients for the sauce:
1 (14-ounce) can diced tomatoes
2 canned chipotle chiles in adobo sauce
1/4 medium yellow onion, chopped
2 cloves garlic, chopped
1 teaspoon ground cumin
1 teaspoon oregano
1/4 teaspoon ground allspice
1 cup chicken broth
1 tablespoon lime juice
Salt
To make the meatballs, place in a large mixing bowl the ground beef, zucchini, onion, garlic, cilantro, salt, black pepper, cumin, oregano, chili powder, allspice, egg, and cracker crumbs. Using your hands, mix all the ingredients until well combined. Preheat the oven to 375°F and lightly grease an 11 x 7 inch baking dish. Using a 1 inch scoop, form the meat into meatballs and put them in the pan. Bake the meatballs for 20 minutes or until lightly browned.
Meanwhile, in a food processor mix together the tomatoes, chipotle chiles, onion, garlic, cumin, oregano, and allspice. Put the mixture in a large pan, and mix in the chicken broth, and lime juice. Adjust the seasonings and add salt to taste. Using a slotted spoon, remove the cooked meatballs from the baking dish and add them to the pot with the sauce. Bring the pot to a boil and then turn down the heat to a simmer. Simmer uncovered for 30 minutes.
Serve warm with bread or tortillas, garnished with crumbled Cotija cheese.