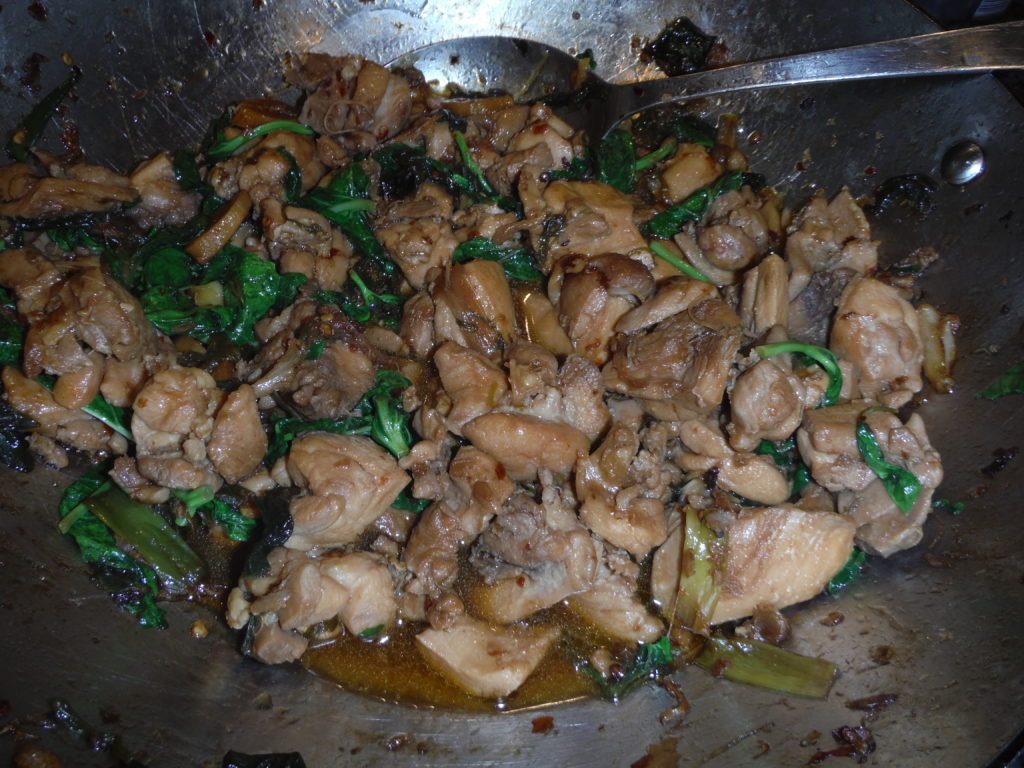 I have read that this mild stir fry is the authentic taste of Taiwan, the dish which makes older people think of the good things of their childhood. The three cups refers to sesame oil, rice wine, and soy sauce, but the recipe does not actually use that much of any of these ingredients. We served this with white rice and chard sautéed with sesame and safflower oil, garlic, and ginger, and finished off with a soy-balsamic glaze (for a little fusion cuisine touch). This is an adaptation of a recipe in the New York Times.
3 Tbs. sesame oil, divided
3 inch. piece of ginger, peeled and cut into 12 ½ inch coins
12 cloves garlic, peeled, and halved if very large
4 scallions, trimmed and cut into 1 inch lengths
1 tsp. red pepper flakes
2 lbs. boneless skinless chicken thighs, cut into 1 inch cubes
1 Tbs. light brown sugar
½ cup rice wine, sake, or dry sherry
¼ cup light soy sauce
2 cups Thai or Italian basil, stems removed
Start by getting all the ingredients ready. Like other stir fries, mise en place is essential before starting to cook.
Heat the wok over high heat. Once hot add 2 Tbs. of the sesame oil. When the oil is hot, add the ginger, garlic, scallion, and red pepper flakes. Saute for about 2 minutes, stirring occasionally. Push the aromatics to the edge of the wok. Add the last Tbs. of sesame oil, wait for it to get hot, and then add the chicken cubes. Fry them for 5-7 minutes, stirring occasionally. Mix in the brown sugar. Mix in the rice wine and soy sauce. Bring to a boil and then reduce to a simmer, and cook for about 15 minutes stirring occasionally. When done, all the chicken will be cooked through and the sauce will have thickened slightly. Stir in the basil until it wilts, then serve.