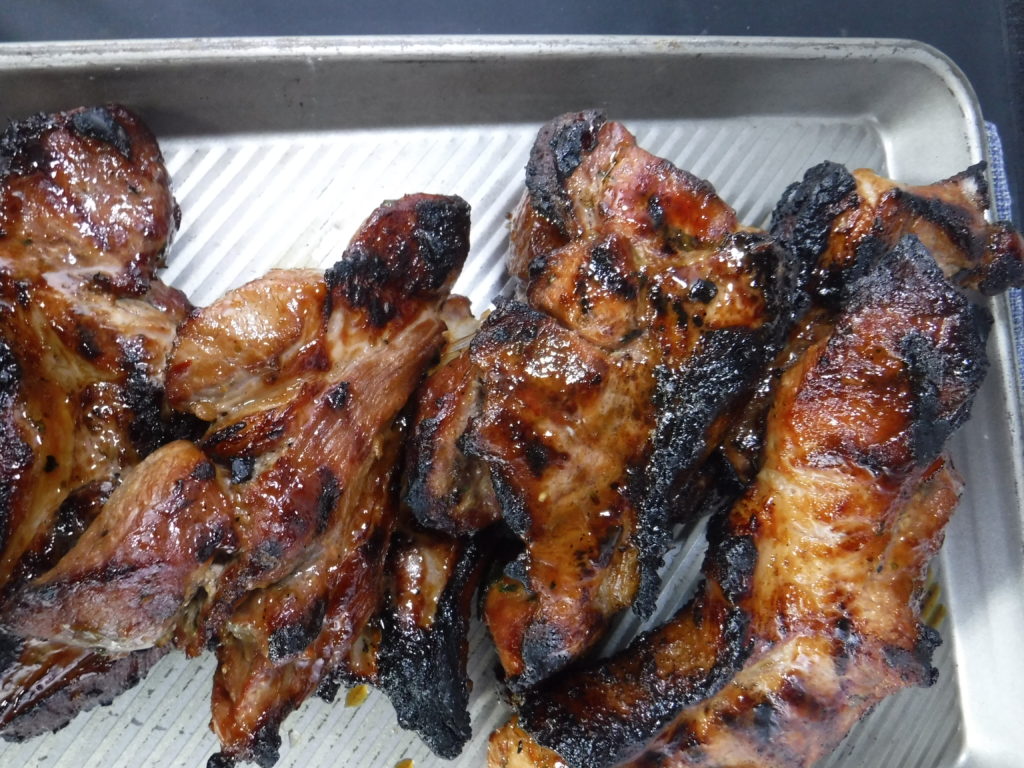 Epicurious.com recently had an article about Chicago chef Paul Kahan who likes to dip meat that he is grilling back into the marinade twice in order to get an additional depth of flavor. I tried the technique last night and it did work very well. The Asian marinade I used has some sweetness, and the additional dips into the marinade produced a caramelized glaze on the meat which was very tasty. Note that for food safety reasons, the used marinade was brought to a boil to kill off any bacteria before being used as a dip.
Note also that the original recipe called for Chinese hot mustard powder, which I forgot to use. The country ribs were excellent without it.
3 lbs. country style boneless pork ribs
½ cup packed brown sugar
½ cup soy sauce
¼ cup unseasoned rice vinegar
3 scallions, thinly sliced
6 cloves garlic, crushed
2 Tbs. finely chopped ginger
1 Tbs. chopped cilantro
1 Tbs. sambal oelek (or other hot chili paste)
1 Tbs. toasted sesame oil
1 tsp. freshly ground black pepper
½ medium onion, sliced
2 Tbs. Chinese hot mustard powder.
In a small saucepan, mix together the brown sugar and ½ cup of water. Bring to a boil and reduce to medium. Cook until the mixture has been reduced to ¼ cup. Mix in the soy sauce and rice vinegar and cool. Add the scallions, garlic, ginger, cilantro, sambal, sesame oil, black pepper, and sliced onion.
Smear the country ribs with the Chinese hot mustard powder and put them in a gallon ziplock baggy. Add the marinade ingredients, seal the bag, and massage it to ensure that all the meat is coated. Marinade in the refrigerator at least 6 hours and up to overnight.
When ready to grill the ribs, drain them using a colander so that the used marinade is strained into a wide saucepan. Bring the used marinade to a boil, reduce to a simmer, and cook for three minutes to kill off any bacteria. Allow to cool.
Grill the ribs until cooked through, about 20 minutes total, turning them occasionally. When about half cooked, dip each side of the ribs into the reserved marinade. Dip a second time when the ribs are about two minutes from being fully done.