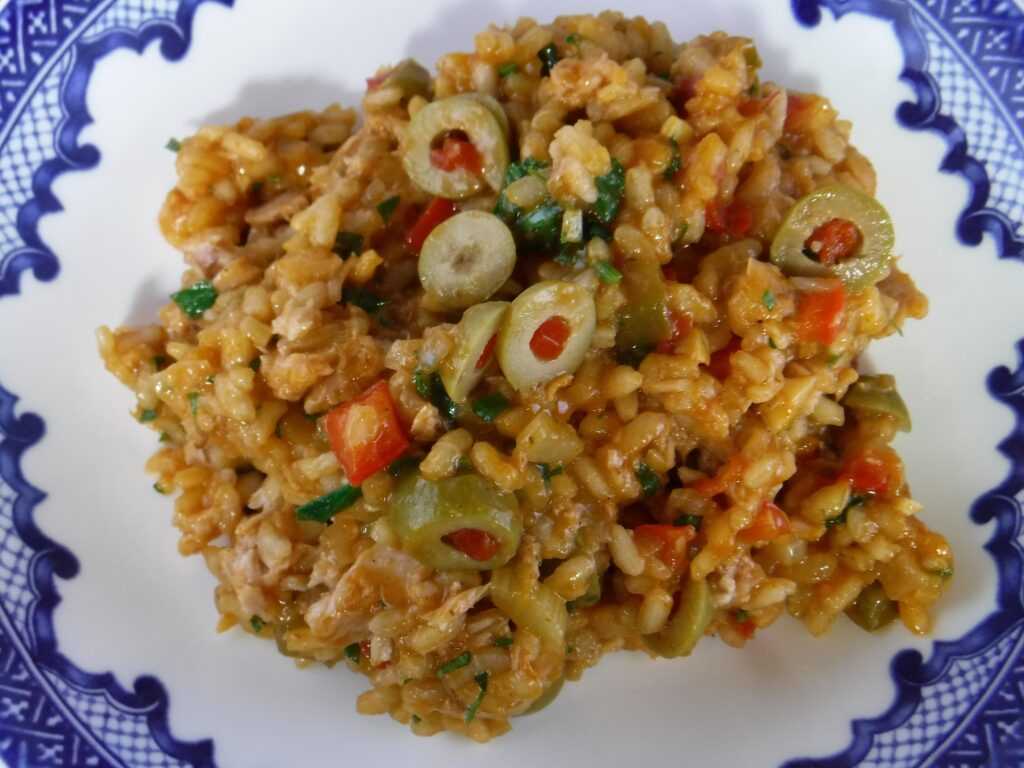 Since many of my backpacking main courses use pasta, this is an attempt to get some variety by using rice. We experimented with instant rice to save stove fuel, but were unimpressed by the result. In this version, we are incorporating some techniques from the making of rissotto, adding hot water to the pot as needed to keep the rice hydrated and not burning at the bottom of the pot. This version is for 6 people and will be used in the next Boundary Waters canoe trip.
4 Tbs. olive oil
1 large onion, chopped
1 large bell pepper, chopped
1 cup celery, chopped
1 jalapeno, chopped
4 cloves garlic, chopped
1 cup tomato sauce
2 Tbs. fresh parsley, chopped
3 green onions, chopped
18 oz. tuna in pouches
1-1/2 cups Arborio rice
1 cup green olives with pimentos, chopped
Cajun seasoning to taste (est. 1.5 tsp. total)
Hot sauce to taste
At home heat the olive oil in a Dutch oven over medium heat. Add the vegetables and saute until softened. Add the tomato sauce, parley, and green onions. Mix well and cook for a few minutes until the mixture is fairly dry, but do not allow to burn. Dehydrate the vegetable mixture and vacuum seal it.
At camp, add enough water to rehydrate the vegetables, and heat until the vegetables are fully rehydrated. Have a separate pot with 3-4 cups of water brought to a boil and then kept hot. Add the rice to the vegetable mixture and stir. Add about a third of the hot water and stir periodically as it cooks over medium low heat. When the water is absorbed, add more and keep stirring. (The idea is to treat this like making risotto.) When the rice is fully cooked, add the tuna and the liquid in the pouches, if any, plus the chopped green olives. Mix, taking care not to break up the tuna too much. Season to taste with Cajun seasoning and hot sauce.