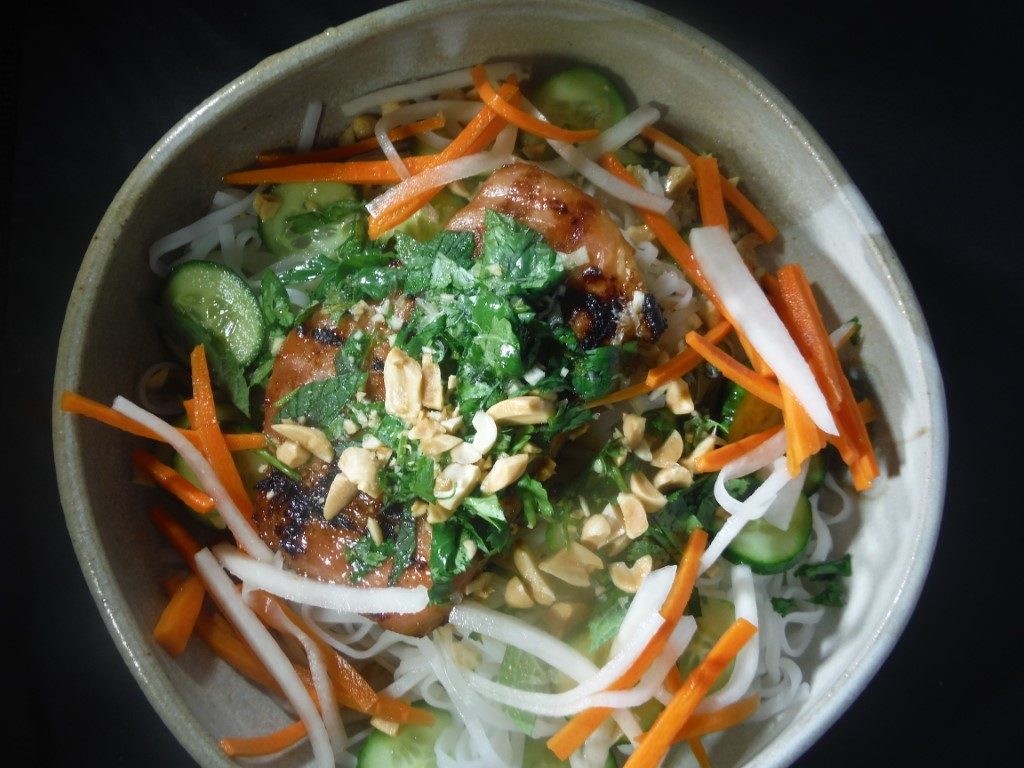 This is an excellent dinner for summer. There are a number of components to the finished product, but each of them is easy, and any leftovers of the components can be used in other dishes, such as Grilled Pork Banh Mi .  . Quantities below are for two people. This recipe is adapted from Serious Eats.
6 oz. rice noodles
8 oz. Vietnamese Grilled Pork Chops
1cup Vietnamese Pickled Daikon and Carrot
2 thinly sliced Persian cucumbers
2 Tbs. coarsely chopped cilantro
2 Tbs. coarsely chopped mint
¼ cup coarsely chopped peanuts
½ cup Nuoc Cham – Vietnamese Dipping Sauce
Lime wedges
Prepare the rice noodles per the package instructions. Chill the cooked noodles in cold water and drain and dry with paper towels. Placed the chilled noodles in two large bowls. Cut the grilled pork chops into bite-sized pieces and add to the bowls. Add the pickled daikon and carrot, the sliced cucumbers, and the herbs. Sprinkle the peanuts on top and then sprinkle the dipping sauce. Serve with the lime wedges.